Steven Harold Sturgis 1956-2022
Steven Harold Sturgis
July 23, 1956 - January 25, 2022
With heavy hearts, we mourn the loss of Steve Sturgis, wellington.cc Webmaster.
Obituary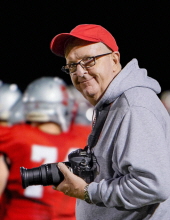 Steven Harold Sturgis, age 65, died peacefully Tuesday, January 25, 2022 in his hometown of Wellington, KS. Steve was born July 23,1956 at the Hatcher Hospital to father Harold Wesley Sturgis and Mother Jacqulyn Mae Sturgis. He is preceded in death by his mother, father and brother; Philip Rex Sturgis.

He is survived by a loving family including son Zach and wife Alishia Parent of McPherson, KS; brother John and sister-in-law Connie Sturgis of Fayetteville, AR; granddaughter Emma of McPherson, KS; nephew Scott Sturgis of Fayetteville, AR; nephew Kell and wife Kerry Sturgis of Longmont, CO; niece Shannon Sturgis of Brooklyn, NY; niece Corey and Alex Torres of Overland Park, KS; nephew Joshua and Andrea Sturgis Mission, KS; and a long list of family and friends.

Steve graduated from Wellington High School in 1974 and received his BS degree from Wichita State University. He was employed by Boeing Corporation in Wichita, Kansas, where he worked for several years before taking the role of caregiver for his parents. It was in this period he developed a website for Wellington High School, which became a major platform to showcase all high school events. This platform would quickly grow to not just high school events, but many events around the Wellington community. Known as the "webmaster", his love for photography launched his career of a lifetime opportunity which he created and mastered with assistance of school administration, kids and Wellington at-large.

Steve will always be remembered for his ongoing contribution to WHS, through his kindness, generosity and selfless devotion to the kids and community of Wellington.
A visitation and viewing will be held from 5:00 p.m. to 8:00 p.m., Friday, January 28, 2022 at the Wellington Free Will Baptist Church, 802 East 16th Street, Wellington, KS. Following the viewing a cremation will take place.

A second visitation will be held from 3:00 p.m. to 5:00 p.m., Saturday, February 19, 2022 at the Cornejo Funeral Home, Wellington, KS. The Sturgis and Parent families will be present to receive and greet friends at this time.

A community memorial service will be held at 2:00 p.m., Sunday, February 20, 2022 at the Wellington High School Gymnasium, 1700 East 16th Street, Wellington, KS. All are encouraged to wear their favorite Crusader gear and a pair of jeans. Steve would want it no other way. In accordance with the USD 353 guidelines, guests should plan to wear a facemask when in attendance.

In lieu of flowers and in honoring Steve's legacy, contributions can be made to the Wellington Community Foundation (WHS.CC Fund), c/o Impact Bank, PO Box 398, Wellington, KS 67152. Contributions can be mailed or left with the funeral home.
 
Cornejo Funeral Home Obituary & Tribute Wall
Sumner Newscow Article about Steve's Memorial Service
Sumner Newscow - Candlelight Vigil Held at WHS
KAKE News - Honoring Steve Sturgis