Kendall Janzen most recent "KINDNESS COUNTS" Recipient!
IMPACT BANK is sponsoring a new program this year at Wellington High School. It is called - "KINDNESS COUNTS"!
Here's how it works!
There are multiple staff members at WHS that have been selected as "anonymous observers". (they don't even know who the other observers are) Their task this school year, when they observe a student exhibiting KINDNESS, in any variety of ways, they will nominate that student for recognition, and in turn, IMPACT BANK will award the selectee, for their display of "KINDNESS", a $25 Gift Card!
We have our second IMPACT BANK "KINDNESS COUNTS" winner for this school year at WHS, and this is why she was nominated.
When taping a KWHS newscast, there is limited time and occasionally, a wrench or two can get tossed into the works, if you will. On Tuesday, that very thing happened. One of the main anchors was unexpectedly absent, and that can cause numerous script issues, last second shuffling of multiple assets, and other problems.
A young lady, not scheduled to rotate into the NEWSCAST class until next week, heard of the unplanned dilemma, and without any time to review the scripts, without any prior instruction or experience in front of the KWHS news camera and teleprompter, Sophomore Kendall Janzen volunteered without hesitation, to fill the void and the "show went on"! She even had the chutzpah, to quickly rearrange her schedule, as she was to attend a meeting in just a few minutes, elsewhere.
"Kindness" can pack a punch of positivity. Just like a rock that hits the water and sends ripples in all directions, that one voluntary gesture to step up and help, had a similar ripple effect of positivity on the issues at hand that day. IMPACT BANK knows that about "kindness", thus their sponsorship of such a program.
"Kindness" has a way of bringing us together and moving us forward. Thank you Kendall Janzen and congratulations for this recognition - you are awesome!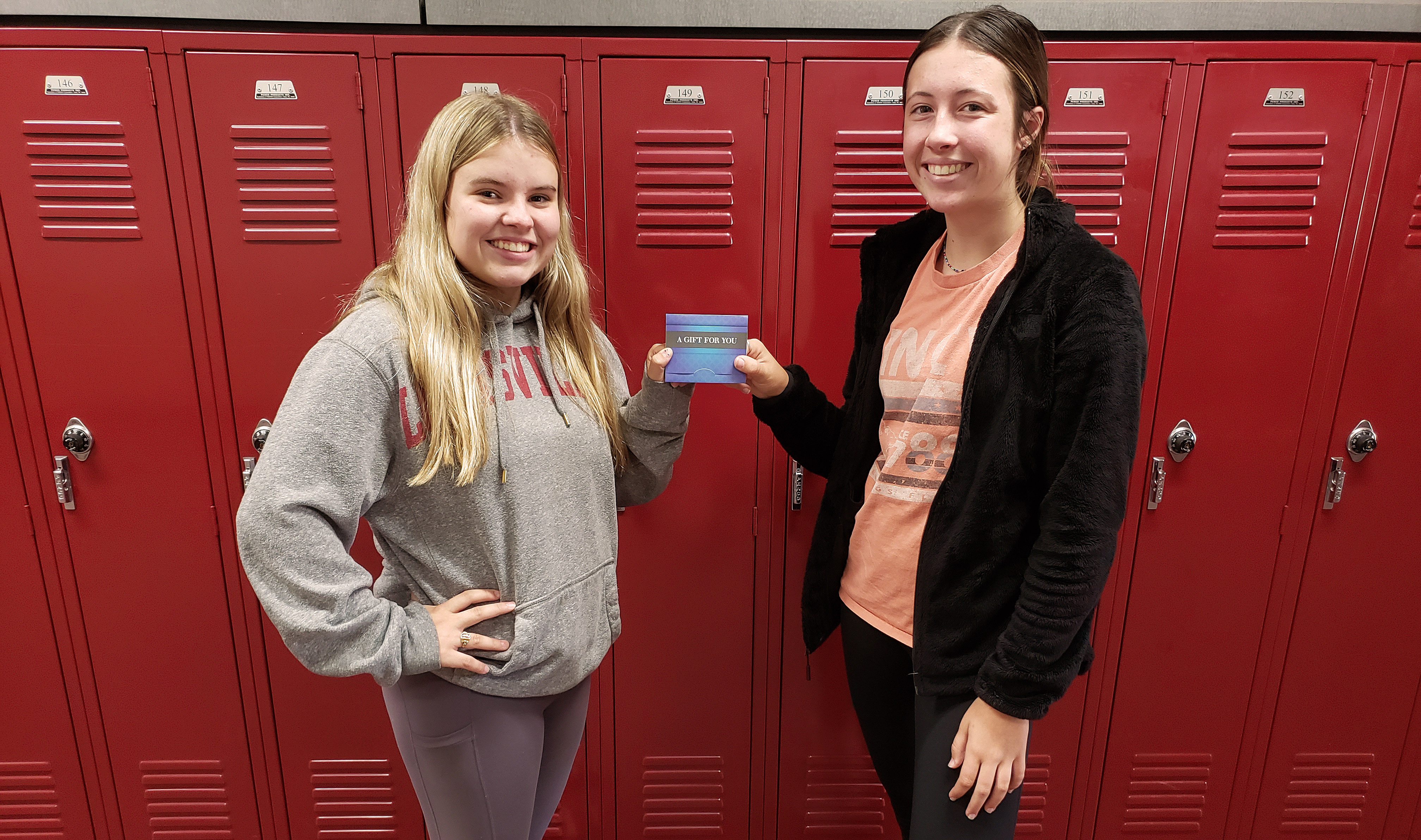 Seen here, presenting the $25 Gift Card to Kendall, is WHS Sophomore Class President, Kate Haines. Thank you Kate, thank you Kendall, and thank you IMPACT BANK.