2018 SEASON
WMS CROSS COUNTRY
@ Andover Middle School
Tuesday, September 18, 2018
8TH GRADE GIRLS - 1.5M

Peyton Franke 11.01  11th  MEDAL

8TH GRADE BOYS - 1.5M

Jaxson Irey-Hurt  10.23  36th
Colten Henning  10.59  53rd
Caleb Sanders  11.02  55th
Daniel Garver  12.37  86th  PR
Tayton Ellis  12.57  93rd

7TH GRADE GIRLS - 1M

Isabelle Cullens  10.21  63rd

7TH GRADE BOYS - 1M
Landyn Glenn  7.02  41st
Alex Gonzalez  8.15  94th
Next meet for 7/8 is HERE - TUE - SEP 25th - 4PM (Hargis Creek Watershed - EAST SIDE)
*******************
WMS CROSS COUNTRY
@ Goddard
Tuesday, September 11, 2018
8th Grade Girls (1.5 Miles)
Peyton Franke 10.35 11th Medal 
AnnaLisa Cullens 13.33 66th
8th Grade Boys (1.5 Miles)
Jaxson Irey-Hurt 10.06 30th Medal
Caleb Sanders 10.38 50th
Taylon Ellis 12.38 93rd
Daniel Garver 12.45 97th
7th Grade Girls (1.0 Mile)
Isabelle Cullens 8.11 51st
7th Grade Boys (1.0 Mile)
Landyn Glenn 6.36 33rd
Alex Gonzalez 8.14 106th
NEXT Cross Country meet for WMS 7/8 - TUES SEP 18th @ Andover MS (4PM)
********************
2017 SEASON
The Class of 2023 Cross Country runners were in "intra-squad" action out at Hargis Creek Watershed Wednesday afternoon, competing more against "time" than position. This race was a little different with the start of each runner staggered based on their times at the Invitational held last weekend at the Watershed. The intent was to have everyone arrive at the finish line at the same time...well, didn't work out that way but some runners got some good times in. Running the best time on Wednesday was Jack Wright, who finished the MILE RUN in 6:11 - bettering his time from Saturday's Invitational by almost 10 secs! Good Job Jack! This is a solid group of runners with a lot of potential talent and heart. Time will tell as to what levels they achieve over the next 5-6 years. The 6th grade group pictured (in no particular order) consists of Jack Wright, Jax Cornejo, Keatin Hartman, Jaxson Irey, Hudson Lawrence, Daniel Garver, Kaiden Beard, Aserea Champion, Kimberly Morgan, Peyton Franke and Ashtyn Sowersby.
GO BIG RED!
CROSS COUNTRY 6TH GRADERS PICS 091416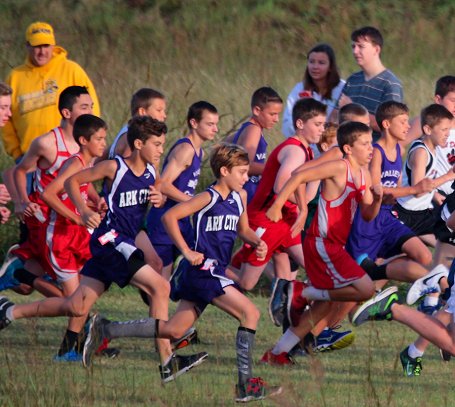 There were over 600 participants at the wet but very nice otherwise Cross Country Invitational out at Hargis Creek Watershed Saturday. Several WMS and WHS runners finished well.
WMS & WHS CROSS COUNTRY PICS 091016
Some photos taken by Katie Ford