WHS JR./SR. PROM 2019
More than 180 Prom participants descended on Wellington High School Saturday evening for the 2019 JR/SR PROM! Arriving by a variety of vehicular means, from Semi-Trucks to an antique Farmall Tractor, a Rolls Royce, a stretch limo, jeeps, camaros, mustangs, T-Birds, boats and more!

Following those arrivals, the prom-goers lined up for the traditional WALK-IN. Families and friends lined up to watch their entrance - all dressed grandly in evening attire and all with big smiles adorning their proud Crusader "mugs". A quick traditional interview at the entrance by the sound man, Mr. Brad Ewing, and inside they all go. The attendees serpentined their way towards the commons, stopping along the way for a pic or two and a mint. The delicious dinner was served by Linda Metzen - on the menu, a choice between baked chicken or Veggie Lasagne. Awesome entrees and sides as well! The meals were served by WHS Sophomores, a tradition begun long ago!!

Following that wonderful meal, the hoards of prom-sta's headed to the auditorium for some post-dinner entertainment whilst the "CREW" transitioned the commons from a dining venue to a dance venue in less than 30 minutes. The program itself, very good! Musical numbers by Braden Struble (on the guitar), sang a song honoring the memory of classmate Stephen Jamerson, tragically lost in a motorcycle accident a couple of autumns ago, receiving a standing "O" for his sentiment and performance. Chloe Easterly sang "My Heart Will Go On" from Titanic, superbly as usual. Then, on a lighter note, "Tanner N Lil Boyz" performed via ROCK BAND and I have to admit, I chuckled throughout. Devin Dickinson, Drake Hendrix, Dakota Lynnes and Tanner Dillon created an exciting concert atmosphere for all present! These four young men have a lot of "D's" in their names but a lot of "A's" on their grade cards. Those entertaining lads, Braden and Chloe, are all seniors and will be greatly missed.
The dance followed with bad Brad Ewing spinning the vinyls as the guests burned off their energy on the dance floor for the next 2 1/2 hours.
The evening culminated with the announcement of individual awards and lastly, (and a tradition since 1968), the PROM LORD & LADY were announced.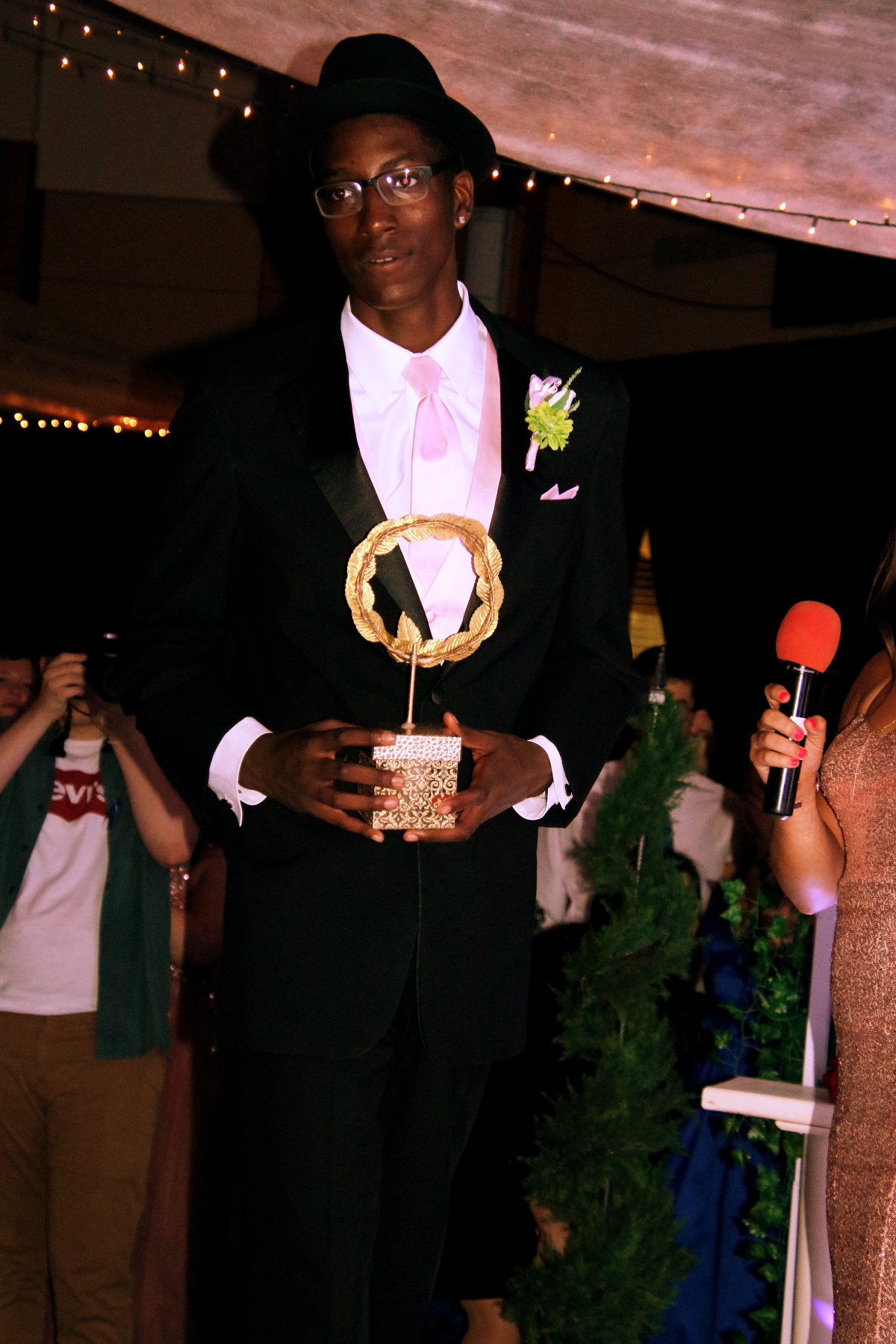 BEST DRESSED GUY - Darvel Polk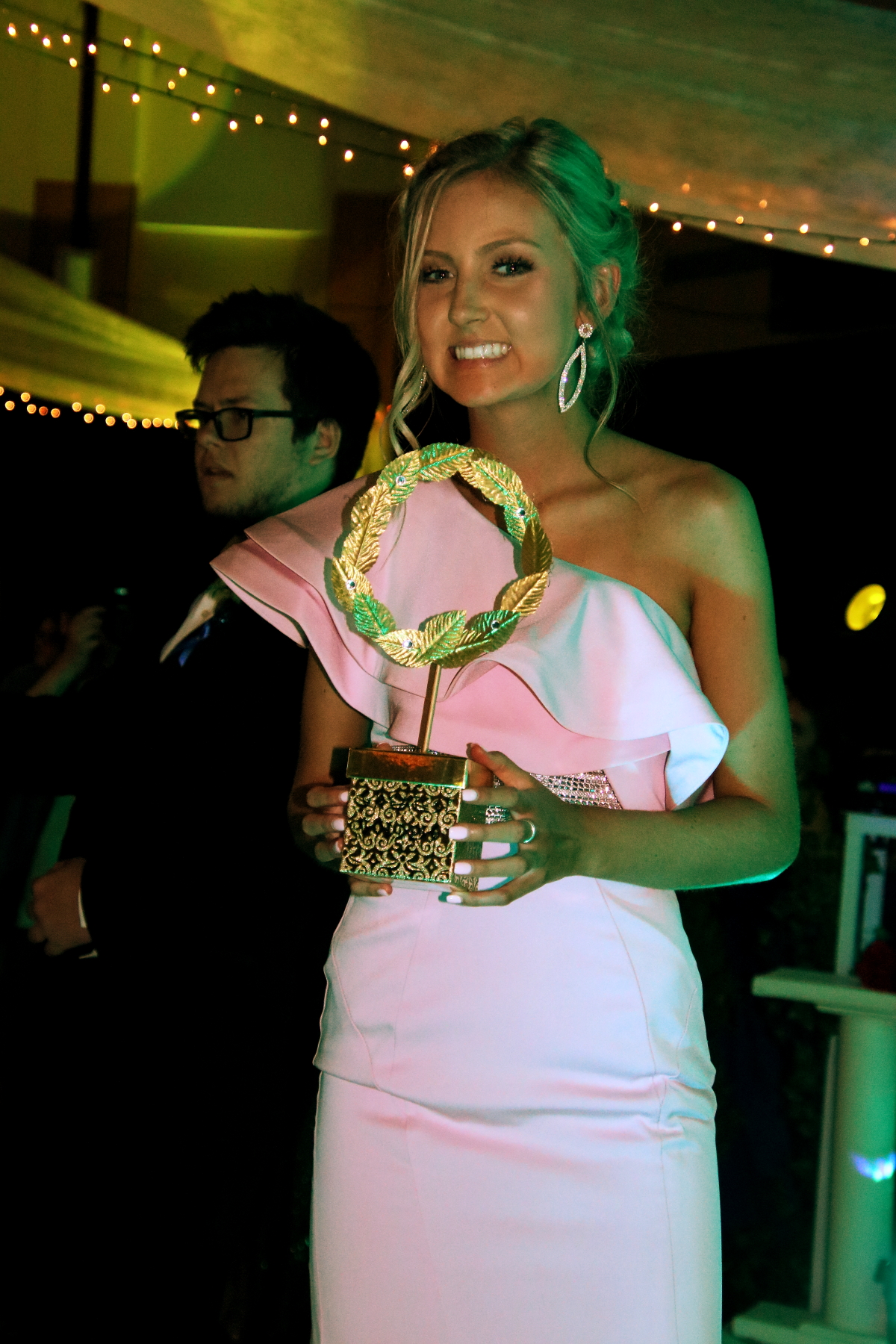 BEST DRESSED GIRL - Avery Barker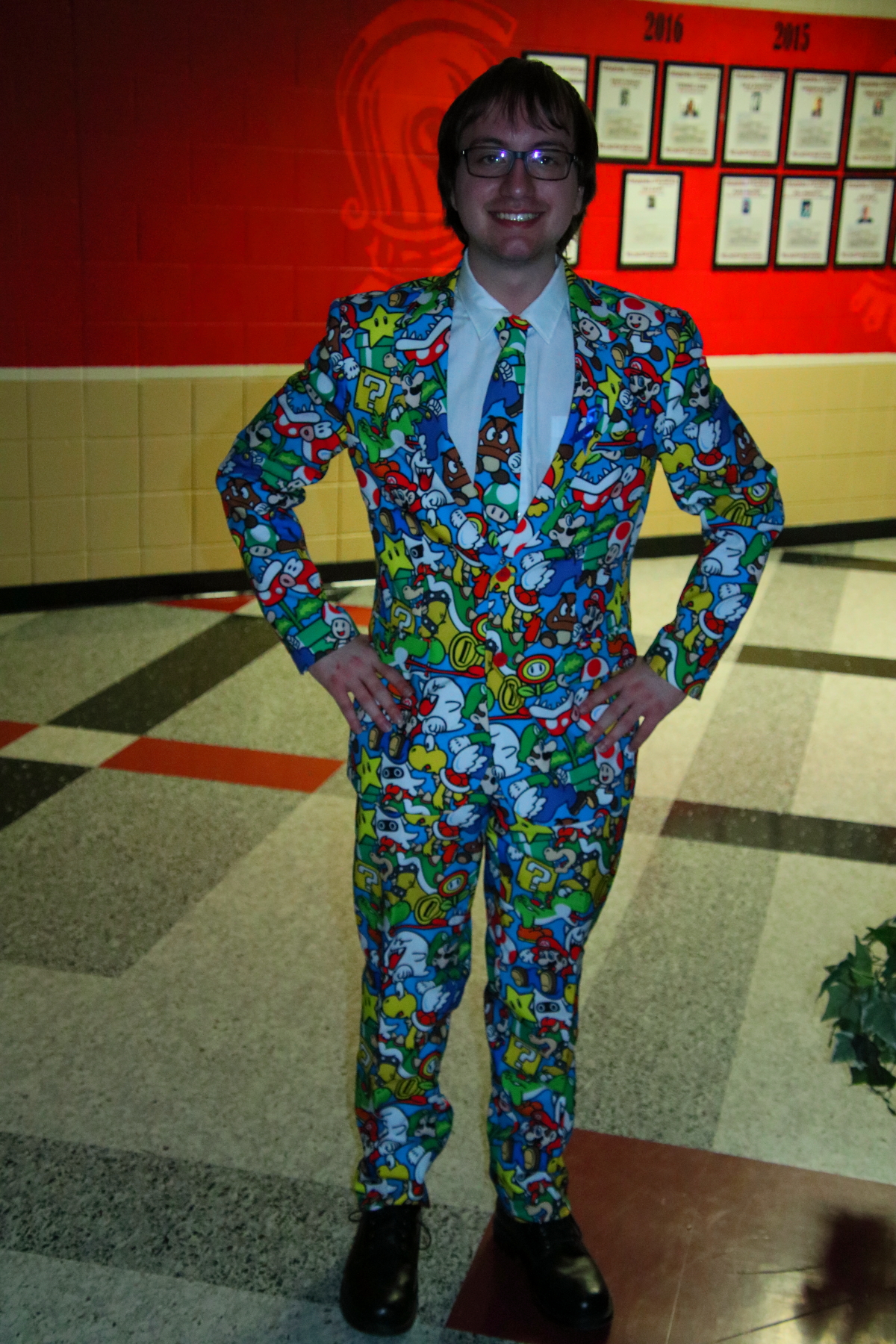 MOST UNIQUE TUX - Tyler Chalmers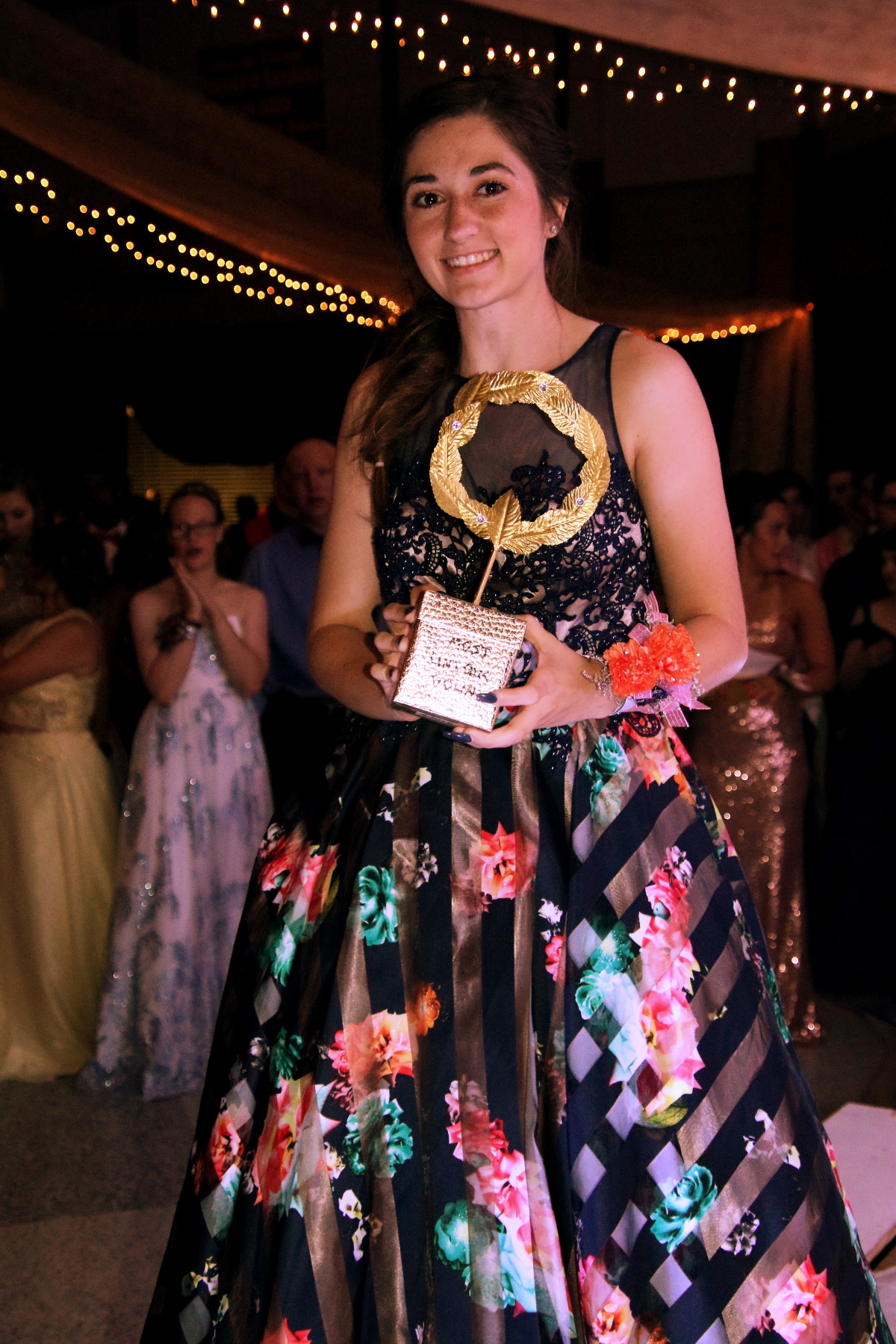 MOST UNIQUE GOWN - Natalie Henning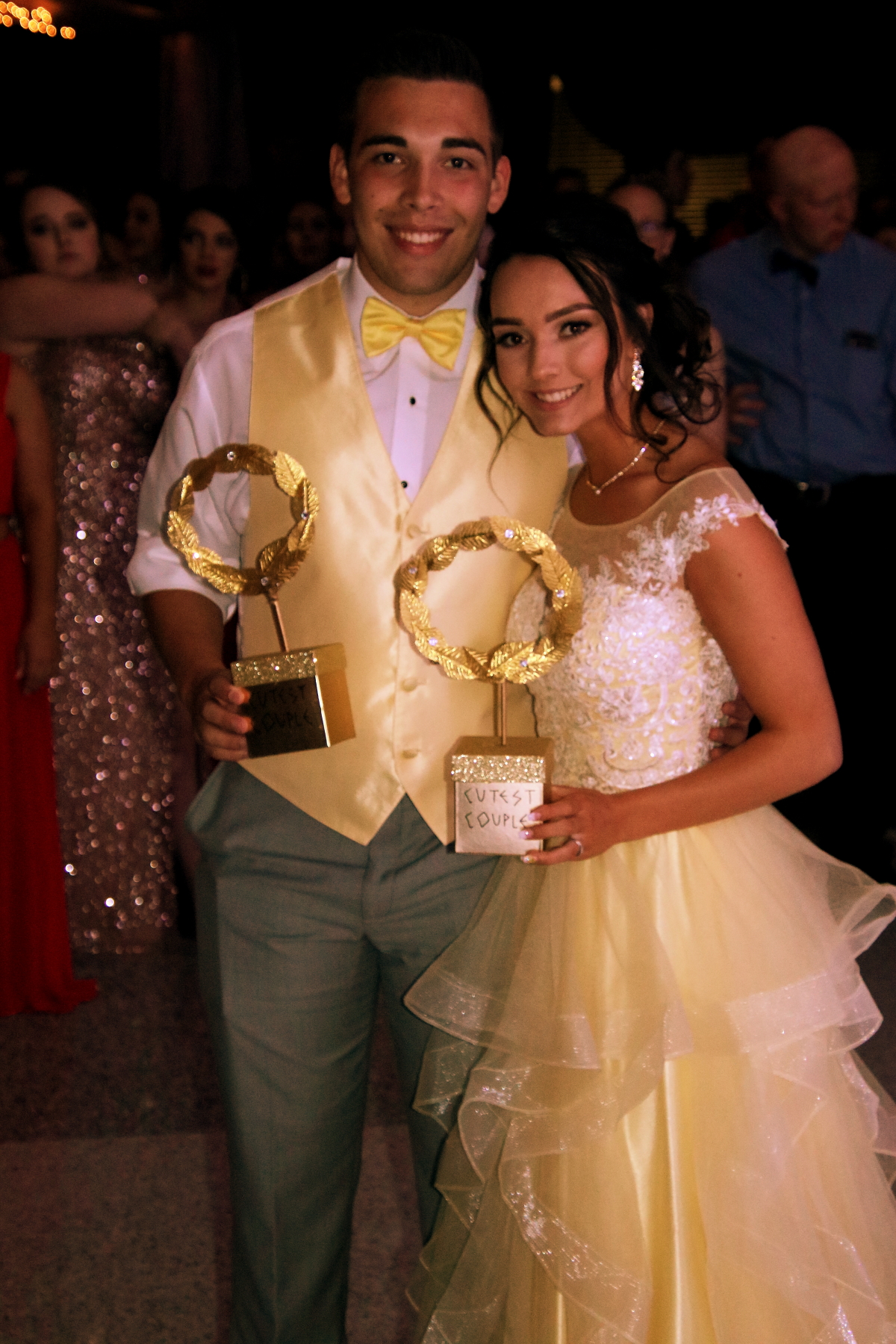 CUTEST COUPLE - Joe Ybarra / Kylie Aufdengarten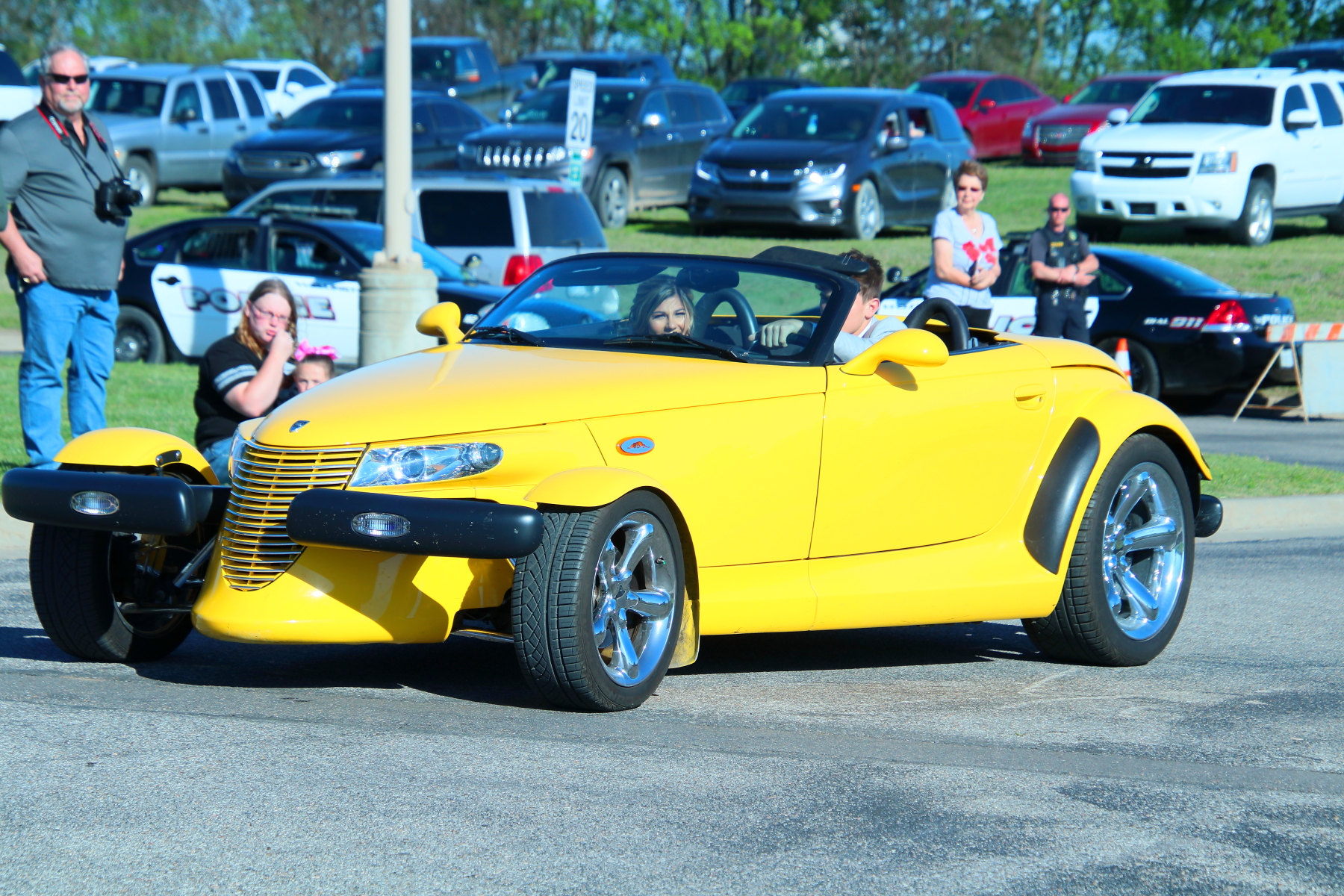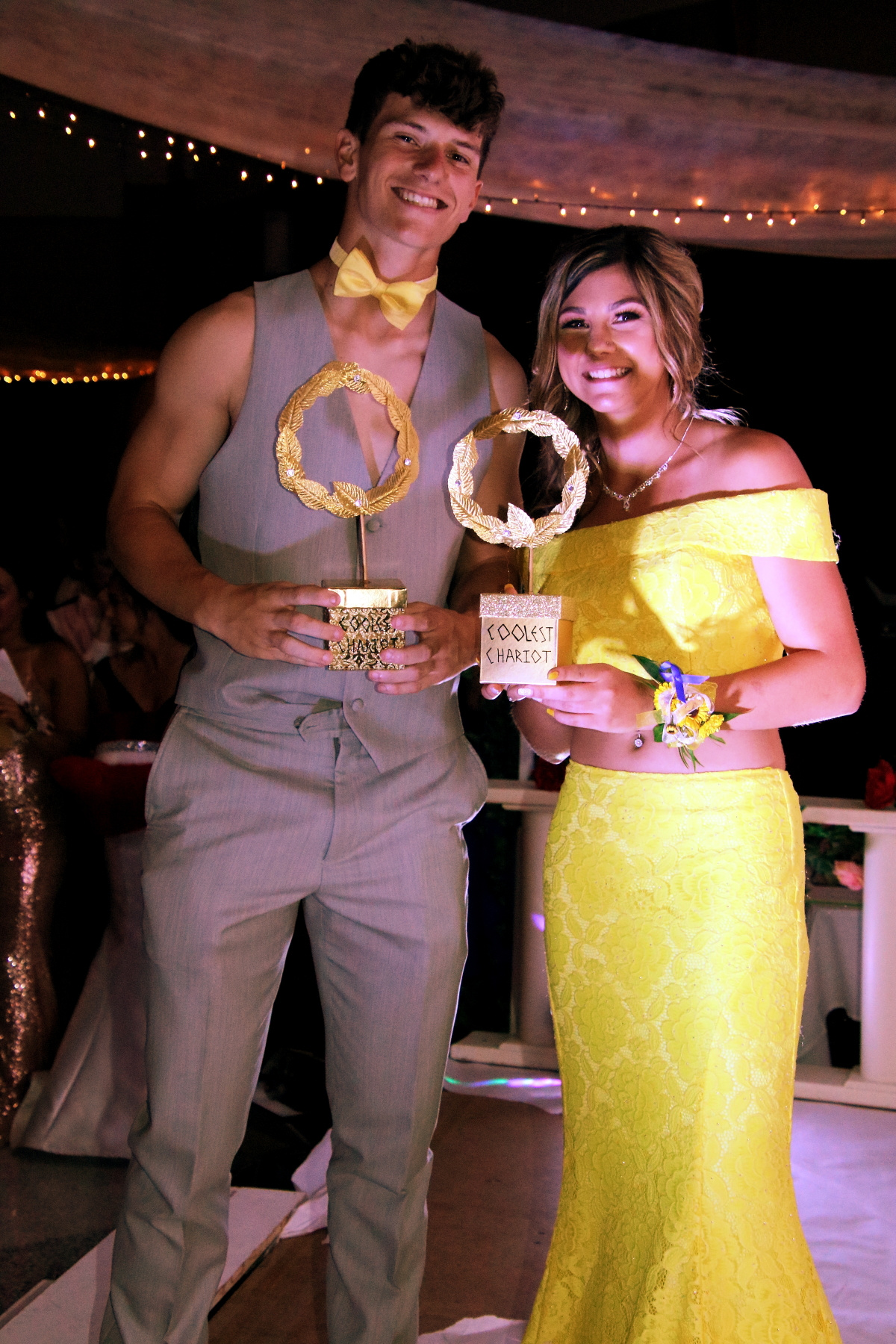 COOLEST CAR - Grey Hatfield / Skylar Troutman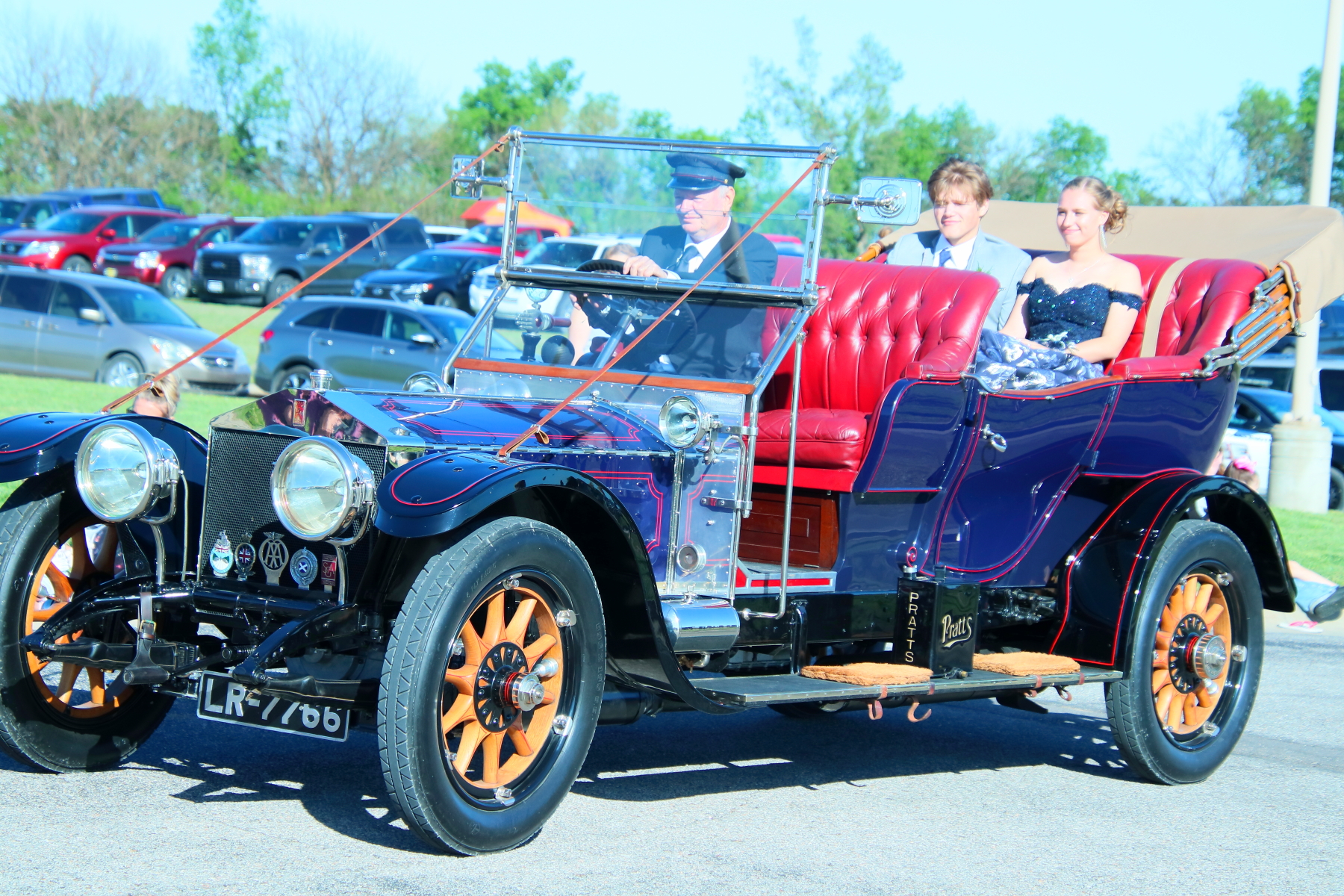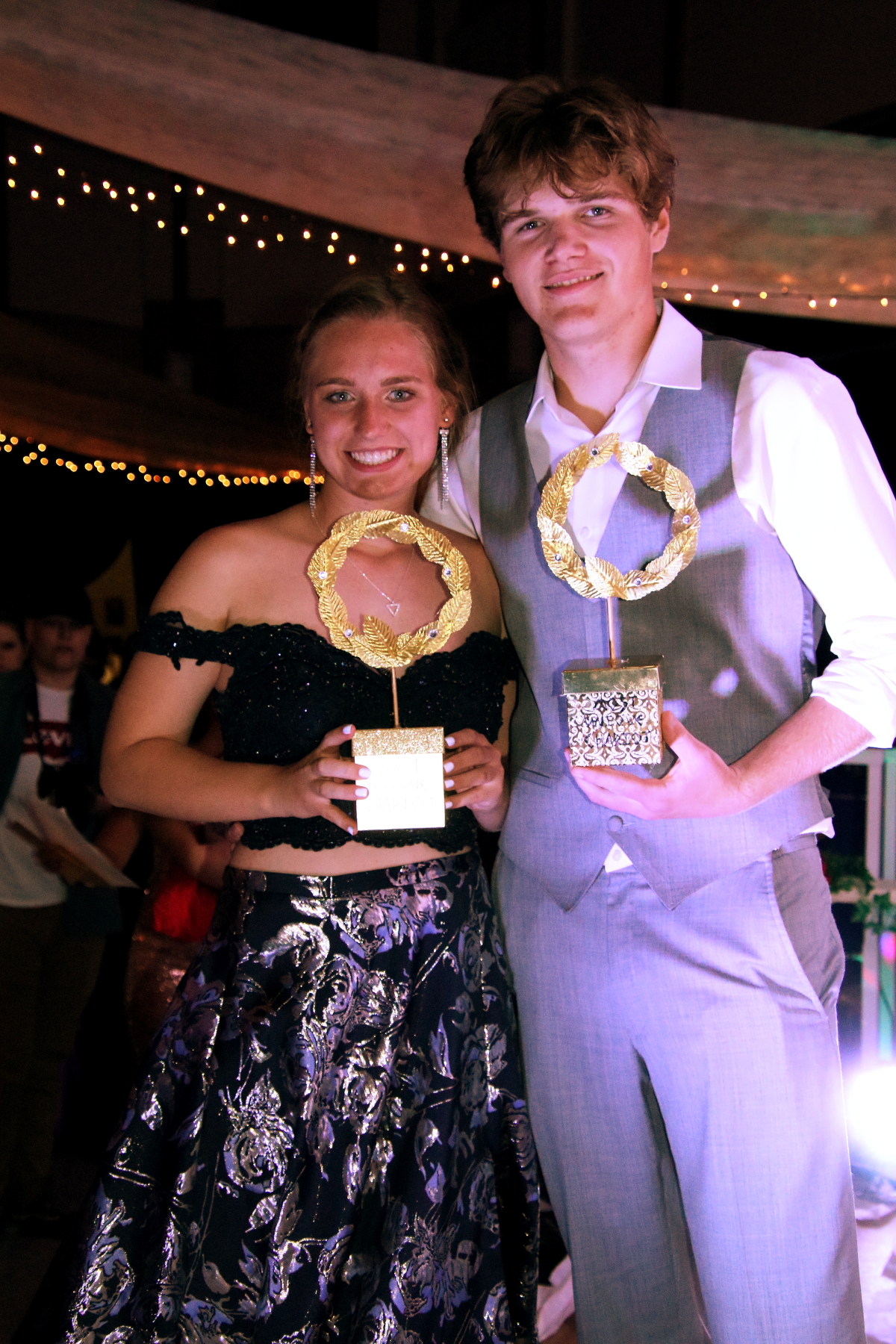 MOST UNIQUE RIDE - Devin Dickinson / Sierra Rademacher


and drum roll please..............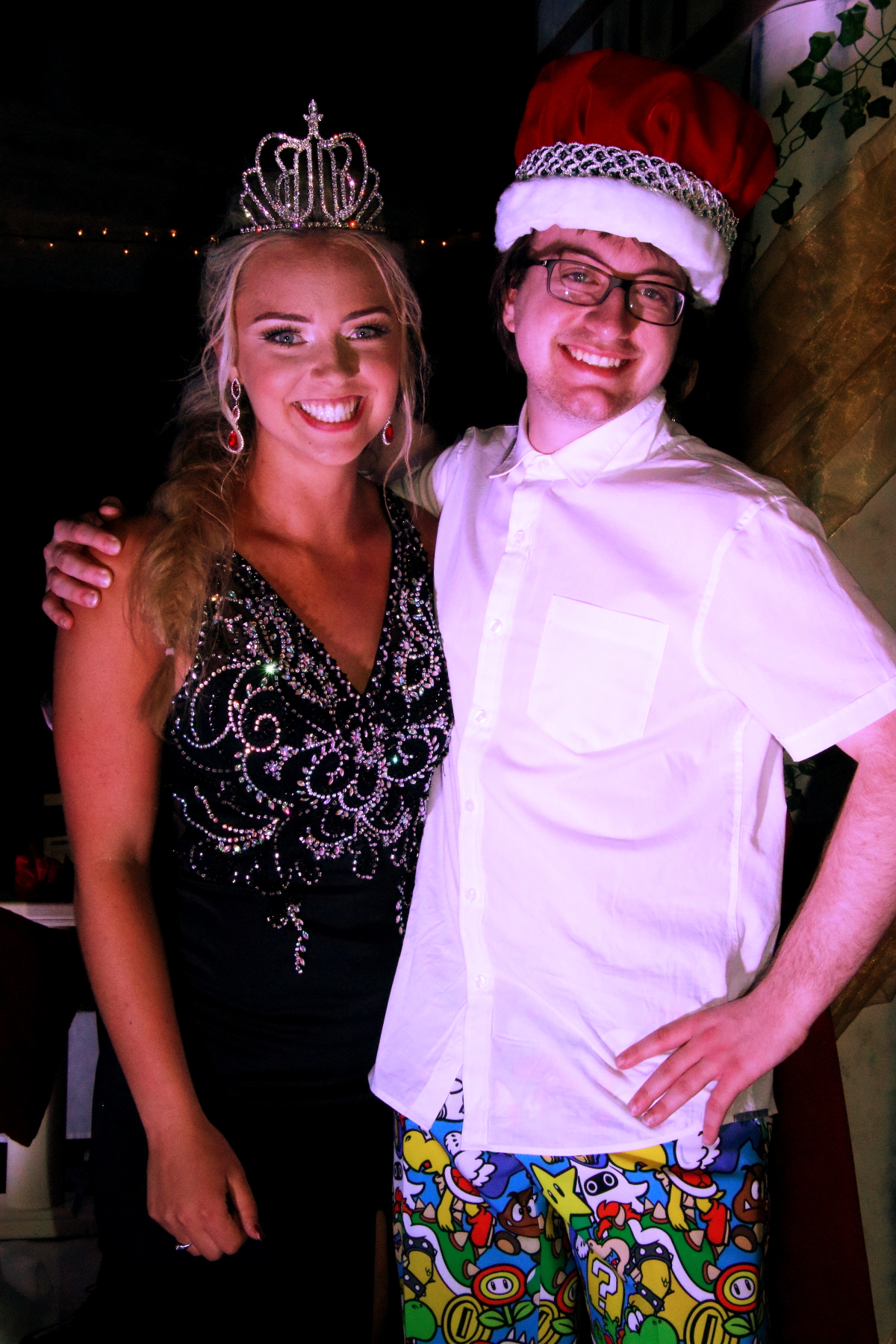 LORD TYLER CHALMERS
LADY TAYLOR MEYER

Congratulations to all, special congrats to Taylor and Tyler - the TRADITION continues!!

Decorations were wonderful, Mrs. Karla Lawless, as she has for years, lead the decorating crew to another successful outcome - the theme was GREECE, everything looked GREECEY! :)

The PARENTS take over at MIDNIGHT with "AFTER-PROM" activities. Opportunities abound for attendees to earn money and win gifts throughout that 3-4 hour overnight extravaganza. FOOD, FOOD and more FOOD, music, friendship, awareness, at least for the Seniors, that special times with their special Crusader friends are drawing to a close as a new chapter in their lives await, just around the corner.

Thank you to all who made this year's EVENT so special - lots of planning, lots of hard work. In the end, lots of fun, consequently, lots of memories...GO CRUSADERS! (FOR LIFE!)
WHS JR./SR. PROM 2018
Are you ready for some pics?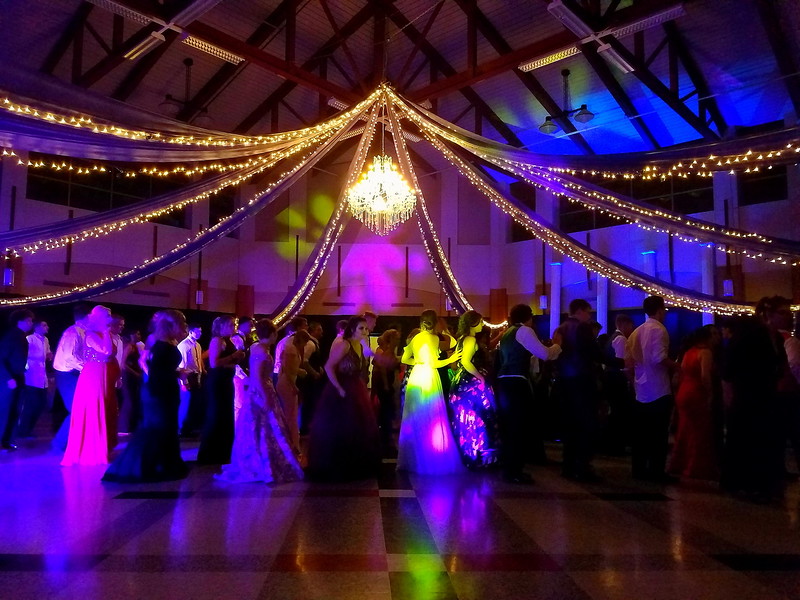 No Arrival Pics Due To Weather!
Another PROM in the books, this one with a different start than usual but still a great time for the participants as many of them celebrate together for perhaps the last time! The decorations were superb (thank you Mrs. Lawless, Ms. Ford and all the student helpers), the food was "d-lish", the smiles, a-plenty! 

Aaron Schoemann and Jill Wiley were crowned Lord & Lady, the 51st since Nancy Hamburg and Jim Farley began the tradition back in the Spring of 1968! Congrats to both!!

OTHER AWARDS
Most Unique Tux - Tyler Chalmers
PIC
Most Unique Gown - Abby Lowe
PIC
Gorgeous Guy (Best Dressed) - A.J. Snipes
PIC
Loveliest Lady (Best Dressed) - Taylor Meyer
PIC
Most Unique Ride - Chandra Pourner
PIC
Coolest Car - Joe Ybarra & Kaylene Neal
PIC
Cutest Couple - Dakota Lynnes & Ellie Buresh
PIC
 
/*/*/*/*/*/*/*/*/
WHS JR./SR. PROM 2017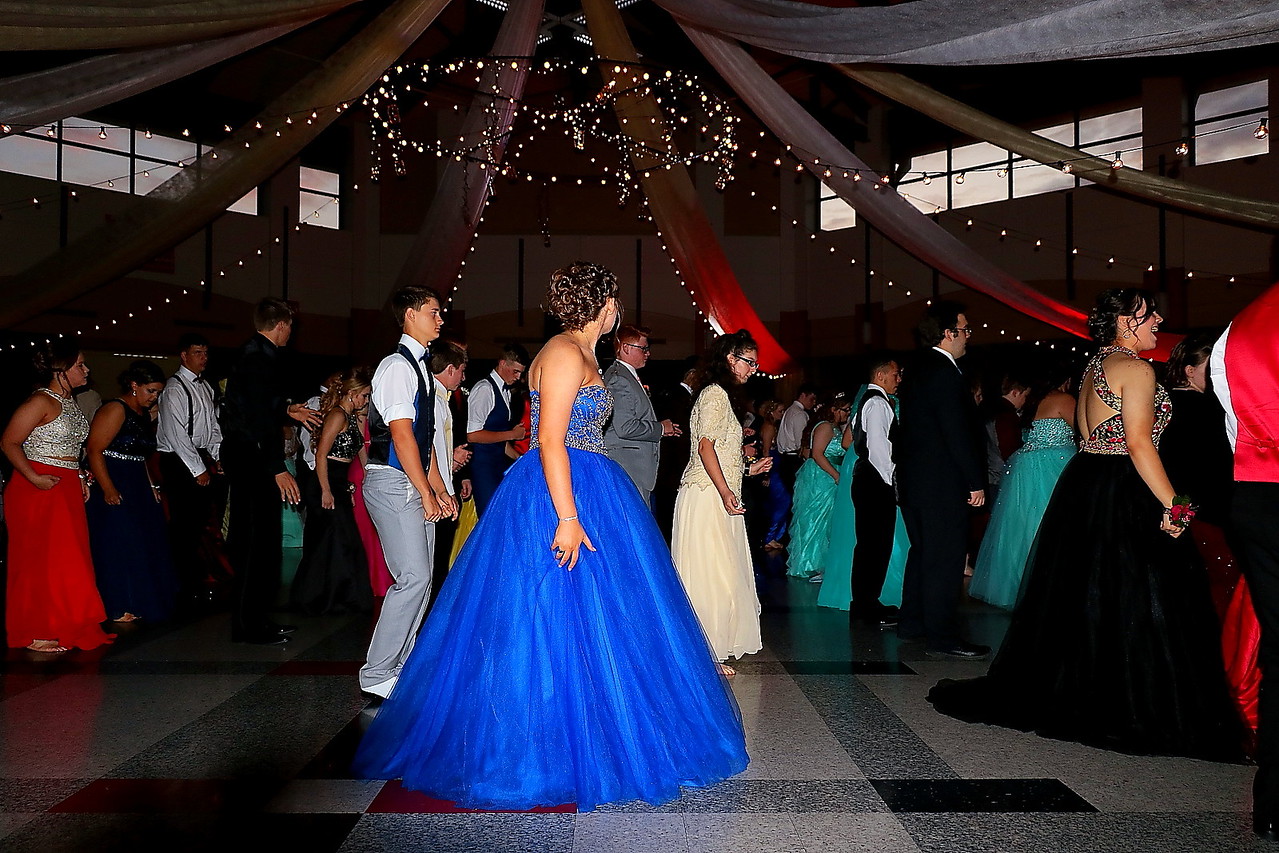 It's pic time!
 
ARRIVALS

WALK-IN 

DINNER 

DANCE

CORONATION / PROJECT PROM 

Loveliest Lady - Shayland French Gorgeous Guy - DaMoggio Johnson Cutest Couple - Mekenna Adams and Matthew Mason Most Unique Tux - Noah Rinehart Most Unique Dress - Jo Tredway Coolest Car - Riley Nelson & Trevor Bernd Unique Ride - Noah Rinehart & Jaycee Schettler