2018 SEASON
JUNE 25th - JUNE 29th - HIGH SCHOOL FOOTBALL CAMP
JULY 22nd - JULY 23rd - DEVELOPMENTAL CAMP (1st-6th)
JULY 23rd - AUGUST 2nd - HIGH INTENSITY TRAINING
JULY 25th - JULY 26th - MIDDLE SCHOOL CAMP
AUGUST 11th - CONDITIONING TEST / TEAM MEETING
AUGUST 13th - 2-A-DAY PRACTICES BEGIN
AUGUST 18th - SATURDAY SCRIMMAGE 9AM
AUGUST 21st - FIRST DAY OF SCHOOL
AUGUST 23rd - HAMBURGER SCRIMMAGE (rained out)
2018 SEASON SCHEDULE
VARSITY
AUG. 31, 2018 @ Collegiate 7PM (WHS 32 WCS 00)
SEP. 7, 2018 HERE vs Andale 7PM (WHS 00 AHS 28)
SEP. 14, 2018 @ Clearwater 7PM (WHS 47 CHS 26)
SEP. 21, 2018 HERE vs Augusta 7PM (AHS 14 WHS 35)
SEP. 28, 2018 @ Rose Hill 7PM
OCT. 5, 2018 HERE vs Labette County 7PM
(Play THERE in 2019)
OCT. 12, 2018 @ Winfield 7PM
OCT. 19, 2018 HERE vs Mulvane 7PM
WEEK #9 - pending
FRESHMEN / JV
SEP. 3, 2018 HERE vs Collegiate (1 game - JV) 6PM (WCS 27 WHS 12)
SEP. 3, 2018 @ Conway Springs (1 game - Freshmen) 6PM (WHS 18 CHS 28)
SEP. 10, 2018 @ Andale 5PM (loss)
SEP. 17, 2018 HERE vs Clearwater 6PM (loss)
SEP. 24, 2018 @ Augusta 6PM (1 game - "C") (WHS 14 AHS 12)
OCT. 1, 2018 HERE vs Rose Hill (1 game) 6PM
OCT. 8, 2018 @ Labette County 5PM
OCT. 15, 2018 HERE vs Winfield 5PM / 6PM
OCT. 22, 2018 @ Mulvane 5PM
WEEK #9 - pending
WEEK #9 opponent will not be known for certain until just after GAME #8 this season...click below for more info!

4A PLAYOFF FORMAT TO CHANGE FALL 2018
********************
WHS VARSITY FOOTBALL
HERE vs Augusta (Homecoming)
Friday, September 21, 2018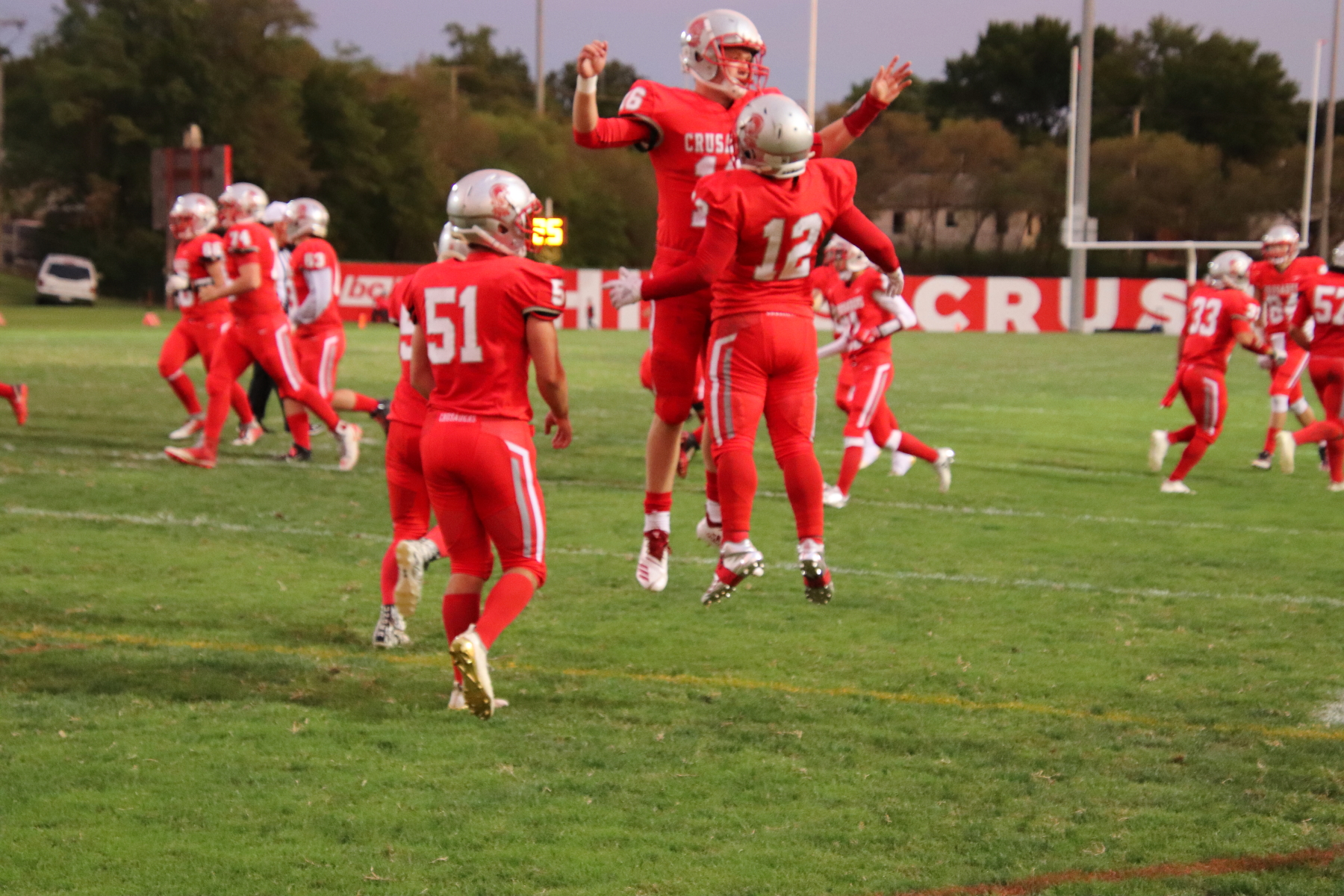 For the 2nd time this season, the IRONDUKES were at HOME and the eventual outcome was good, but it took a while before Wellington could pull away from the visiting Orioles.

At halftime, WHS was up only 14-7. A strong 14 point 3rd qtr for the HOME team secured the cause, as its now 28-7. Augusta would score one more time in the 4th, so would Wellington. As the whistles blew, the game ended 35-14, the team in red could ring the bell!
With Senior Grey Hatfield out for at least a couple more weeks, (due to ailment), others had to step up in the running department and they did. Zander Vargas carried the ball 21 times for 108 yds and 2 TD's. Isaac Hilt, 11 carries for 56 yards, Michael Ledbetter 14 / 26 yds and a TD, DeAndre Washington 1/20, a TD. Caleb Reichenberger2/11 yds, Zane Cornejo 1/7 yds., Jack Nuss 1/2 yds and Trace Rusk 1/2 for 2 yds.
In the Passing department, Michael Ledbetter connected on 12 with 22 attempts for 185 yds and a TD. Isaac Hilt had 1 reception for 52 yds, Silas Popplewell snagged 2 for 37 yds., Caleb Reichenberger 1/34 yds. (a TD!) DeAndre Washington 4/24, Zane Cornejo 2/23, Trayson Probst 1/8 and Tayshaun Washington 1/7.
The Crusader racked up 21 first downs, to Augusta's 7. Wellington was successful 50% of the time on 3rd down conversions (9/18) and 67% on 4th down conversions (2/3).

(Move to 3-1 on the season)

TOTAL OFFENSE:
232 yds Rushing
185 yds Receiving
417 yds total
OTHER AREA SCORES
Belle Plaine 41 Cherryvale 40 // Cheney 7 Clearwater 21 // Andale 65 Haven 0 // Scott City 47 Ulysses 0 // Caldwell 32 Attica/Argonia 12 // Winfield 20 Labette County 26 // Conway Springs 22 Trinity 8 // Circle 20 Rose Hill 10 // Mulvane 39 Buhler 29
******************
WHS VARSITY FOOTBALL
@ Clearwater HS
Friday, September 14, 2018

WELLINGTON 47 CLEARWATER 26

Wellington came at Clearwater Friday night and the mosquitoes came at Wellington! WOW on both. Ledbetter's arm was on fire, Hatfield camped out in the end zone it seemed, after scoring 4 times! Washington, Probst and Barton would cross proudly into the colored carpet with the pigskin in hand, too. And none of that would have happened without the awesome lines, the awesome hits (THERE WERE HARD HITS @ CLEARWATER - "Hearing" football action is as much fun as "watching it"! ) 421 OFFENSIVE YARDS TOTAL!!! It was fun.

Clearwater had their moments but never truly threatened. The attitude on the sideline is all about CRUSADER FOOTBALL - these guys will grow on you - they want to win and they're going to win...the fans in red were a plenty - the IRONDUKE ROAD SHOW is topping the charts - next up / Augusta, Friday @ 7PM @ Sellers - a new DUCHESS will reign that evening as well. 

RUSHING
Grey Hatfield 30 / 196 yds / 4 TD's
Isaac Hilt 1 / 2 yds
Caleb Reichenberger 1 / 6 yds
PASSING
Michael Ledbetter 9 / 14 204 yds
Zander Vargas 1 / 1 21 yds
421 YDS TOTAL OFFENSE!!
RECEIVING
DeAndre Washington 6 / 140 yds 1 TD
Silas Popplewell 1 / 34 yds
Tayshaun Washington 1 / 6 yds
Michael Lebetter 1 / 21 yds
Trayson Probst 1 / 24 yds 1 TD
INTERCEPTION/Return
Chi Barton 1 / 24 yds 1 TD
FIRST DOWNS
WHS 15 CHS 10
THIS WAS THE CRUSADER FOOTBALL PROGRAM'S 600TH WIN! A "Bell-Ringing" stat for SURE!! Congrats to the 1,000's that passed this way before to make that possible. Can't be many high school teams that can toot their horn as loud. GO BIG RED - Let's get 600 more! :)
OTHER AREA SCORES
Caldwell 58 Cedar Vale 00 // Collegiate 42 Mulvane 22 // Flint Hills 34 Oxford 20 // Conway Springs 38 Kingman 21 // McPherson 56 El Dorado 8 // Ulysses 56 Hugton 6 // Labette County 28 Field Kindley 14 // Chaparral 42 Cheney 14 // Winfield 21 Circle 00 // Belle Plaine 42 Independent 14 // South Haven 52 Norwich 24 // Buhler 34 Augusta 6 // Andale 62 Rose Hill 00
******************
WHS VARSITY FOOTBALL
HERE vs Andale
Friday, September 7, 2018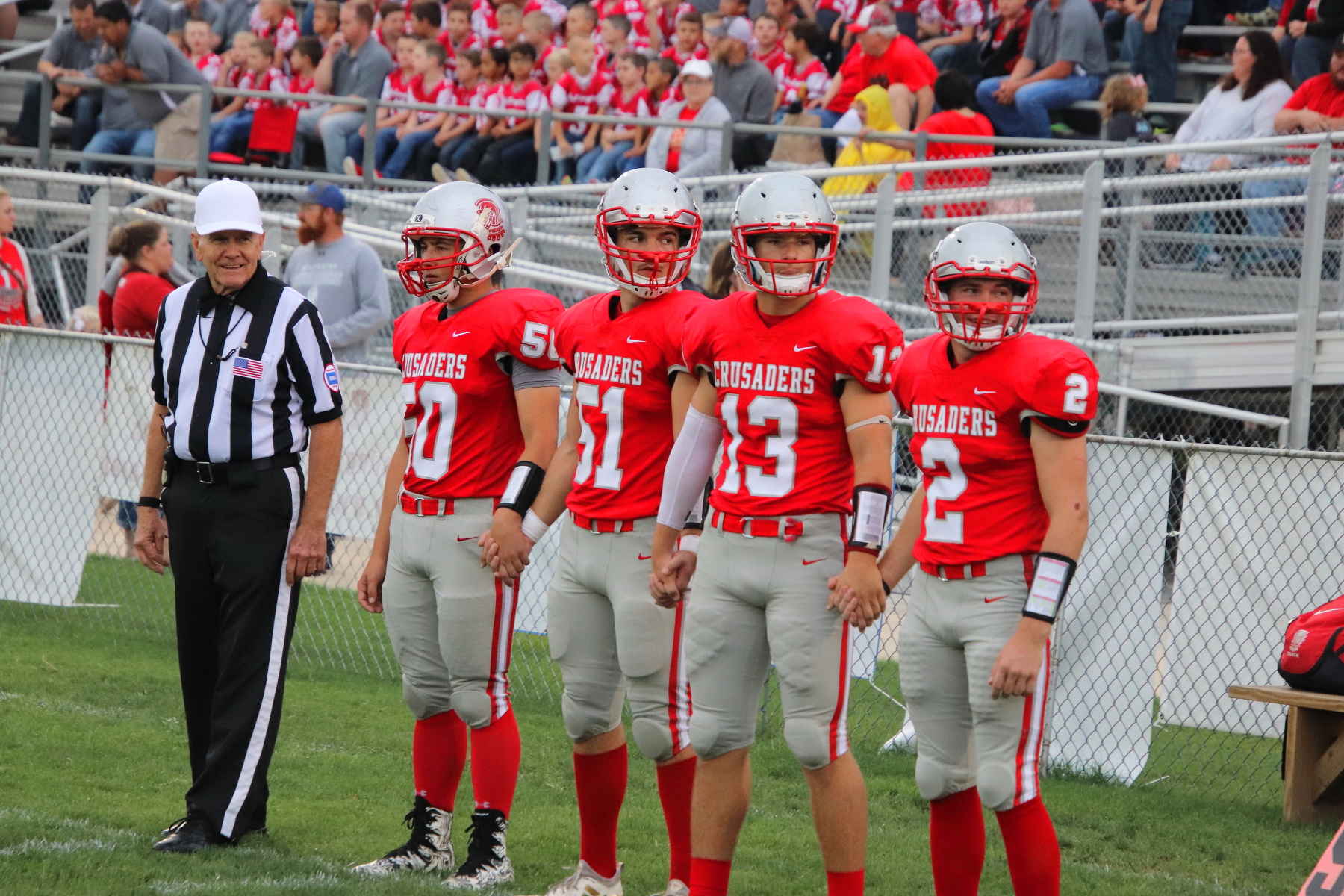 The Crusaders got to taste the other end of an xx - 00 score this week, falling to the Andale Indians 28-00 at Sellers Park Friday evening. It was Youth Night, the stands were full of the Crusader faithful, and for the most part, the rains had ended. The field was quite saturated though and by games end, looked much like the tee area at a golf course driving range on 1/2 price day.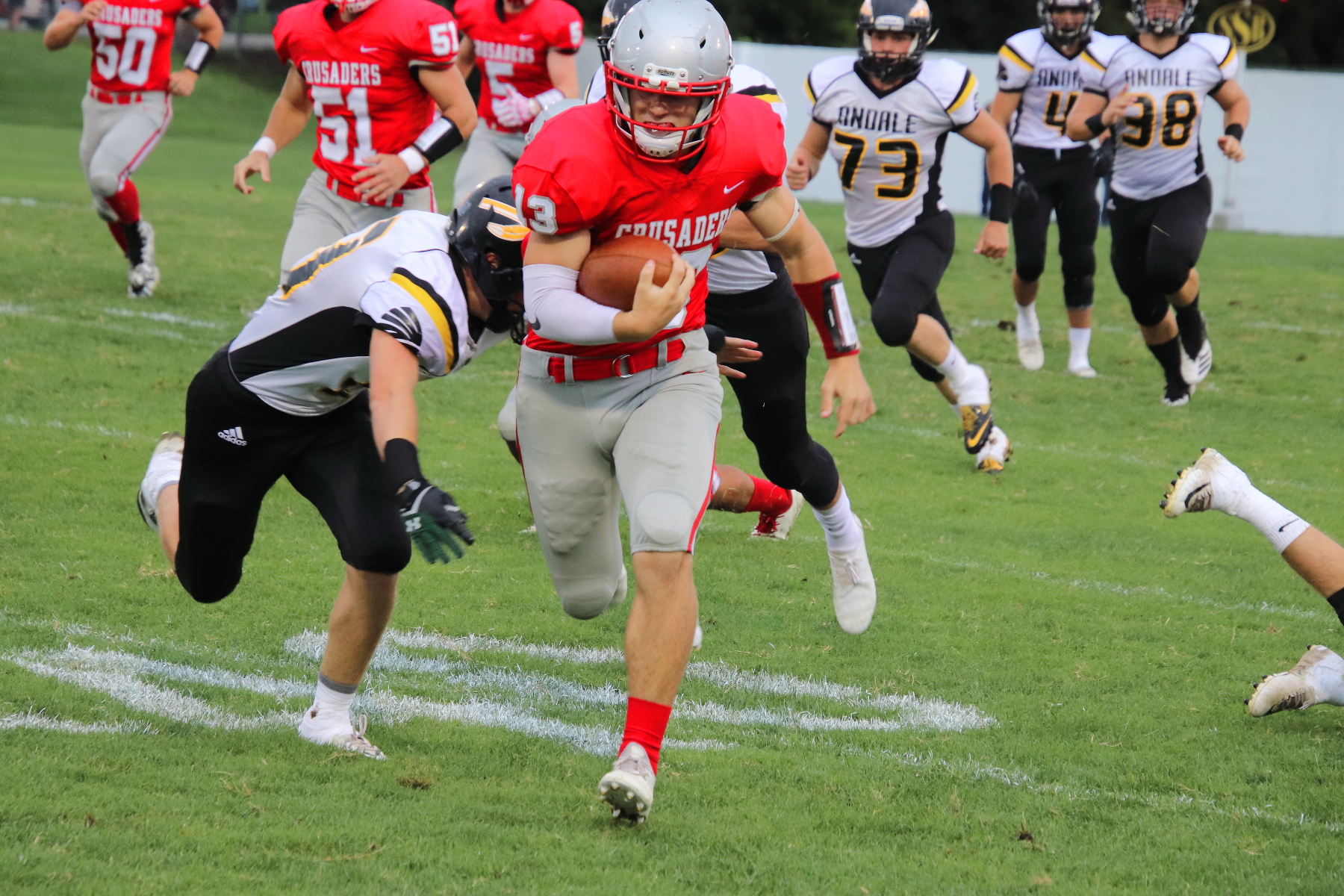 Wellington opened with flair, some starburst action resulted in a 46 yd kickoff return by Grey Hatfield. The battle was on but Wellington's biggest opponent this night, would turn out to be themselves. Opportunities arose but procedure calls, off-sides, and other detriments, eroded those opportunities into just "what could have been" memories, as the Indians slowly inched away. Don't let the score mislead you totally though. We played well enough at times to make you think we could come back. The defense was strong and kept Andale out of the end-zone the entire 2nd half. The offense did struggle and QB Ledbetter spent time scrambling. He took and endured hits throughout the game. Passing, Michael went 4/16 for 52 yds. and 1 interception. The Crusaders were penalized 8 times, twice as many times as the opponent. This is one more game of "experience" though, for the young linemen and they will grow from it.

If you look around a few of the rough edges, you can see a team that has potential to accomplish good things this season. Friday, too many free opportunities were provided to the other side. If we can make them earn it instead, we're good enough to win it - and we will.
SCORE BY QUARTERS
AHS - 14 14 00 00 - 28
WHS - 00 00 00 00 - 00
TOTAL OFFENSE WHS
Rushing 37 yds. / Passing 52 yds. (89 yds)
RUSHING
Grey Hatfield 16/41 yds (2.6 avg)
Michael Ledbetter 11/-4 (-0.4 avg)
RECEIVING
Silas Popplewell 2/28 yds
DeAndre Washington 2/24 yds
PUNTING
Trayson Probst 9/318 yds
(35.3 avg.) (2 inside 20 yd line)

PUNT RETURNS
Jack Nuss 3/37 yds (12.3 avg)

KICKOFF RETURNS
Grey Hatfield 2/47 yds (23.5 avg)
Jack Nuss 1/44 yds (44.0 avg)
RJ Clift 1/31 yds (31.0 avg)
Zane Cornejo 1/10 yds (10.0 avg)
The VARSITY CRUSADERS are 1-1 on the season
OTHER SCORES:
Labette County 36 Independence 0
Wichita Collegiate 36 Rose Hill 3
Augusta 7 Circle 6
McPherson 47 Winfield 7
Mulvane 42 Clearwater 14
Kingman 56 Belle Plaine 28
Attica/Argonia 62 Central 38
Howard West Elk 6 Udall 52
Cedar Vale 62 South Haven 14
Caldwell 62 Flinthills 6
Buhler 19 El Dorado
Goodland 14 Uysses 62
Garden Plain 31 Douglass 0
Goddard 34 Ark City 0
Chaparral 49 Trinity 7
NEXT GAME ACTION
FRESHMEN/SOPHS @ Andale Monday 5PM
VARSITY @ Clearwater 091418 7PM
******************
WHS JR. VARSITY FOOTBALL
vs Wichita Collegiate HS
Monday, September 3, 2018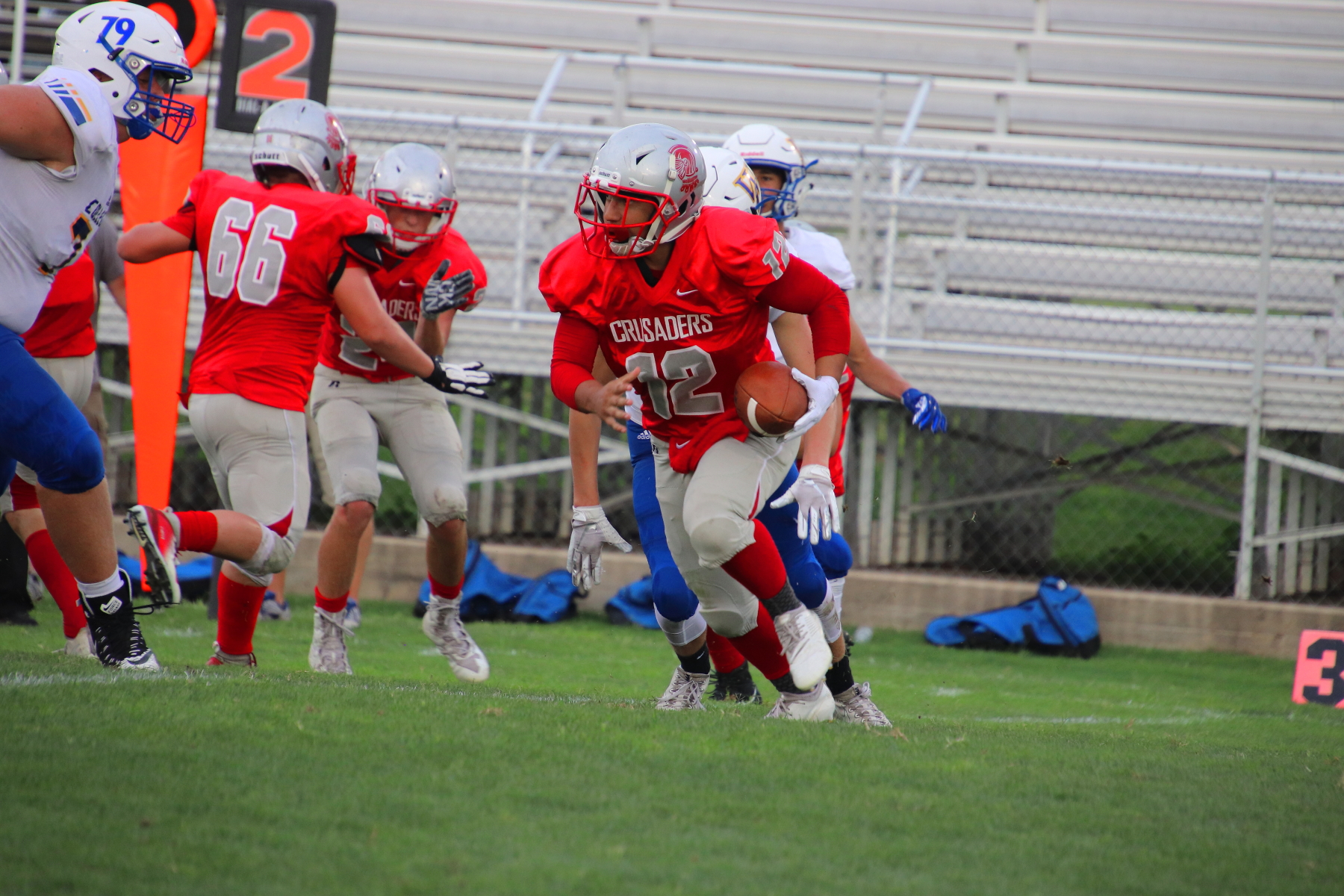 Coming off the BIG VARSITY WIN Friday night @ Collegiate (Final WHS 32 WCS 00), the JV Boys looked poised early to continue that trend, jumping out on the visiting Spartans 7-6 after 1 qtr of action. Unfortunately, miscues and mental errors in the end would tip the scale to Collegiate, who rode home in the rain with a 27-12 victory.

SCORE by QUARTERS
WCS 07 07 07 06 - 27
WHS 06 00 06 00 - 12
Also on Monday, the WHS Freshman Squad was in action at Conway Springs. With 3 minutes to go, the opportunity to tie was there for the young Crusaders. In the end, that did not happen and Conway scored a late TD for the final 28-18 score.
******************
WHS VARSITY FOOTBALL
@ Wichita Collegiate HS
Friday, August 31, 2018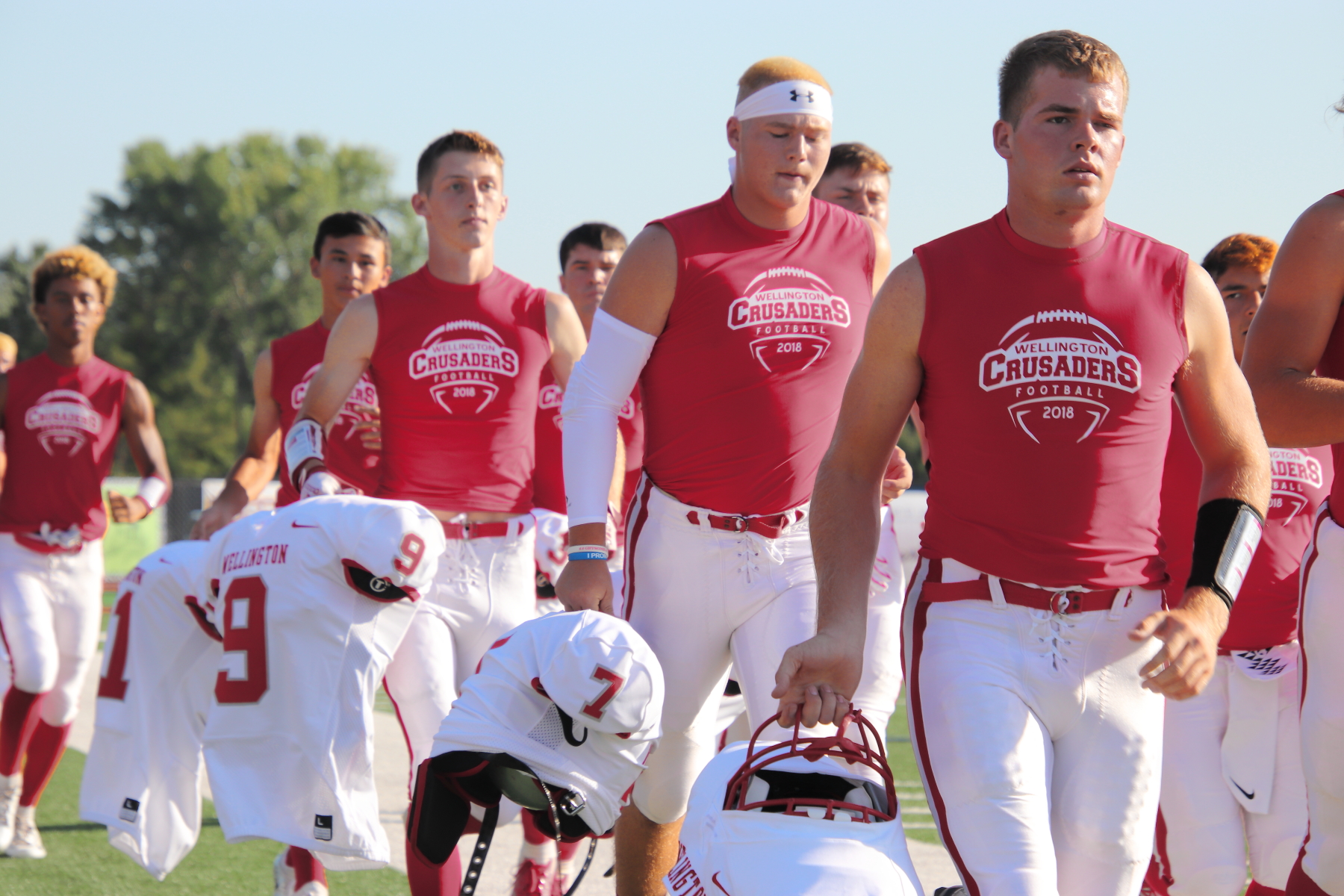 In an interview with Coach Aguilar, a few short weeks ago, he was upbeat and he even suggested what happened Friday night at Collegiate might very well happen. The Coaches are big on this group of Crusaders and Friday's results clearly shows why.

Wellington jumped out early and never looked back. The BIG RED DEFENSE fired on all 8 cylinders. Ledbetter's arm, Washington's hands, and Hatfield's legs, (and a Crusader team pumped full of pride and determination), took care of business and now proudly stand at 1-0. The young linemen, seeing their FIRST FRIDAY night action EVER,didn't look like rookies to many, and let's not forget the CRUSADER FAITHFUL either...it honestly appeared the visitors outnumbered the home folks, if not in numbers, surely in spirit and support. The student body - superb - nothing but pride and joy emanated from the east side of Spartanville Stadium. Nothing but smiles on the post-game walk to the parking lot and then home.  
SCORE BY QUARTERS
WHS - 12 13 00 07 - 32
WCS - 00 00 00 00 - 00
RUSHING (104 yds total)
Grey Hatfield 18 carries for 100 yds
Isaac Hilt 4 carries for 12 yds
Michael Ledbetter 8 carries for -8 yds
PASSING (217 yds total)
Ledbetter 6/8 for 217 yds
TOTAL YDS CRUSADERS 321
RECEIVING 
DeAndre Washington 4/175 yds
Grey Hatfield 1/31 yds
Zane Cornejo 1/11 yds
SCORING 
Isaac Hilt 4 yd TD Run
DeAndre Washington 83 yd & 80 yd TD Receptions
Michael Ledbetter 12 yd TD Run
Caleb Reichenberger 7 yd FB
KARSTEN GILL 2/4 PAT
PUNTS (Trayson Probst)
3 / 128 yds (23, 68, 37) (43 yd avg)
FIRST DOWNS 5 (Collegiate 7)
COLLEGIATE RUSHING 70 yds
COLLEGIATE RECEIVING 32 yds
TOTAL YDS SPARTANS 102 yds
A few dings, a few scrapes, but all the IRONDUKES** made it through Game #1 of 13...great start and a glorious scent of GREAT TRADITION beginning to fill the air around us...the Crusaders are 1-0 and will move on with the show, this coming Friday, at HOME vs Andale. Andale downed Mulvane 42-14 in that week 1 contest. Other scores Friday: Andover Central 13 Augusta 3, Central High 52 Oxford 6, Clearwater 22 Rose Hill 18, Winfield 3 Ark City 7, South Haven 8 Caldwell 56, Inman 37 Belle Plaine 36, Pittsburg 43 Labette County 8

**It was discovered over the weekend, Junior Gage Cunningham will be out for remainder of the season due to ACL issues.
************************
SATURDAY SCRIMMAGE
@ Wellington High School
August 18, 2018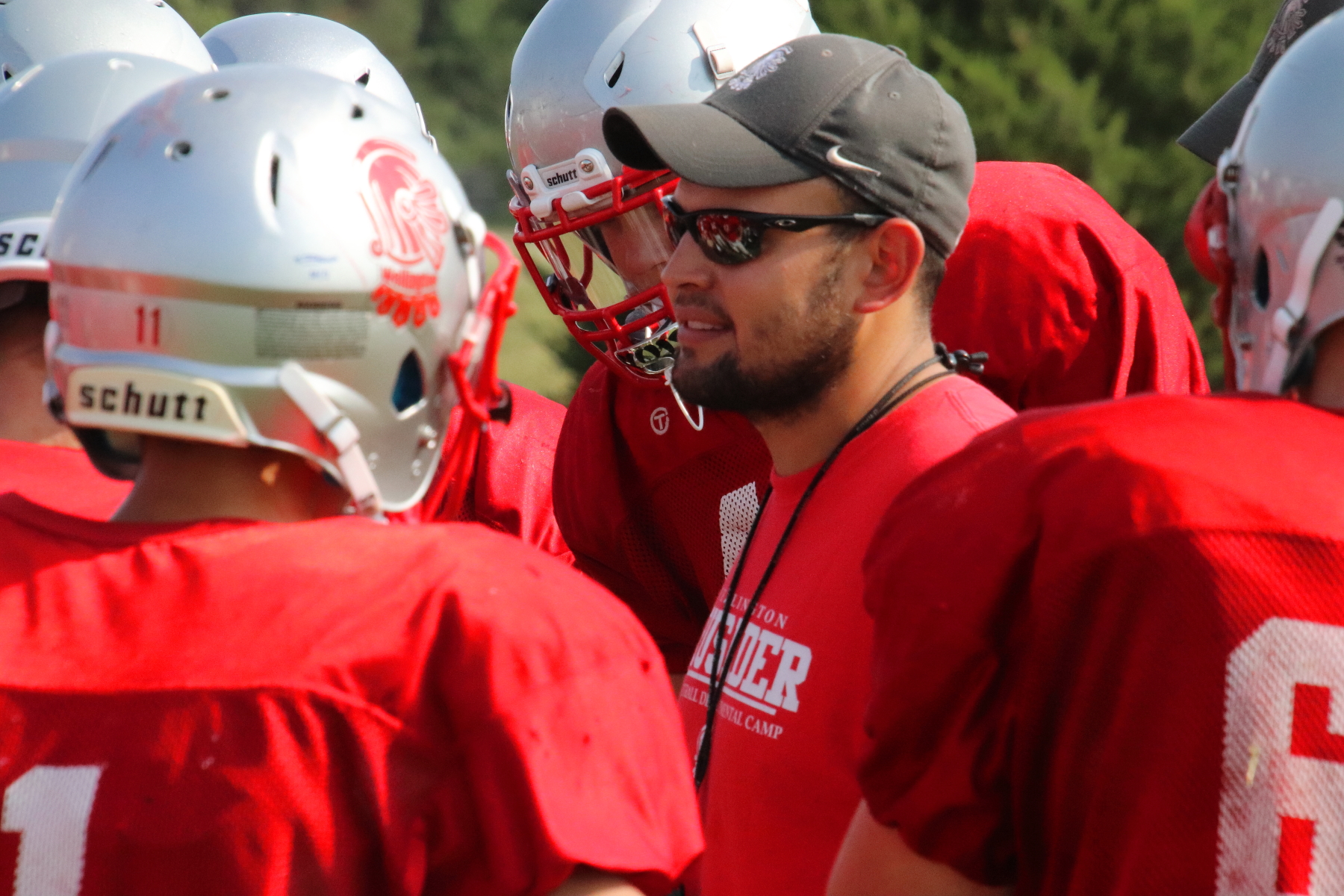 The IRONDUKES scrimmaged at WHS Saturday morning. The younger boys in red took to the field first, followed later by the upperclassmen. Several fans were on hand to watch as well. This is the "warm-up" scrimmage before the big HAMBURGER SCRIMMAGE on slate for Thursday, Aug. 23rd at Sellers Park. 

SATURDAY SCRIMMAGE PICS 081818
**************
CONDITIONING TEST
@ Wellington High School
August 11, 2018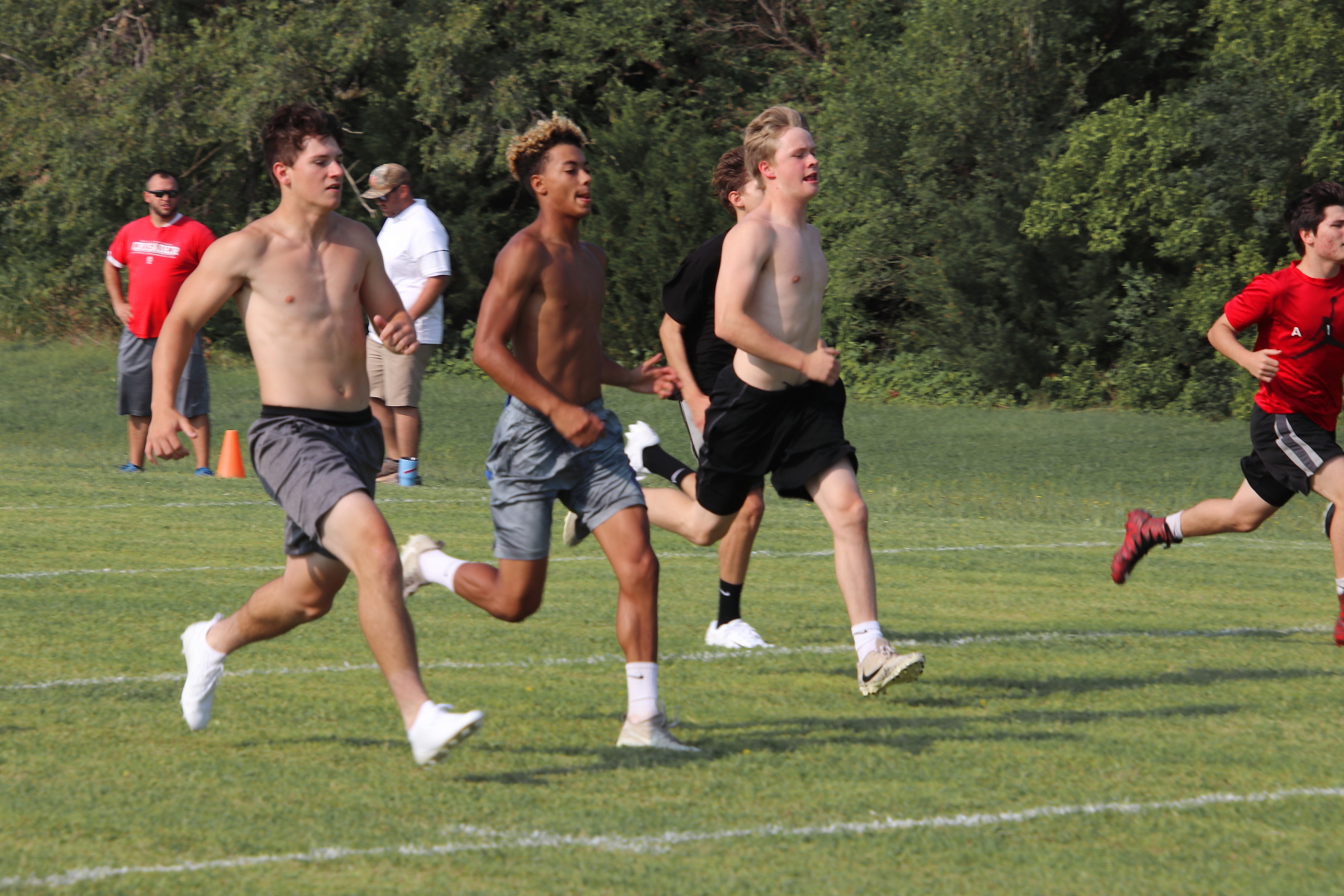 The CONDITIONING TEST in mid-August always kind of signifies the end of the SUMMER workouts and training, and it's a great gauge too for the student-athletes to see where they are "conditioning-wise"! 

2-A-Days begin on Monday for football, all the other Fall Sports begin Monday as well!! Let's make it a great FALL across the board!!!

CONDITIONING TEST PICS 081118
**************
A SIT-DOWN VISIT w/ COACH
@ Wellington High School
August 10, 2018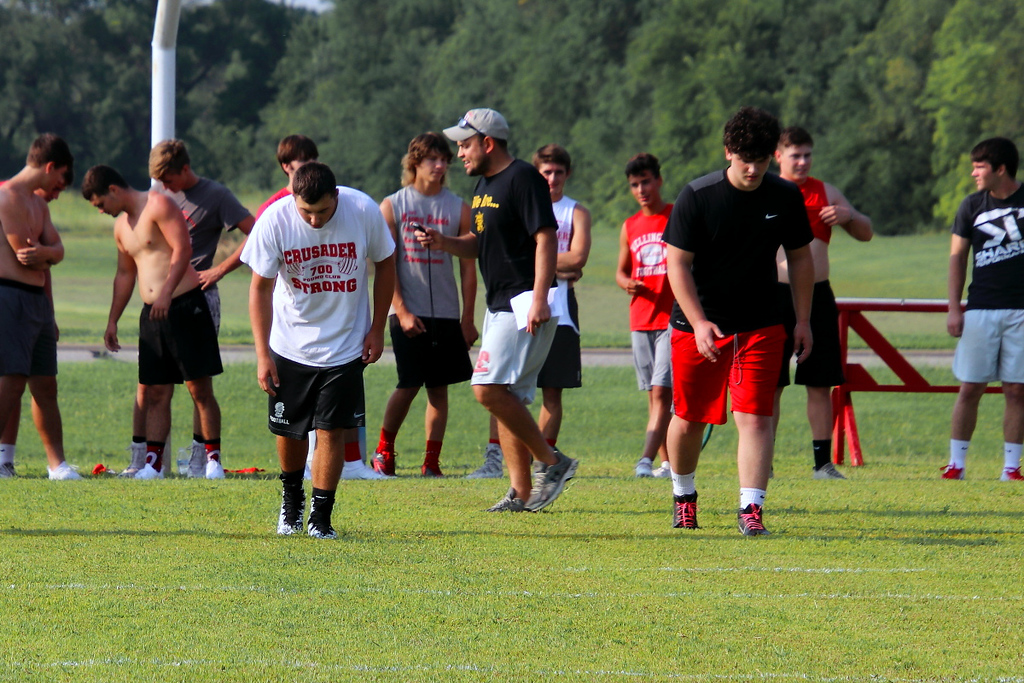 Head WHS Football Coach Zane Aguilar has spent about a quarter-century around football, and he's only in his early 30's! He loves the game, playing it and coaching it, and that becomes very clear after just a few minutes of dialogue with the Ironduke's CEO. Not only that, the guy can sing!
Back to business...Coach Aguilar is a good sport and he cares greatly about the game of football and his players and what the game has to offer to those that become a part of it. I spoke with Coach Friday afternoon at WHS, and he shared several thoughts about the team and the program. He reminded me though it is still early, that 2-A-Days start Monday, and that he and his coaches will have a firmer idea by this coming week's end on who will be playing what positions, etc. Because of that, he did not want to speculate at this point, but will fill in those gaps soon.

Make no doubt about it, Coach Aguilar is big on the 2018 Crusader Football team just as he was big on some teams around the turn of the century. Coach graduated from WHS in 2004 and went on to play football at Coffeyville Community College. He finished up his academics at WSU and has coached in Wellington for the past 11 years, 8 as an assistant, 3 now as the Head Coach. Coach Aguilar is married to a lovely lady, Liz and they have two great kids, Clara and Micah. He appreciates family greatly and their support during the season and through-out the year.

I asked Coach what his goal was this year with this group and the true meaning of the game was evident in his response, "We have 14 seniors out this year, many of them will be starting for their 3rd year in a row. I want all of them to see the great opportunity before them to be successful, to learn how it feels to rebound from non-success, to rise up and ultimately prevail." Coach went on to say about his younger players, "I want them to gain experience from a program that is going in the right direction." In other words, the seniors have seen it all. As sophomores, "0" wins. as juniors "5" wins and a post season appearance for the first time in 6 years. Now, as SENIORS, it's time to move on up and he firmly believes they can. "This year's team is as talented overall as any."Coach is also happy he's been able to get some student-athletes back into the helmets & pads after having taken a hiatus from the sport. You sense a real bond between Coach and his seniors, and why not, they've been down the same road together and they all want the same thing.

The Crusaders did lose several linemen from last year's team (5) due to graduation, but those gaps are filling with some determined young men who want to prove they can get the job done. Numbers are good across the board. We mentioned seniors, there are a lot of juniors as well, and a few more sophomores, some that didn't play as freshmen, are back out. 

Without too many specifics, and understandably so, Coach has this to say about his offensive and defensive plans for 2018, "On offense, it's important for us to establish the run but we will not be afraid to put the ball in the air - we will play up tempo. On the other side of the pigskin, create turnovers, play gap-sound defense, and we will swarm to the ball."
Coach was pleased with the participation levels this summer at the various PSQ sessions, camps, 7 on 7 play and more. The team hosted 7 on 7 action back in late June with Wichita South HS (SEE PICS) visiting here at Sellers.The Crusaders also traveled to Humboldt, KS for 7 on 7 play with host Humboldt and 3 other schools, Iola, Central Heights, and Burlington. Coach was very pleased with his boys and felt like the Humboldt experience brought the team together in significant ways.
There's one name that almost always comes up when you are talking to Coach Aguilar about Crusader Football, and that name is Coach John Gifford. His reverence and appreciation for the man is clearly evident and heartfelt. Reverence shared by many I might add. Coach also speaks highly of his coaching staff and has 3 new coaches this year. Coach Phelps decided to hang up his coaching shoes at the end of last season, Coach McComb the same, and Coach Ybarra and his family moved away. To fill those shoes, the coaching staff has 3 more Crusader alums to replace the 3 alums that moved on, Daniel Farley, Tonner Finch and Ryan Jenkins are on staff now and have joined the "veteran assistants", Ross Foley, Tim Lira, Ryan Elder and Nick Wellington. He speaks highly of the team's two managers also. Austin Fink and Rayce Koerner. "These 2 young men are highly efficient and play huge roles for our team." 

Coach Aguilar is generally excited about the NEW 4A Playoff format being introduced this season. (s/a 5A & 6A are presently) Just briefly, there will no longer be district playoff games during weeks 7, 8 & 9. Instead, 4A has been divided into "2" 16 team divisions, EAST & WEST, After week #8, the KSHSAA will "seed" the 16 teams in each division (based on win/loss records and other criteria). The top 8 seeds will host the 9th week game, the bottom 8 seeds will travel for that 9th week game. The 9th week game will be the first bracketed game for post-season, the losers will be done for the season. Click Here for MORE INFO ABOUT NEW 4A PLAYOFF FORMAT.
Towards the end of the interview, I asked Coach Aguilar who his 14 seniors were...his response, "I don't have the lists with me but I will gladly tell you who they are!" (He didn't need a list, he's been with most of this group throughout his "HEAD" coaching career-they are like family).

THE SENIORS: Cody Metz, Jacob Ewing, Jack Nuss, Julian Burden, Grey Hatfield, DeAndre Washington, Michael Ledbetter, Julian Jimenez, Tyler Jimenez, Caleb Reichenberger, Trayson Probst, Chi Barton, Braden Struble, and Layton Corley - the Class of 2019 - well represented!

One more question for the Coach:
Q: What do you want this season, for your team and for your town?

A: "I want to bring the team and the town, a HOME PLAYOFF GAME." - dang right, we'll take it Coach! GO BIG RED!!
NOTE: The season opener is Aug. 31st @ Collegiate - kickoff @ 7PM. Don't forget the CRUSADER CLUB HAMBURGER SCRIMMAGE slated for Thursday, Aug. 23rd! 
**************
HIGH INTENSITY TRAINING
@ Wellington High School
July 25, 2018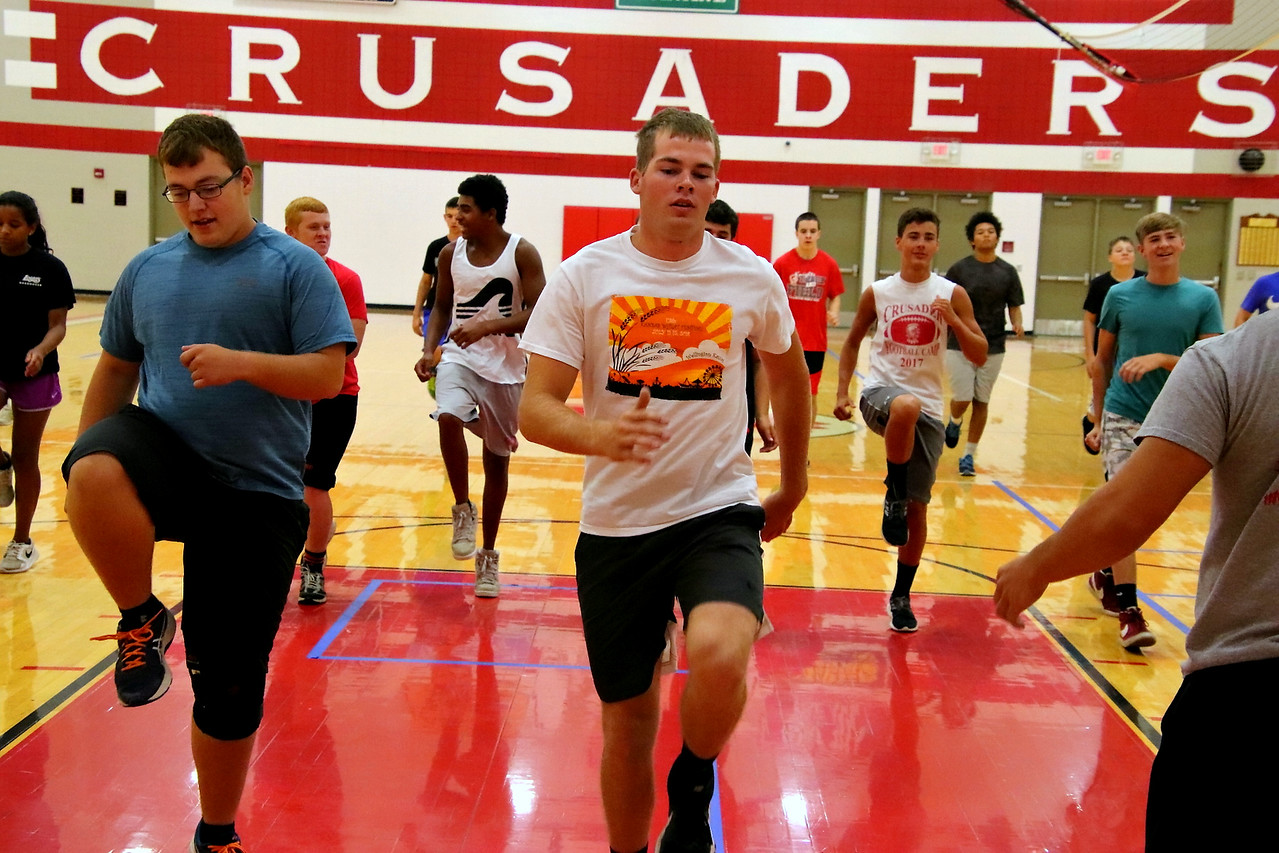 Student-athletes at WHS have been training all summer through PSQ, through camps, through special training - all to be as physically and mentally prepared as possible when Fall Sports Practices (Football, Volleyball, Girls Tennis, Cross Country, Girls Golf) begin. These pics were taken during HIGH INTENSITY TRAINING one morning last week, the training had moved inside for the day due to wet conditions outside...they train hard and they have fun.

HIGH INTENSITY PICS
*************
**********************************
2017 SEASON
2017 CONDITIONING TESTS - AUG. 12th 8AM

2017 FIRST PRACTICE - AUG. 14th 6:30AM

2017 SATURDAY SCRIMMAGE - AUG. 19th - 9:30AM

2017 HAMB. SCRIMMAGE - AUG. 24th - 5:30PM
WMS - 5:30 / Group Stretch - 6:00
Youth - 6:15 / WHS - 7:00
WEEK 1 - @ CLEARWATER - SEP. 1
WHS 34 CHS 06
WEEK 2 - EL DORADO - HERE - YOUTH NIGHT - SEP. 8
EHS 00 WHS 21

WEEK 3 - ROSE HILL - HERE - SEP. 15
RHHS 13 WHS 27

WEEK 4 - @ ANDALE - SEP. 22
WHS 00 AHS 38

WEEK 5 - COLLEGIATE - HERE - SEP. 29
CHS 28 WHS 13
WEEK 6 - @ SCOTT CITY - OCT. 6
WHS 06 SCHS 28
DISTRICT PLAYOFFS

WEEK 7 - @ WINFIELD - OCT. 13
CRUSADERS 14  VIKINGS 7

WEEK 8 - MULVANE - HERE - HOMECOMING - OCT. 20
MHS 35 WHS 07

WEEK 9 - ULYSSES - HERE - SENIOR NIGHT - OCT. 27
UHS 14 WHS 28
POST SEASON - WEEK #10 @ Maize South - NOV. 3 @ 7PM
WHS 07 MSHS 49
AVCTL DIV III and DIV IV
League Honors For 2017 Football
 (DIV III)
OFFENSIVE MVP Wyatt Seidl McPherson
DEFENSIVE MVP Jayse Alexander McPherson
COACH of the YEAR Jace Pavlovich McPherson
 (DIV IV)
OFFENSIVE MVP Jayden Price Mulvane
DEFENSIVE MVP Grant Fairchild Andale
COACH of the YEAR Dylan Schmidt Andale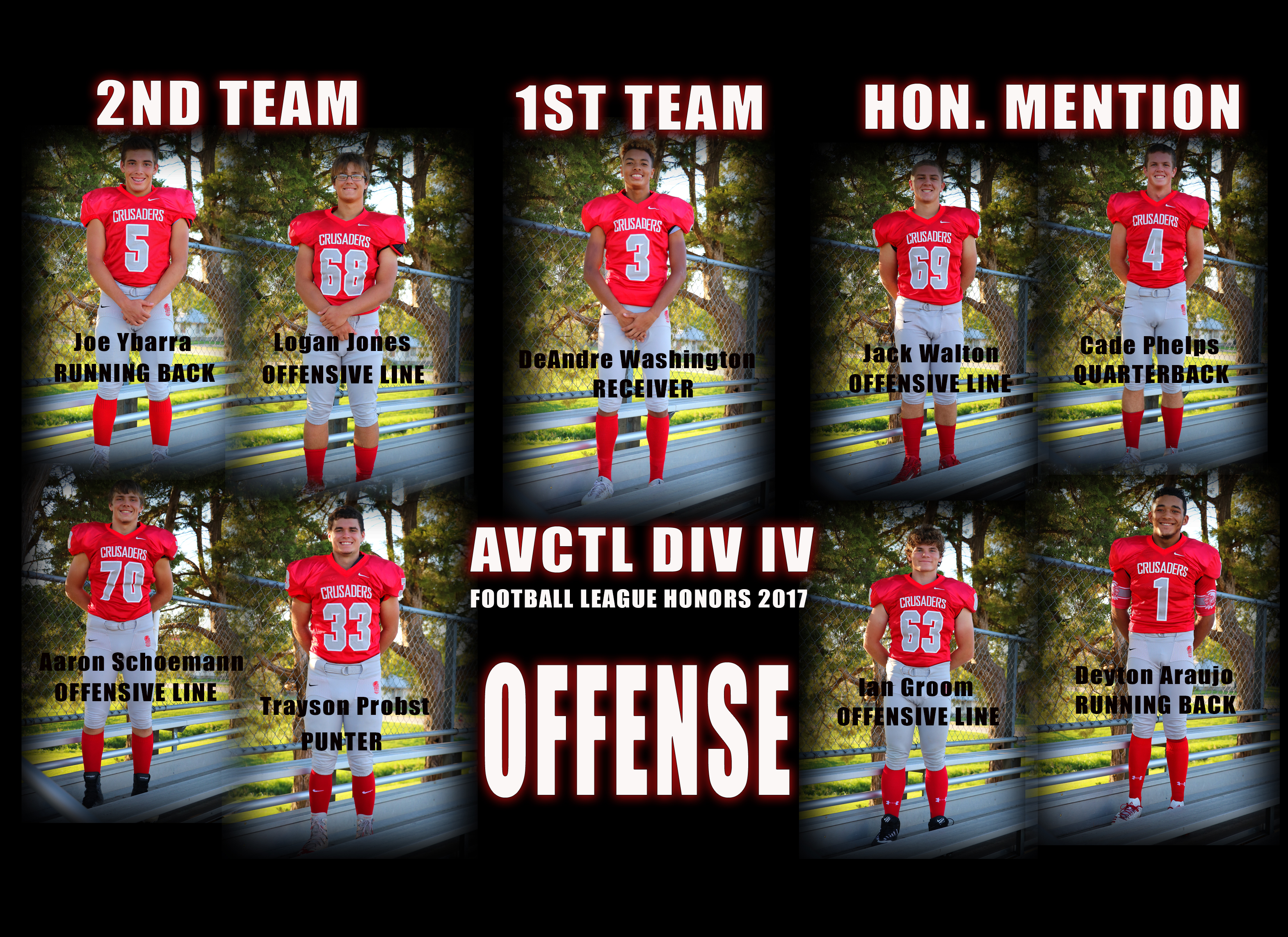 OFFENSE
1st Team Receiver – De Andre Washington
2nd Team RB – Joe Ybarra
2nd Team Offensive Line – Logan Jones
2nd Team Offensive Line – Aaron Schoemann
2nd Team Punter – Trayson Probst
Hon Men QB – Cade Phelps
Hon Men RB – Deyton Araujo
Hon Men OL – Jack Walton
Hon Men OL – Ian Groom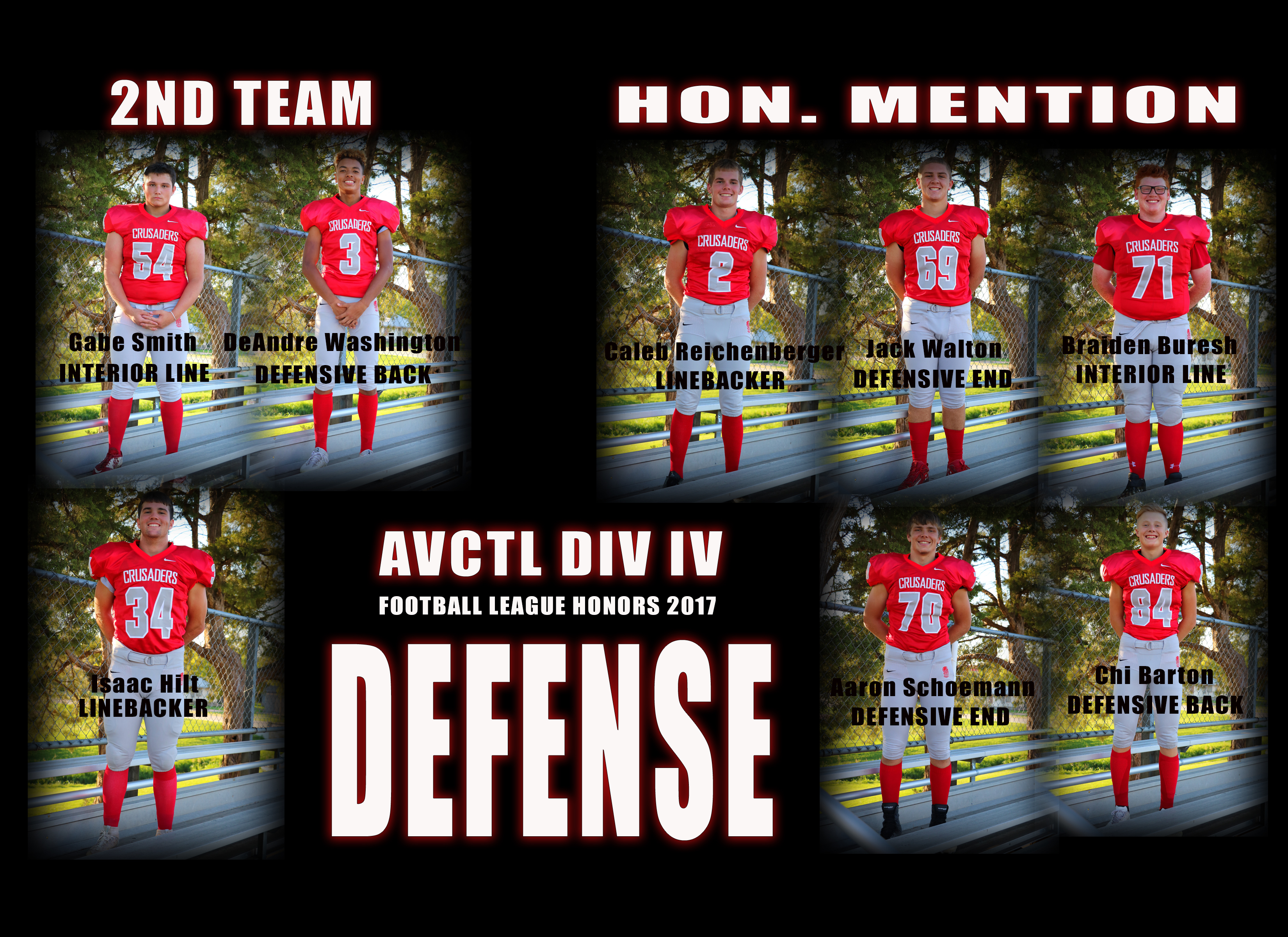 DEFENSE
2nd Team Interior Line – Gabe Smith
2nd Team Linebacker – Isaac Hilt
2nd Team Defensive Back – DeAndre Washington
Hon Men Interior Line – Braiden Buresh
Hon Men Defensive End – Aaron Schoeman
Hon Men Defensive End – Jack Walton
Hon Men Linebacker – Caleb Reichenberger
Hon Men Defensive Back – Chi Barton
Congratulations gentlemen!
UPDATED 12.3.17 - WHS JR. DeAndre Washington was named to TOPEKA CAPITAL JOURNAL ALL-STATE 4A DIV I TEAM - Honorable Mention (END)
| | | | |
| --- | --- | --- | --- |
|   | SCHOOL | League | Overall |
| State Qualifier | Andale | 5 - 0 | 12 - 1 |
| State Qualifier | Mulvane | 4 - 1 | 6 - 4 |
| State Qualifier | Collegiate | 3 - 2 | 5 - 5 |
| State Qualifier | Wellington | 3 - 3 | 5 - 5 |
|   | Clearwater | 1 - 4 | 1 - 8 |
|   | El Dorado | 1 - 4 | 4 - 5 |
|   | Rose Hill | 1 - 4 | 1 - 8 |
STATE PLAYOFF
BRACKETS

6A FOOTBALL
5A FOOTBALL
4A D1 FOOTBALL
4A D2 FOOTBALL
3A FOOTBALL
2-1A FOOTBALL
8M D1 FOOTBALL
8M D2 FOOTBALL
**************************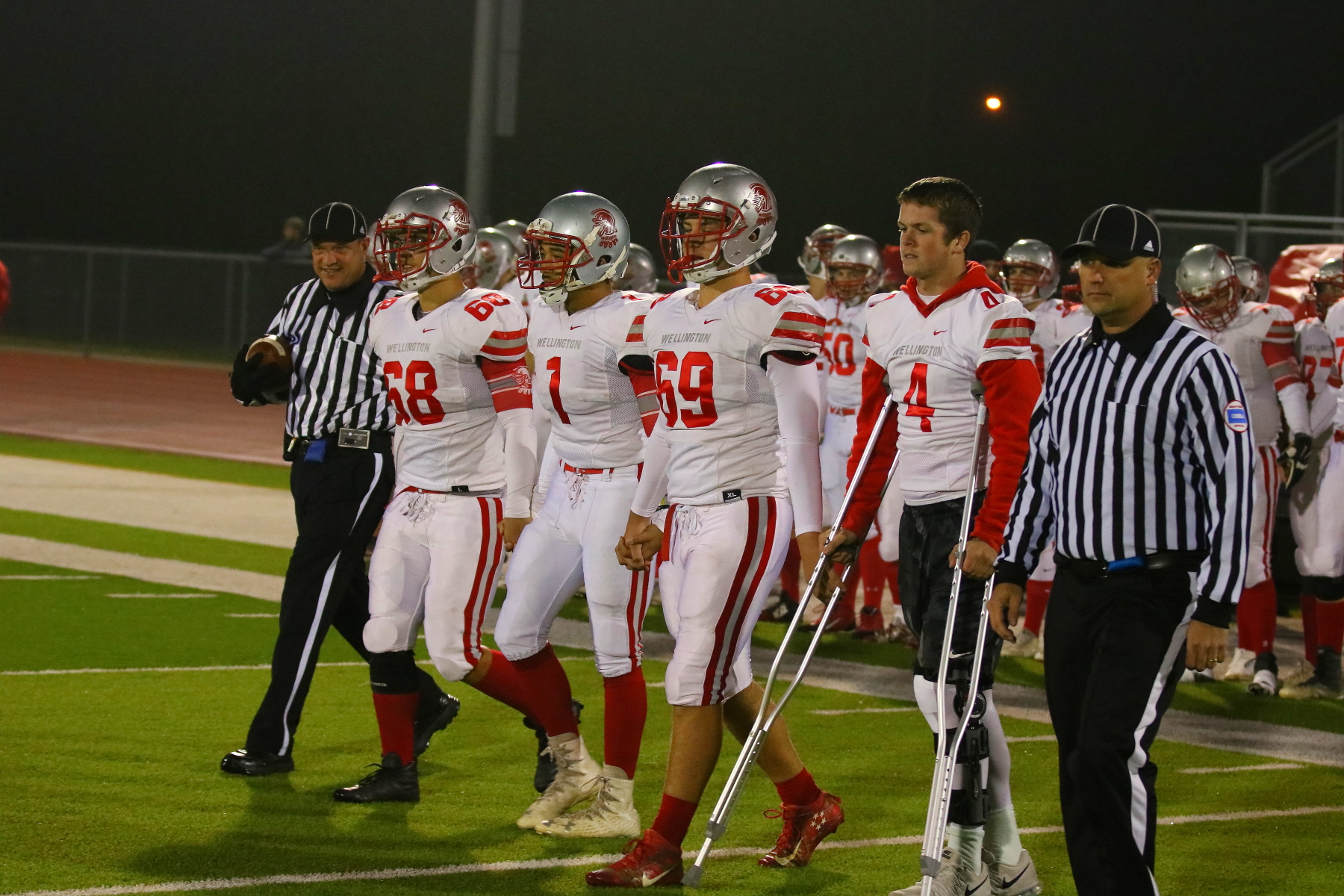 WELLINGTON CRUSADERS vs MAIZE SOUTH MAVERICKS - REGIONAL 4A  11.03.17
WHS -  07 00 00 00 - 07
MSHS - 14 14 07 14 - 49
The 2017 Crusader Football Season came to a close Friday evening in Regional 4A action at Maize South HS. The Mavericks secured the momentum early on after an incredible start by the Crusaders. After a strong kickoff return by Julian Jimenez to near mid-field, Michael Ledbetter unleashed a 46 yd TD pass on the first play from scrimmage to DeAndre Washington for 6. Karsten Gill came in for the successful PAT (center- Gage Cunningham, holder - Zander Vargas)...with only :16 gone in the game, the underdog Crusaders were up 7-zip! Kazam!

That lead and "MO" were short-lived unfortunately. At the 8:17 mark, just 3 1/2 minutes later, Maize South scored on a 30 yd scamper, knotting it at 7-7. The Mavericks never relinquished the momentum from that point on, pulling away with 3 additional TD's by halftime and 3 more by game's end, connecting on all 7 PAT's as well. Final Score 49-7. The Mavericks move to 9-1 on the season and will face McPherson at HOME (Maize South). McPherson edged out Buhler in OT 15-14 to advance. Not a good night for Crusaders. Andover Central downed Mulvane 30-21 bringing the Wildcat season to an end as well.
In Sectional 4A-1 play this coming Friday, it will be DeSoto vs Fort Scott, Bishop Miege vs Labette County, Andover Central vs Andale and as mentioned, Maize South vs McPherson. In Sectional 4A-2, it will be Hayden vs Burlington, Holton vs Frontenac, Clay Center vs Scott City and Smoky Valley vs Holcomb. In 8M-11, Caldwell was victorious and will face Hanover on Nov. 10th in Sectional action.

The Crusaders generated 247 yds of offense in the 49-7 loss. QB Michael Ledbetter was 9/22 passing (147 yds). DeAndre Washington caught 6 of those 9 for 85 yds and a TD. Joe Ybarra 2 for 58 yds and Zander Vargas, 1 for 4 yds. Six different IRONDUKES carried the ball vs the Mavericks - Deyton Araujo had 7 carries for 59 yds, Zane Cornejo 1/45 yds, Isaac Hilt 7/20 yds, Joe Ybarra 8/14 yds, Grey Hatfield 2/6 yds and Michael Ledbetter 7/-4 yds. 
The Crusaders had 9 first downs to the Mavericks 13. Trayson Probst punted the ball 6 times for 194 yds (32 yd avg). 
Coach Aguilar and his staff and the Crusaders, end the 2017 season at 5-5. A marked improvement over 2016, Coach Aguilar's first year as head football coach at WHS. The mood was upbeat at games' end Friday. Coach even called a timeout with just a few seconds left to allow WHS kicker Karsten Gill a shot at a field goal. The attempt came up short, the scoreboard clock rolled to zeros...2017 season was over.

It would seem there's a lot to look forward to next season including a completely different playoff system in 4A. READ HERE We are however, losing an awesome group of Seniors this year. The young men battled hard, made our "lines" as strong as they've been in a while and more...they will be missed. We say goodbye to Cade Phelps, Jack Walton, Logan Jones, Braiden Buresh, Ian Groom, Gabe Smith, Deyton Araujo and last but not least, Aaron Schoemann. These gentlemen left their mark in multiple ways, on the field and in the classroom. We are certainly proud of these young men and the rest of the squad that will carry on in their absence next Fall. GO BIG RED!!
REGIONAL 4A ACTION PICS vs MAIZE SOUTH
NEXT SEASON'S SCHEDULE
VARSITY
AUG. 31, 2018 @ Collegiate 7PM
SEP. 7, 2018 HERE vs Andale 7PM
SEP. 14, 2018 @ Clearwater 7PM
SEP. 21, 2018 HERE vs Augusta 7PM
SEP. 28, 2018 @ Rose Hill 7PM
OCT. 5, 2018 HERE vs Labette County 7PM
(Play THERE in 2019)
OCT. 12, 2018 @ Winfield 7PM
OCT. 19, 2018 HERE vs Mulvane 7PM
WEEK #9 - pending
FRESHMEN / JV
SEP. 3, 2018 HERE vs Collegiate (1 game) 6PM
SEP. 10, 2018 @ Andale 5PM / 6:30PM
SEP. 17, 2018 HERE vs Clearwater 5PM / 6:30PM
SEP. 24, 2018 @ Augusta 5PM / 6:30PM
OCT. 1, 2018 HERE vs Rose Hill (1 game) 6PM
OCT. 8, 2018 @ Labette County 5PM / 6:30PM
OCT. 15, 2018 HERE vs Winfield 5PM / 6:30PM
OCT. 22, 2018 @ Mulvane 5PM / 6:30PM
WEEK #9 - pending
GAME INFO - WHS @ MAIZE SOUTH 11.03.17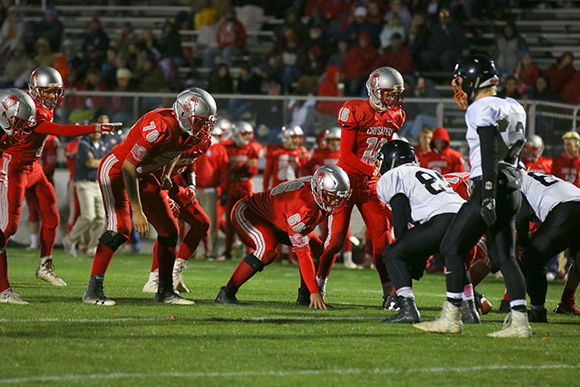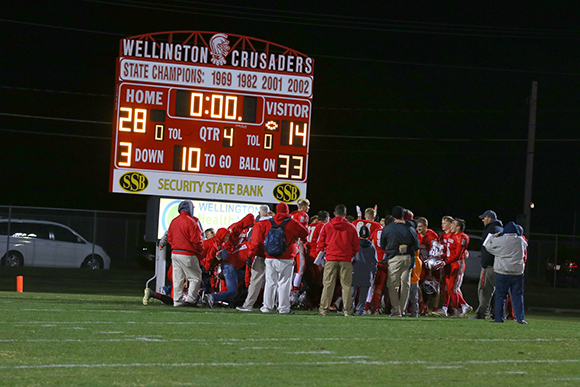 There was a lot on the line Friday evening down at Sellers Park as both the Wellington Crusaders @ 1-1 and the Ulysses Tigers @ 1-1 entering the last week of district play with the hopes of a win and a taste of 2017 post-season play. The last time for the Crusaders was 2010 - they were due and payment was made in the form of an explosive 28-14 victory over Ulysses whose season is now complete.

The Crusaders won the toss and elected to receive to start the game. The air was cool and getting cooler but the winds had died down which made the night considerably more bearable than would have been otherwise. Neither team could find paydirt in quarter one but with 11:07 left in the 2nd quarter, Deyton Araujo broke it loose for a 52 yard TD scamper. With the successful PAT by Gill, the Crusaders are up 7-0. Well, 14 seconds later it was 7-7, the direct result of the kickoff return a good length of the field - the game was on and at 10:53 of quarter two, the score was 7-7. Just before halftime, QB Michael Ledbetter behind a strong line that was providing time, launched a pin-point 17 yarder to DeAndre Washington resulting in a TD and with the subsequent PAT, at half it was Wellington 14 Ulysses 7.

Not unlike the 1st quarter, the 3rd quarter didn't keep the scorekeeper busy but with 8:03 left in the game the Crusaders made it a two TD margin and were up 21-7 after a 12 yd reception by Zander Vargas. At the 3:00 minute mark, Joe Ybarra too converted a 12 yd reception from Ledbetter and the WIN WAS IN! With little time left on the clock, Wellington was up 21 points and post-season play just over the horizon. The Tigers scored quickly but time ran out - after 7 years, the Crusaders will not be checking in their equipment after week #9. Their 28-14 victory over Ulysses took care of that.

On the evening, there were 204 rushing yards accumulated by Wellington, Deyton Araujo carried the pigskins 10 times for 103 yds, including the 52 yd. TD run to put the boys in red on the scoreboard early. Joe Ybarra had 18 carries for 58 yds., Isaac Hilt 7/ 24 yds, Michael Ledbetter 9/10 y ds., Julian Jimenez 2/8 yds and Trayson Probst 1/1 yd. 

Passing, Ledbetter threw 23 passes for 216 yds. Julian Jimenez had a pass intercepted. On the receiving end of those passes were DeAndre Washington, 7/117 yds and a TD, Zander Vargas 3/52 yds and a TD, Isaac Hilt 1/33 yds, Joe Ybarra 1/12 yds and a TD and Gage Cunningham 1/2 yds. Trayson Probst punted just once and it was for 23 yds.
It was also SENIOR NIGHT Friday night at Sellers - be sure to check out the nearly 3 dozen pics from that! (Below)

So the season continues for the Crusaders who will be taking on Maize South this Friday...Kickoff is 7PM - THERE!

OTHER AREA SCORES
Burden Central 60 Oxford 12
Conway Springs 53 Chaparral 19
Norwich 76 South Haven 40
South Central 49 Argonia-Attica 00
Collegiate 42 Trinity 14
Independent 41 Belle Plaine 28
Andale 66 El Dorado 13
Maize South 23 Andover Central 13
Mulvane 42 Winfield 28

WELLINGTON vs ULYSSES GAME ACTION PICS

SENIOR NIGHT PICS FALL 2017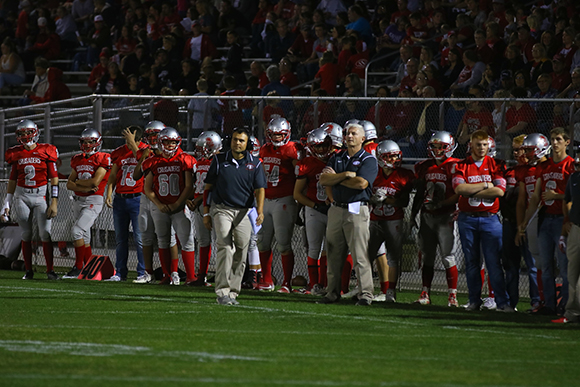 What looked like early on to be an ensuing battle, turned out to be something else as the game progressed between the 1-0 Wellington Crusaders and 1-0 Mulvane Wildcats in district play Friday evening at Sellers Park. Mulvane found paydirt first but Wellington answered, knotting the score after a 3 yd. TD reception from Ledbetter to Jimenez and a successful PAT by Karsten Gill. This would be Wellington's one and only score after a myriad of untimely penalties and big plays at the right time by the visiting team from Mulvane.

The defense shined at times but were unable to keep the Wildcats out of the endzone and by early in the 4th qtr the Mulvane lead was too much to overcome and the offense couldn't sustain many drives. The Crusaders would fall 35-7 and now they find themselves in a must win situation for this Friday when 1-1 Ulysses (who beat Winfield Friday evening 29-14 @ Ulysses) will come here for the last regular season game of the year. Friday will also be SENIOR NIGHT at Sellers Park. 

Junior Joe Ybarra lead Wellington rushers Friday, carrying the ball 23 times for 68 yds. Deyton Araujo had 3 carries for 16 yds, Isaac Hilt 1 carry for 3 yds, QB Michael Ledbetter 8 carries for 1 yd and Trayson Probst 2 carries for -1 yd. Total rushing yards for the Crusaders,  just 87. In passing, Junior QB Ledbetter completed 6/14 passes for 32 yds...on the receiving ends were Zander Vargas, 2/20 yds, Trayson Probst 1/9 yds, DeAndre Washington 1/4 yds, Julian Jimenez 1/3 yds (TD) and Joe Ybarra 1/ -4 yds.

Probst was called upon to punt "4" times for 112 yds total. (28 yd avg). The Crusaders mustered 9 first downs to Mulvane's 16. Total Offense for Wellington just 119 yds (87 rushing, 32 receiving).

At halftime, a new DUCHESS from WHS was crowned - congratulations to Senior Lexi Saffell (escorted by Senior Hayden Baker) - Lexi was crowned DUCHESS by Senior QB Cade Phelps as her court looked on. Other candidates included Mekenna Adams, Abby Lowe, Jenna Rausch and Jill Wiley. Other escorts included Jaden Adams, A.J. Snipes, Ian King and Austin Sears. The children and children escorts were Charley Wilmoth and Reed Wellington, escorted by Seniors Arlis Troutman and Grace Fink. Congratulations to the new reigning DUCHESS, Lexi Saffell!!!
OTHER AREA SCORES
Andover Central 41 Augusta 8
Buhler 48 El Dorado 6
Belle Plaine 52 Bluestem 16
Garden Plain 14 Chaparral 12
Andale 70 Circle 7
Trinity 45 Clearwater 32
Maize South 48 Rose Hill 14
Caldwell 69 Sout Haven 6
Ulysses 29 Winfield 14
GAME ACTION PICS CRUSADERS vs WILDCATS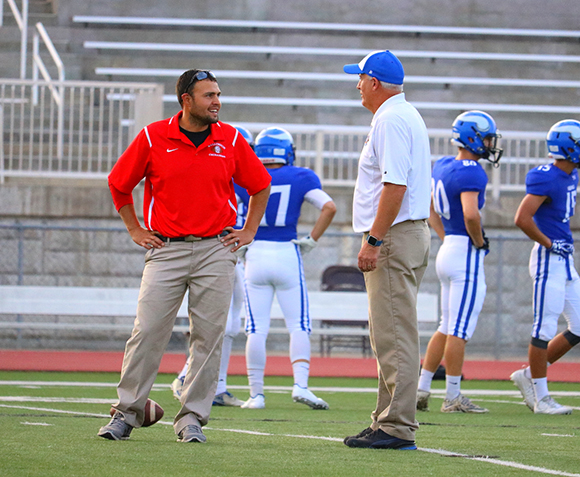 Courtesy of www.sutv.com
WHS 00 07 00 07 - 14 (Wellington)
WHS 07 00 00 00 - 07 (Winfield)

It's been 7 years since the Crusaders emerged from district play and advanced on to post-season action. (It's been almost 2 calendar years to the date since we won a district game at all). Friday night in Winfield, they moved closer towards that end, (post-season), winning the first 2017 district game 14-7 over the Winfield Vikings, coached by former Crusader Head Coach Linn Hibbs, chalking up more offense than they had since week #2 vs El Dorado. On the down-side, Sr. QB Cade Phelps went out the 2nd qtr with an injury to his left knee. No official word yet other than it's a "significant" injury. Phelps was on the sideline in street clothes and on crutches the 2nd half with his knee iced.

Back up Jr. QB Michael Ledbetter took over the reigns of the offense and did a very adequate job for his first varsity action this season. Down 7-0, Michael and the Crusaders would find paydirt before the first half ended and knotted it at 7-7 by the break on a 1 yd run by Jr. Joe Ybarra and a successful PAT by sophomore Karsten Gill after missing a FG earlier in the game. The Crusaders were penalized for 100 yds to Winfield's 30 yds. That's all I should probably say about that. 

Wellington came out the 2nd half and were able to keep the Vikings out of the endzone and add another TD on another run by Jr. Joe Ybarra, this one a 5 yarder, the PAT by Gill was good again! Prior to that score, Ybarra had been on the sideline, getting his chin stitched up after an impact caused his braces to slice through the chin area. Dr. Scheufler worked his magic and Ybarra was back in the game shortly thereafter. He was wearing a different jersey though, #5 had blood on it so Ybarra put on #12 and continued on.

Several Crusaders carried the ball for a total of 249 rushing yds. Ybarra had 38 carries for 169 yds and the 2 TD's. Deyton Araujo broke loose and chalked up 38 yds on 4 carries and 1 fumble. Trayson Probst carried the pigskin 6 times for 22 yds, Cade Phelps 1 carry for 10 yds prior to his injury. Julian Jimenez was 1/-3 yds and QB Michael Ledbetter 4/-4. Phelps went 1/2 passing for 2 yds, Ledbetter 6/11 for 74 yds. (1 Interception) Total Offense 326 yds, just 25 yds shy of the totals from week #2 vs the Wildcats from El Dorado. DeAndre Washington caught 4 passes for 45 yds, Julian Jimenez 2 for 29 yds and Gage Cunningham1/2 yds. The Crusaders had 22 first downs but the penalties, the fumble and the interception reduced the scoring opportunities for the team in the red. Trayson Probst would punt the ball 3 times for a total of 93 yds (31 yd avg). Sophomore Zander Vargas had a 48 yd return on the opening kickoff...a nice run by Zander.

Next up for the Crusaders, Mulvane who defeated Ulysses 40-14. Both will come into next Friday's game in Wellington (which is HOMECOMING) with 1-0 district play records. 0-1 Ulysses will take on 0-1 Winfield. District play will wrap up with Ulysses here on the 27th. The top 2 teams will move on to post season, again a journey the Crusaders haven't taken since 2010.

Other SCORES
Andale 17 Buhler 6
Attica-Argonia 52 Kiowa City 6
Douglass 54 Belle Plaine 20
El Dorado 40 Circle 14
Conway Springs 26 Garden Plain 6
Maize South 31 Augusta 23
Mulvane 40 Ulysses 14
Andover Central 34 Rose Hill 13
Collegiate 40 Clearwater 20

The Crusaders have several players on the sideline. Blake Rausch, Silas Popplewell, Caleb Reichenberger, Trenton Bannister, Matt McComb and Grey Hatfield. The first 3 are out for the season, the latter 3 should return by week 8 or 9 "perhaps". Phelps' status will remain unclear until the knee can be more closely examined by doctors. 

GAME ACTION PICS 
****************************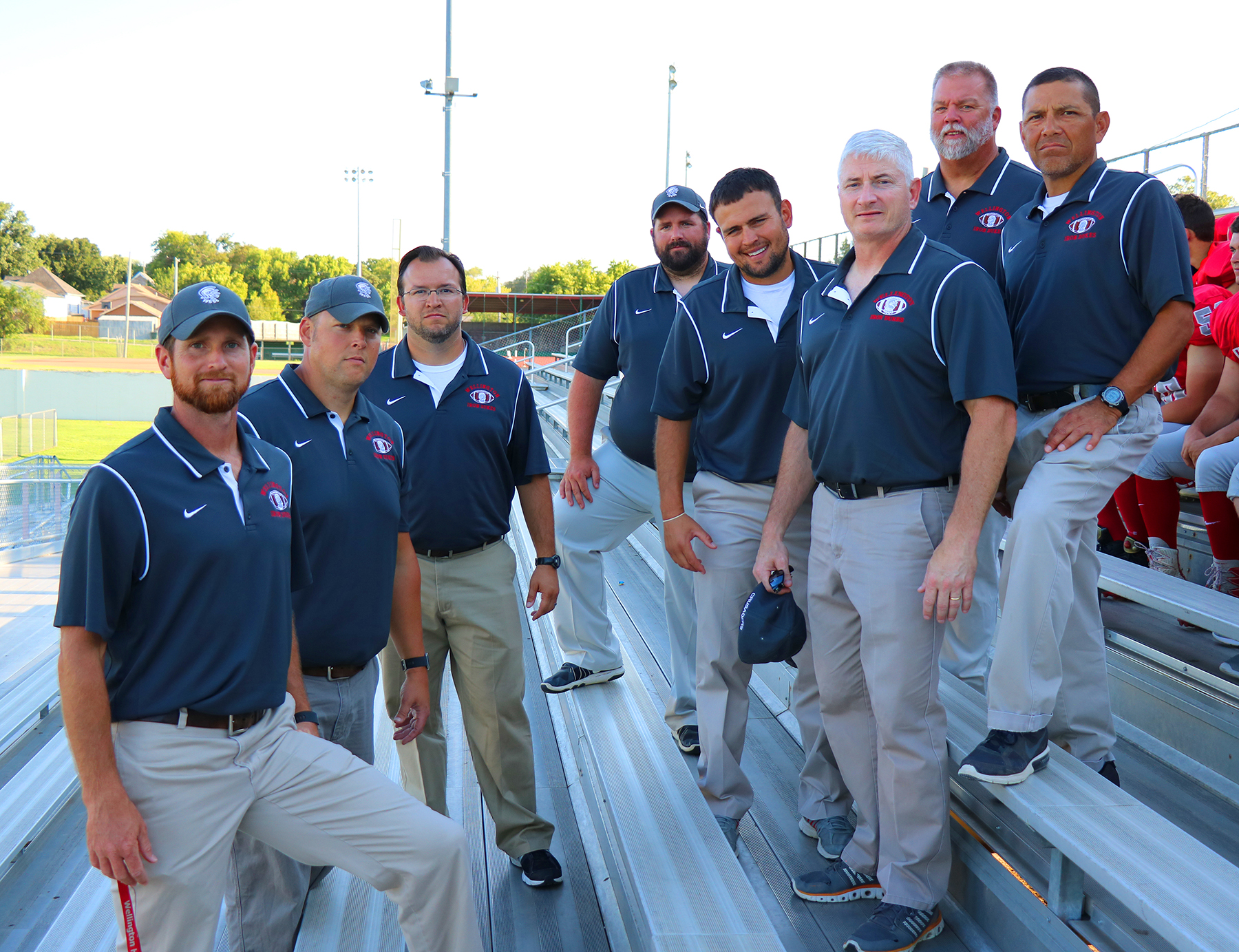 WHS 00 06 00 00 - 06
SCHS 14 00 07 07 - 28
Weather forecasters as we all know, sometimes miss a forecast or two, especially those that extend very far into the future. This week, they nailed it. On Tuesday and since, we were told there would be T-storms. strong northerly winds and dropping temps in Scott City early Friday evening. Bingo, bingo and bingo.

The IRONDUKES Week #6 game was played 4-5 hours NW of here (@ Scott City HS) but started about 35 minutes late due to strong storms, lightning, etc...the teams initially took the field for warmups but were removed from the field shortly thereafter for more than an hour as the bad stuff passed through. Fans retreated to their cars and awaited Mother Nature's temperment to improve. Never improved greatly but improved enough to get the game in despite 40 mph winds out of the north, dropping temps and a very wet field that resembled a pool along the sidelines.

Week #6 game was much like week #5 game at HOME (vs Collegiate) - the opposition jumped out early but then the Crusaders would regain some of that "mo" in the 2nd qtr. to make you feel like - this game could go in the win column! Think Scott City was a little worried about that at halftime as well. Like week #5 though, the boys in red couldn't get all the cylinders to fire and eventually would find themselves out of reach of victory #4 on the season. There were moments of excitement but overall were hindered in their ability to move the ball offensively and find paydirt with it. Of course it doesn't help when your leading rusher (Jr. Joe Ybarra) is on the sideline in street clothes, healing his ankle and a few others from the lineup wearing jeans as well. All teams are afflicted with that scenario by this time of the season, have heard that Winfield (our first district playoff game coming up Friday) has incurred some injuries, but hey, that's football. Joe and some of the others are expected back so for that we can be grateful. Over the next 3 weeks, the real season will play itself out and hopefully this 7 year journey to post-season play can happen.

Scott City, with the gale force winds to their backs in the 1st qtr were able to put up 14 points, their first TD, a gift if you will. The IRONDUKES, having stopped the Beavers and leaving them with a 4th and 7, forced a punting situation. Unfortunately, Wellington jumped offside, now it's 4th and 2 and the Beaver offense, feeling a little more confident with only 2 yds to gain for a 1st, came back on the field. The 1st down was easily attained and only a handful of plays later, paydirt was found. The PAT failed and Scott City lead 6-0 and would lead the rest of the way. The Beavers would find the end zone again and several "3 and out" scenarios by Wellington's offense early on and they'd also make up for the failed PAT earlier with a 2 point conversion. Score after 1, Wellington 00 Scott City 14. (Score after 1 last week, Wellington 00 Collegiate 14)...and like last week, the IRONDUKES clawed their way back some in the 2nd qtr, scoring and not allowing the other guys to score. Went into half only traililng 14-6 and the "big mo" seemed to be switching to RED. Wellington's only score as it would turn out would be that 2nd qtr. scamper by Jr. Grey Hatfield who ran it in from the 20 for a nice play. Good blocking, good jukin' and jivin' - Grey's 2nd TD of the season. For the first half anyways, the team with the wind to their back had the advantage.

Things looked like they'd continue to improve the Crusader's position when early on in the 3rd, the IRONDUKES stopped Scott City's drive with a Michael Ledbetter interception at the 8:16 mark...Michael returned the ball 18 yds. The IRONDUKES failed however to capitalize and just 4 1/2 minutes later, the BEAVERS found the end zone again and moved ahead 21-6 after 3. They would add another 6 and a PAT halfway through the 4th on a 3yd run to seal the deal (28-6) and give the 5th game rubber match between the two schools to SCOTT CITY who would move to 3-2 in their games with Wellington over the years, dating clear back into the 80's. The bus ride back to Wellington wouldn't be as jubilant as some in the past. That season is over now though and season #2 commences.

District play will begin this Friday @ Winfield, followed the next Friday (Homecoming) here at home vs Mulvane and then week #9 (Oct. 27th) the Ulysses Tigers will be in town for the district playoff and regular season finale. The top 2 (Wellington, Winfield, Mulvane, Ulysses) will move on, the other two, equipment check-in on Oct. 30th.

Stat-wise, the Crusaders as mentioned, struggled offensively overall. Total offense generated came in under 100. (80 yds passing, 15 yds rushing) Hatfield was the leading rusher for the Crusaders, carrying the ball 15 times for 49 yds and the 2nd qtr. score. All other rushers ended with negative yardage. Phelps chalked  up 80 yds passing (9/28), Michael Ledbetter had 3 receptions for 31 yds (plus the 3rd qtr interception), Julian Jimenez 3 receptions for 22 yds. DeAndre Washington had 2/19 yds and Gage Cunningham 1/ 8yds. Only 6 first downs by the boys in red compared to 15 for the host. Trayson Probst was forced to punt 8 times for 278 yds total, a 35 yd avg for the Crusader punter. Scott City would chalk up 274 yds total offense, 49 passing and the balance of 225 on the ground.

After 6 games, the Crusaders find themselves at 3-3, a marked improvement over the 2016 season. Now it's time to play for some important marbles - district playoff marbles and post season opportunities. We all know from past experience, in a few years not many folks will remember the 3-3 record for weeks 1 thru 6. They will however remember these next 3 games on slate...here's hoping the IRONDUKES can extend the season beyond those 3 games...and that possibility certainly exists...some good fortune always helps but these Crusaders will rise to the occasion - you can sensel it. 

Side note: listening to the Scott City announcers during the game on the "live stream" provided by their school, you couldn't help but feel proud of Wellington's football heritage. When people that live over 200 miles away know as much about the history of your program as we do, it spells nothing but R-E-S-P-E-C-T... and that is something you can hang your hat on. Proud to be a Crusader - GOOD LUCK IRONDUKES - bring it home gentlemen.
 
OTHER AREA SCORES
Andale 35 Collegiate 7
Maize South 49 Winfield 21
Trinity 63 Belle Plaine 35
El Dorado 55 Independence 6
South Haven 48 Burrton 32
Chaparral 34 Clearwater 22
Conway Springs 44 Mulvane 13
Attica-Argonia 68 Fairfield 22
McPherson 35 Rose Hill 0
Caldwell 46 Norwich 0
Oxford 52 Peabody 6
Goodland 42 Ulysses 8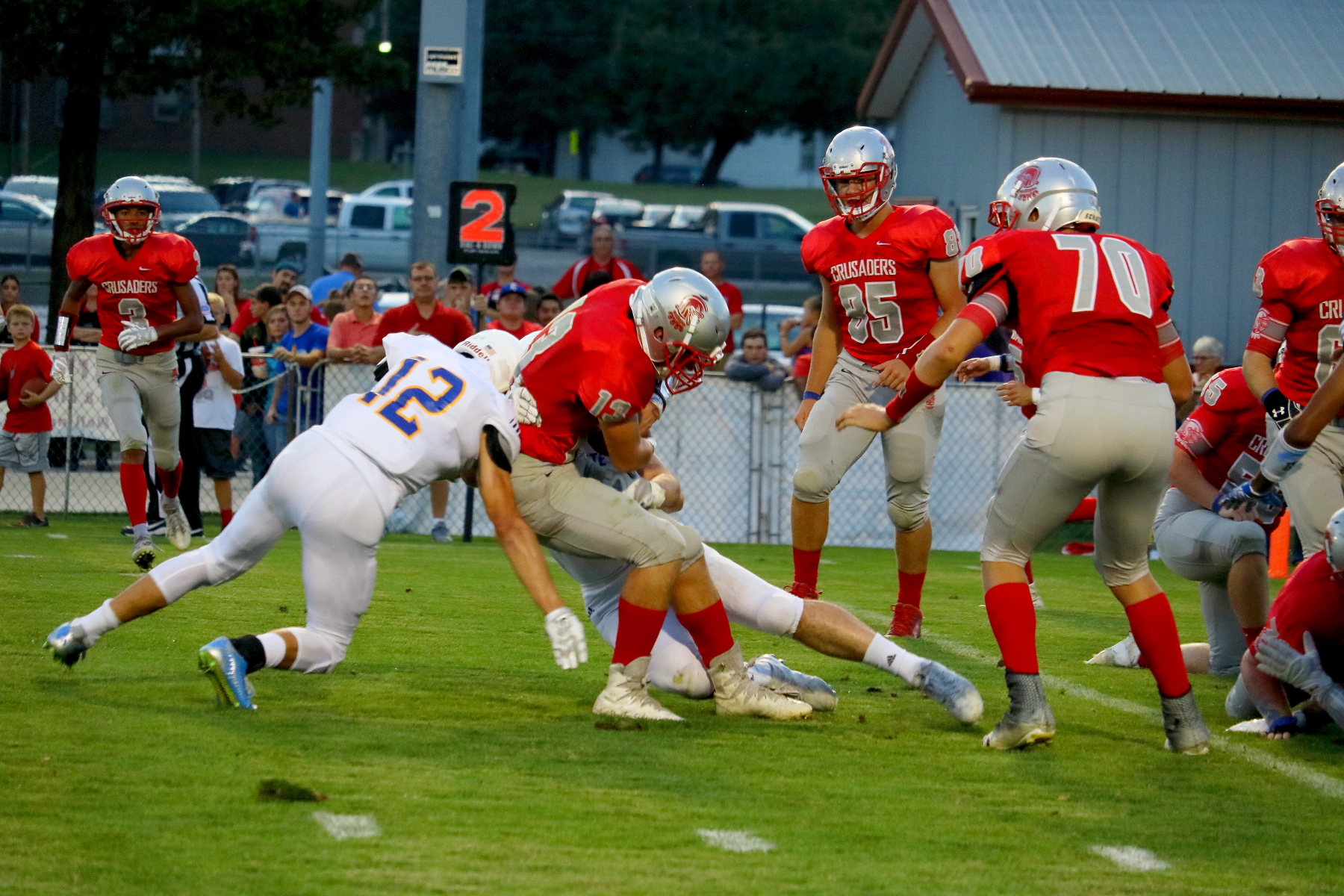 It was Week #5 Friday night across the football lands of Kansas, the (3-1) IRONDUKES were at HOME after an unsuccessful road trip Week #4 to Andale. The Wichita Collegiate Spartans were in town, the evening was perfecto, no wind, nice temps and with that sense of community always present on Friday nights at Sellers. This Friday was different and that sense was intensified several times over as we together grieved and honored the passing of WHS Junior Stephen Jamerson. Stephen was tragically lost in a motorcycle accident Thursday evening west of Wellington.  

Stephen was a cherished member of the WHS Marching Band, his band-mates and many others have been hit hard by the loss, together though they have demonstrated strength, love and loyalty. As the football team entered the field, scores of BLUE BALLOONS (Stephen's favorite color I am told) were released into the calm, peacefully blue, autumn sunset sky - quite frankly, a very moving moment...even now just recalling it. Rest in peace Stephen, we will miss you. I would also like to commend the numerous Collegiate fans who participated in the balloon launch, there are just some things bigger than winning or losing every once in a while and everyone present Friday seemed to grasp that.
The Crusaders were able to generate more offense this week than last and until the 4th qtr left you with the impression they could win this thing. Collegiate always seemed to answer though and the IRONDUKES couldn't get it over the hump. The Spartans jumped out early with two first qtr. TD's and lead after 1, 14-0. The Crusaders regained the "MO" and were most of the show during the 2nd qtr, shutting down Collegiate and posting 7 points of their own to boot. You had a sense at halftime that this game could still go either way. It was a back and forth affair with LOTS OF PENALTIES - (19 total on the night for both squads combined), the Crusaders closed the margin (21-13 early in the 4th) but again, the Spartans answered, scoring a TD to pull away with the 28-13 victory.

RUSHING
Grey Hatfield - 10/61 yds (TD)
Joe Ybarra - 16/42 yds
Cade Phelps - 5/21 yds (TD)
DeAndre Washington - 1/1 yd
Deyton Araujo - 1/1 yd

PASSING
Cade Phelps - 26/142 yds (2 INT)
Michael Ledbetter - 1/0 yd

RECEIVING
DeAndre Washington - 5/62 yds
Joe Ybarra - 2/38 yds
Gage Cunningham - 1/21 yds
Grey Hatfield - 1/15 yds
Zander Vargas - 1/6 yds
FIRST DOWNS
WHS 13 CHS 8

PAT'S / FG'S
Karsten Gill 1/2 PAT'S / (NO FGA)
PUNTS
Trayson Probst 3/104 yds (35 yd avg)

TOTAL OFFENSE
Rushing - 126 yds
Passing - 142 yds
TOTAL - 268 yds
OTHER AREA SCORES
Andale 50 Clearwater 00
Buhler 40 Winfield 00
Maize South 42 Mulvane 6
McPherson 62 Circle 7
Rose Hill 21 El Dorado 14
Conway Springs 62 Trinity 35
Garden Plain 71 Belle Plaine 14
Attica-Argonia 54 Pratt-Skyline 18
Caldwell 63 Burrton 6
Hartford 78 South Haven 54
Udall 50 Oxford 30
Scott City 42 Ulysses 11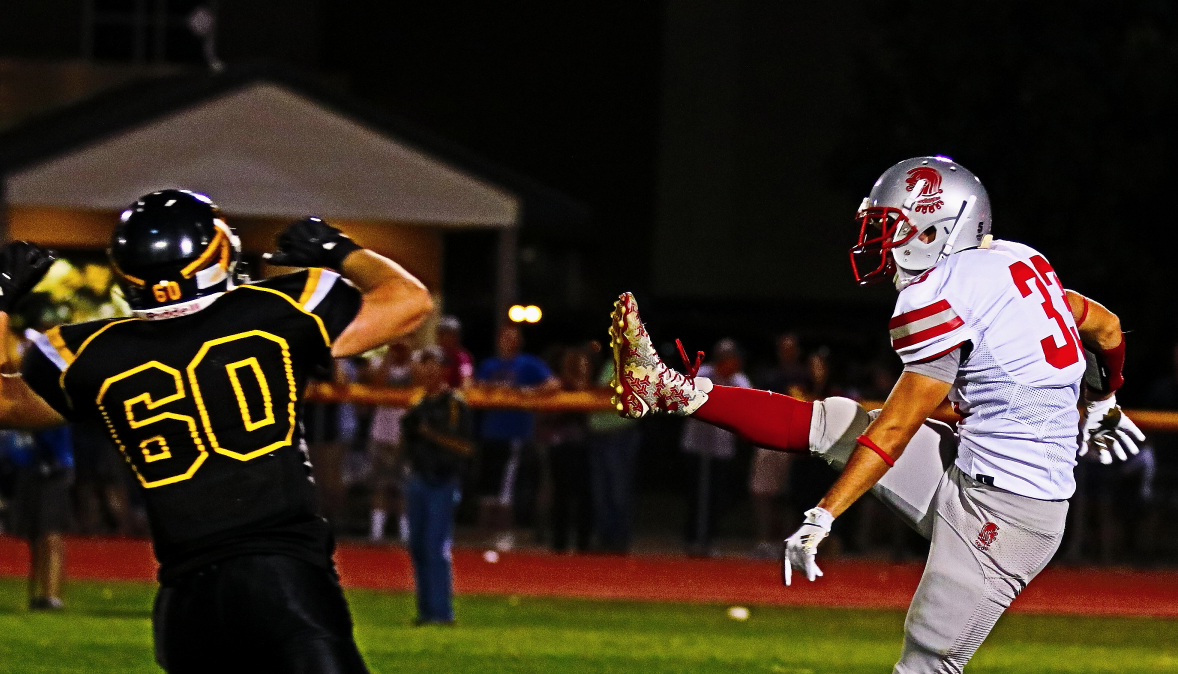 The 2017 IRONDUKES squad got their first taste of defeat Friday, on the road at Andale, losing 38-0. The Indians, larger, quicker, deeper and all the other 'ers, controlled the game, sputtering a little in the 2nd qtr due to some good defense by our boys in red. The last part of the 2nd qtr this season has been a productive time for the Crusaders. Friday at Andale, the defense shined as the half approached. Andale up 17-0 and threatening to score and go in with a much more substantial lead were shut down by the Ironduke D, even after having spent considerable time on the field already. It was all for not in the end though, the Indians proved to be too much and the Crusaders fall to 3-1 on the season. Junior Caleb Reichenberger is out with a hand injury suffered last week, Sophomore Silas Popplewell is out with a broken arm suffered this past Monday at Rose Hill. No additional "game-ending" injuries known at this time.

RUSHING
Grey Hatfield - 9 / 38 yds
Joe Ybarra - 9 / 17 yds
Deyton Araujo - 1 / 3 yds
Cade Phelps - 4 / -12 yds
PASSING
Cade Phelps - 11 / 26 yds

RECEIVING
DeAndre Washington - 1 / 13 yds
Julian Jimenez - 1 / 13 yds
FIRST DOWNS
WHS 02 AHS 16
PUNTS
Trayson Probst - 7 / 198 yds (28 yd avg)
OTHER
Aaron Schoemann - Blocked Punt
Joe Ybarra - Interception
OTHER AREA SCORES
Clearwater 35 Rose Hill 19
Mulvane 35 Collegiate 19
Winfield 24 Arkansas City 14
Belle Plaine 68 NE-Arma 0
Conway Springs 54 Medicine Lodge 0
Argonia-Attica 34 South Barber 30
Caldwell 58 Flinthills 22
Cedar Vale-Dexter 54 South Haven 8
Oxford 48 Stafford 24
Scott City 35 Hugoton 7
 
RHHS - 06 00 07 00 - 13
WHS - 00 06 07 14 - 27
Much like WEEK #2 vs El Dorado, WEEK #3 vs Rose Hill turned out to be a game of two halves. 

(0-2) Rose Hill would find the end zone first, scoring at the 5:16 mark of the first quarter but failing on it's attempt for a point after. The (2-0) Crusaders weren't able to muster any points until just seconds before the end of the 2nd qtr. Wellington with less than a minute left in the half, lost the ball on a punt return, giving possession immediately back to the Rockets with another opportunity to cash in before the break. The cash register would indeed ring but not for the Rockets. On the next play from scrimmage, Junior Michael Ledbetter intercepted a Rocket pass and returned it 56 yards to tie the score at 6. Karsten Gill's PAT attempt hit the right upright and bounced out - halftime score Rose Hill 6 Wellington 6. If you'll recall, the Crusaders scored for the first time in the final seconds of the 2nd qtr vs El Dorado last week, neither first half as productive as the subsequent 2nd halves would be.

After the break, both the Rockets and the IRONDUKES would find paydirt in quarter 3, the latter on a 2 yd run. by Junior Joe Ybarra, his 7th TD in just 3 weeks. Karsten Gill nailed the PAT, a feat he and his holder Zander Vargas and center Gage Cunningham have demonstrated will happen far more often than not, as this young season progresses towards the mid-point.  Wellington's scoring was not over...Ybarra scored his 8th TD on another 2 yd run and then a 73 yd TD pass from Cade Phelps to DeAndre Washington sealed the deal, returning the Rockets to their launch pad with an 0-3 start for their season. There were multiple personal fouls called during the game, 3 against the Rockets, 1 against the Crusaders. All totaled , Rose Hill was flagged for 80 yds in penalties, Wellington 50. The Crusaders forced the Rockets to punt the ball 9 times on the evening.

Joe Ybarra was the leading rusher for the Crusaders, carrying the ball 26 times for 114 yds and 2 TD's - a result of the efforts of the line and his own ability to find daylight and move the ball forward. QB Cade Phelps was 8 for 21 yds, Deyton Araujo 2 carries for 5 yds. Isaac Hilt had 2 carries for 4 yds. Phelps completed 5 of 13 passes for 113 yds. All of those completions byJunior DeAndre Washington including the 73 yd, 4th qtr deal-sealer. Total offense for the home town boys was 257 yds. Trayson Probst punted the ball 5 times for 164 yds (33 yd avg) and Karsten Gill went 3/4 with PAT's. The Rockets did win the FIRST DOWN category, 14-11 over the Crusaders.

GAME ACTION PICS vs ROSE HILL 091517
A great start for the Crusaders but a tough road ahead...next Friday the IRONDUKES travel to Andale to take on the 3-0 Indians under their first year head coach Dylan Schmidt, who was former head coach for Wellington during the Fall 2011 season, the last time the Crusaders downed the Indians. Week #5 will bring Wichita Collegiate to Sellers Park and then Week #6, road-trip deluxe to Scott City, 4 or 5 hours to our WEST. Just an observation, the trip the Crusaders took to Gravette, Arkansas almost 10 years ago was about 40 miles closer than this upcoming Week #6 trek westward to Ron Bakerville. 

Beginning Week #7 (district play) the Crusaders travel east a short distant to Winfield, seeking redemption for last year's controversial loss to the Vikings. Week #8 and Week #9 will be here at HOME vs Mulvane (Homecoming) and Ulysses (Senior Night) respectively. And then a place we haven't been since 2010, post-season could possibly await? The Vikings, the Wildcats and the Tigers are all that stands in the way -  GO BIG RED!!

OTHER AREA SCORES
Andale 48 Mulvane 20
Buhler 41 Collegiate 21
El Dorado 25 Clearwater 21
Derby 60 Maize 28
McPherson 38 Winfield 14
Chaparral 70 Belle Plaine 28
Conway Springs 54 Douglass 00
Argonia-Attica 54 Flinthills 08
Sedan 46 Oxford 00
Udall 62 South Haven 16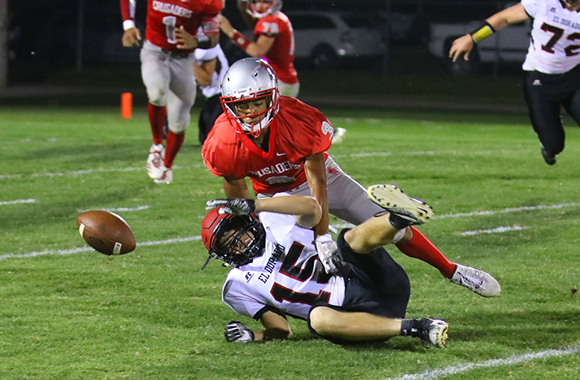 EHS - 00 00 00 00 - 00
WHS - 00 07 07 07 - 21
After savoring their season opening win all week against Clearwater, the IRONDUKES had to put those memories aside and take care of business against the visiting (0-1) El Dorado Wildcats at Sellers Park on Friday evening. The task at hand wouldn't seem as easy as Week #1 but it was doable and the IRONDUKES did it. 

Mulvane defeated El Dorado week #1 33-00 and the Wildcats wouldn't find the endzone week #2, falling to the Crusaders by the final score of 21-00. This game was far from decided though until late in the 3rd and then not totally assured. A 3rd score in the 4th qtr sealed the deal though and Wellington is off to a 2-0 start.

It was a defensive battle for a good part of the first half, actually almost all of the first half. The Crusaders scored on a 1yd run by Junior Joe Ybarra and successful PAT by Karsten Gill with just .06 secs to go in the half. The Crusaders carried that 7 point lead into the 3rd, scoring again late in that quarter on another Joe Ybarra TD, another 1 yd. run at the 3:35 mark. The final visit to paydirt came at the 8:16 mark of the final quarter, a 66 yd run by, you guessed it, Joe Ybarra. Joe had 3 TD's on the evening, carried the ball 18 times for 152 yds. Grey Hatfield gained 59 yds. on 16 carries, Deyton Araujo 16 yds on 3 carries. Trayson Probst added 8 yds to the rushing totals on 1 carry, Michael Ledbetter, 1 carry for -2 yds. Total Rushing Yards - 248. 

Cade Phelps was 8/17 passing for 103 yds. Total Offense 351 yds. On the receiving end of Phelps' throws were DeAndre Washington 4/44 yds, Caleb Reichenberger 1/32 yds, Silas Popplewell 1/7 yds, and Michael Ledbetter 1/7 yds.

For the 2nd week in a row, Wellington's defense had "4" interceptions. Chi Barton had "2", DeAndre Washington and Isaac Hilt accounted for the other "2". In his post-game interview Coach Zane Aguilar gave a lot of credit to the DEFENSE re: the 2nd win. El Dorado moved the ball some but were never able to capitalize. Wellington had 110 yds in penalties, El Dorado 60 yds. as the YELLOW FLAGS flew 16 times during the game. The Crusaders moved the ball good accumulating 15 first downs on the evening. Karsten Gill was successful on all 3 PAT's and came up about 6 inches shy of nailing a 40 yd FG. On the season, Karsten is 7/8 on PAT's. Trayson Probst punted the ball 4 times for a total of 126 yds. (32 yd avg.)

Next up for the Crusaders will be ROSE HILL on Friday, Sep. 15th at Sellers. The Rockets lead Mulvane at times on Friday but came up just short in the end, losing 38-42. Other area scores of interest were: Andale 39 Labette County 00, Ark City 24 Salina Central 21, Augusta 19 Clearwater 7, Collegiate 35 Hoisington 20, Goddard 50 Derby 20, Winfield 32 Circle 16, Cheney 74 Belle Plaine 28, Conway Springs 60 Independent 00, Caldwell 38, Argonia-Attica 20.
Over 600 pics from the game - check 'em out HERE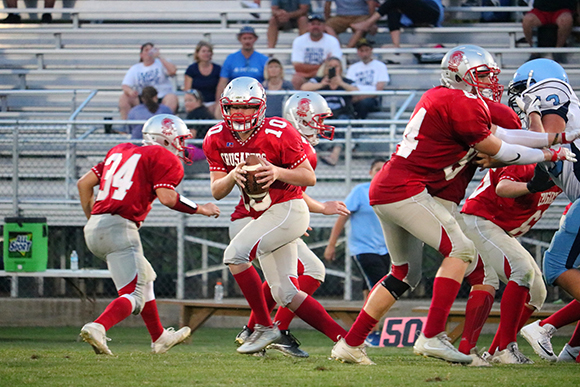 The FR/SO Football Team got their season underway Monday evening down at Sellers Park. After a big VARSITY WIN Friday at Clearwater (34-6), it was the younger Crusaders turn and they took care of business too, winning 22-8. The temps were in the mid 90's when the game got underway at 6pm...Wellington took the lead early on and held it throughout.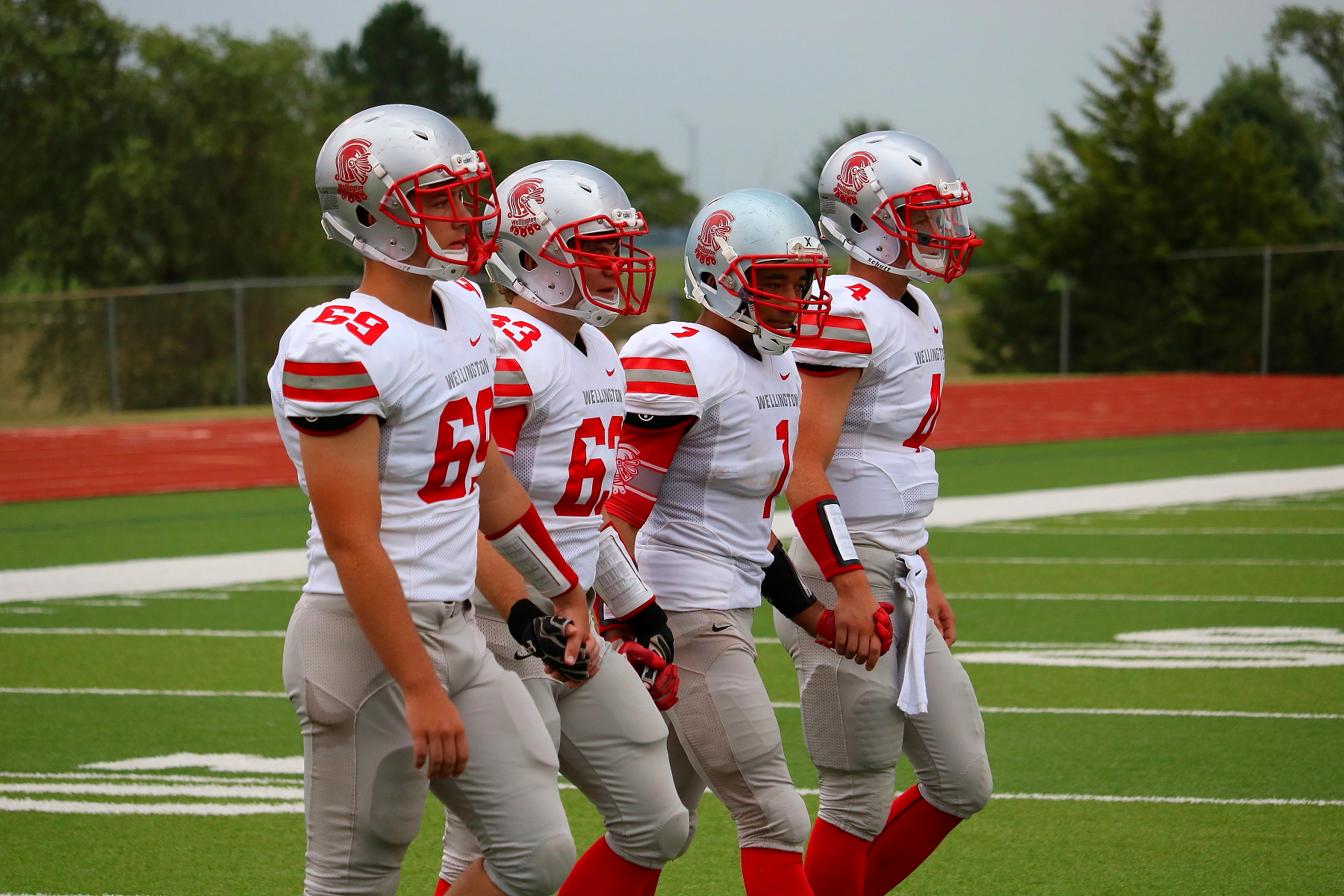 WHS 13 07 14 00 - 34 
CHS  00 00 06 00 - 06
You could feel this victory coming on...days ago, maybe weeks ago. This group of young men and coaches are in the groove. W's are the nectar of life - sure tastes good!! Congratulations for the 34-6 season opening win over the Clearwater Indians.

The atmosphere was festive and a bit wet early on but that soon passed. An Eagle-Med Helicopter delivered the GAME BALL to the field and then the teams engaged.

Wellington came out in an accelerated mode and moved the ball well...the pace was rapid and the execution was good. Clearwater was on their heels early and was never really able to right themselves effectively for any sustained period. An Indian drive midway through the first quarter ended with a Grey Hatfield interception on Clearwater's 6 yd line and then on the first play from scrimmage, Junior Joe Ybarra put the IRONDUKES on the scoreboard for 6 - a Karsten Gill extra-point attempt failed but not to worry, didn't happen again and he wound up hitting 4 of 5 on the evening! Good stuff Karsten!
Wellington's defense forced another punt situation for the Indians, the 1 yard punt left the ball near midfield and soon thereafter, Senior Cade Phelps connected with Junior DeAndre Washington for a 53 yd TD reception, PAT by Gill - GOOD...score Wellington 13 Clearwater 00 with 3:52 still left in the 1st quarter. That quarter would end without further scoring and the 2nd quarter began with a Clearwater punt and then a one-two punch by the Crusaders...punch one, a 56 yd run by Junior Grey Hatfield to the Clearwater 32. Soon thereafter, punch two, a 30 yard TD Pass to Junior DeAndre Washington, PAT by Gill - GOOD...score Wellington 20 Clearwater 00.
A subsequent drive by Clearwater was stopped at the Wellington 22 by a Junior Chi Barton interception. The 2nd qtr. played out, the IRONDUKES were leading 20-00.

The halftime break didn't seem to affect the mo of the show - the Crusaders were on a roll and were not to be denied. After deferring early on, the Indians received the kick at the start of the 3rd qtr but couldn't capitalize and then to make matters worse for the team in blue, the punt was flubbed and Wellington ended up with the ball on the Clearwater 14 yd line. That's just a hop, skip and a jump for Junior Joe Ybarra who scampers into the endzone for the TD on the next play - throw another Gill PAT on the fire and the score is suddenly nearly well done, Wellington 27 Clearwater 00 with just over 10 minutes to go in the 3rd quarter.
Subsequent drive or two by the Indians produced no points and after failing to get a first down themselves, the Crusaders were forced to punt. Junior Trayson Probst nails it and sticks the Indians on their own 1 yd line, 1st down and 10. They never got to use downs 2, 3 or 4 - the snap on first down was flubbed and the unattended football was suddenly attended to by Wellington and a 6 point TD - Gill PAT - GOOD. The score, still in the 3rd qtr. is now 34-00.

At the 5:08 mark of the 3rd, Clearwater connected on a 70 yd pass play for 6 but the PAT was no good. Nonetheless, the TD sparked a little light for the Indians but Wellington still held onto a significant lead 34-6 and extinguished that light quite quickly. The teams exchanged possessions in the 4th qtr without scoring, Sophomore Zander Vargas had an interception to deny the Indians any paydirt visits late in the game. It would end up at 34-6, the Crusaders had their first football victory since Week 7, Oct 16, 2015 at Rose Hill. (Wgtn 44 RH 20) - Coach Zane Aguilar had his first head coaching victory after taking the reigns in 2016. In a post-game interview with the media, Coach Aguilar credited his seniors with smart play, his underclassmen with exceptional abilities to come in and play early and make a contribution. He also indicated this victory was the biggest football event for him in his life full of football events, including State Championships and everything else apparently. A proud moment for Coach Aguilar, a proud moment for his assistant coaches and players and a proud moment for Wellington fans across the land. Wellington is back in the win column...it feels good, it's where these young men belong.
Next up - EL DORADO @ Sellers Park - Friday, September 8th - Kickoff at 7PM - IT'S YOUTH NIGHT TOO! If you don't want to wait that long to get another WELLINGTON FOOTBALL FIX, the Freshmen/Sophomores will host Clearwater Monday at 6PM at Sellers Park - come out and support the younger IRONDUKES - should be a great game!!
GAME STATS
RUSHING
Grey Hatfield - 12/87  yds
Joe Ybarra - 17/55 yds 3 TD's
Cade Phelps - 5/16 yds
Deyton Araujo - 4/14 yds

PASSING
Cade Phelps - 20/136 yds 2 TD's 2 INT
RECEIVING
DeAndre Washington 5/120yds 2 TD's
Silas Popplewell 2/16 yds
PAT'S
Karsten Gill 4/5 (NO FG ATTEMPTS)
PUNTS
Trayson Probst 5/196 yds (39 yd. avg)

TOTAL OFFENSE
RUSHING - 172 yds
RECEIVING - 136 yds
TOTALS - 308 yds
OTHER AREA SCORES
Andale 28 Andover Central 21 / Augusta 39 Winfield 13 / Campus 48 Ark City 20 / Collegiate 42 Rose Hill 00 / Maize South 47 Circle 00 / Mulvane 33 El Dorado 00 / McPherson 33 Buhler 21 / Chaparral 57 Independent 00 / Conway Springs 98 Belle Plaine 18 / Caldwell 50 Udall 20 / Oxford 60 South Haven 14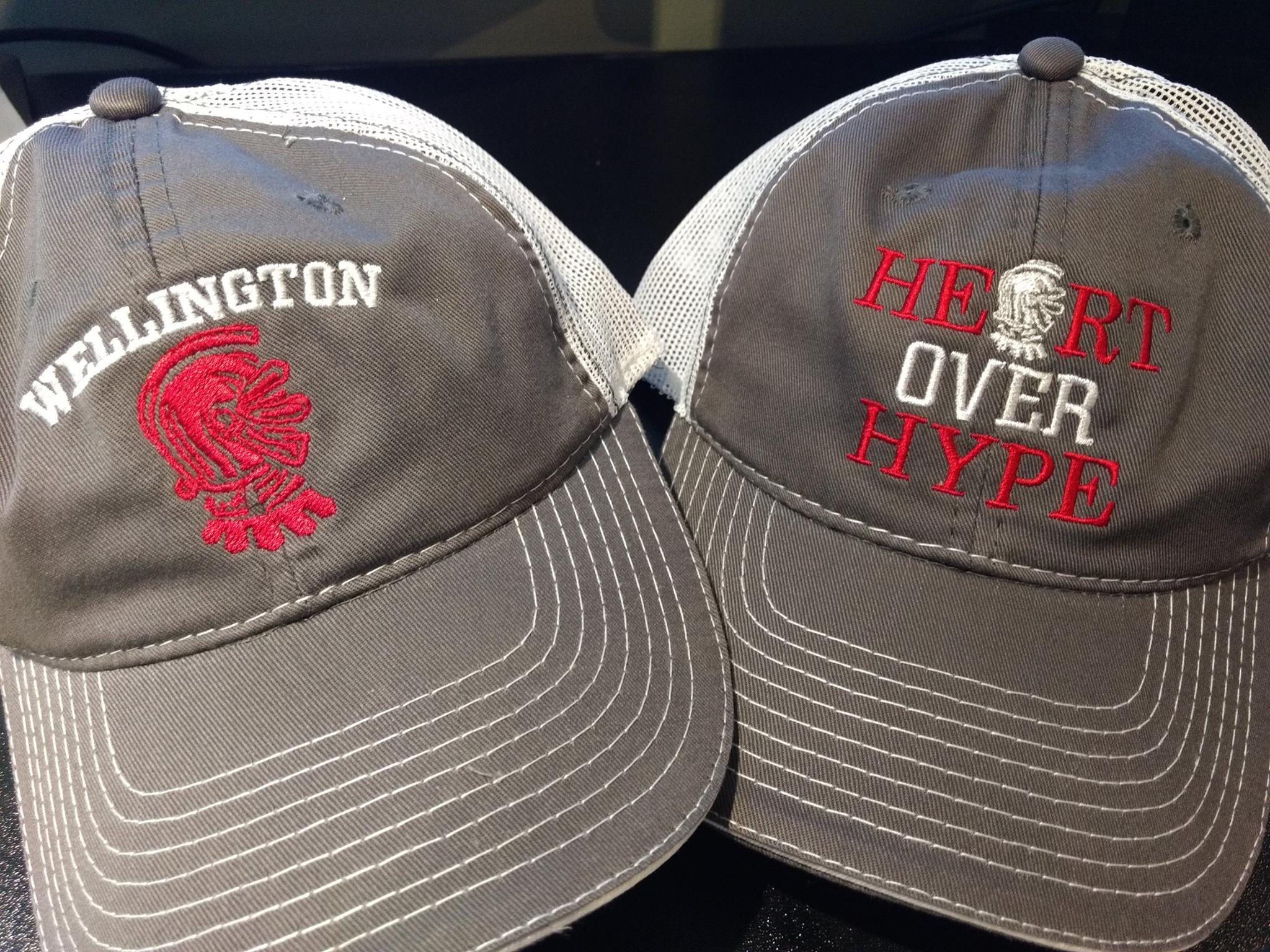 The PROJECT PROM folks have a great fundraiser underway!
SEPTEMBER 15th is CRUSADER CAP NIGHT @ Sellers Park, between now and then, we should all pick up a very cool CRUSADER CAP (see pic) for only $15 (either style) to support their great cause and Crusader Pride (and HEART!)
The CAPS will be available at the HAMBURGER SCRIMMAGE this Thursday and at the first HOME GAME on Sept. 8th....
SO DON'T FORGET - SEPT. 15th IS CRUSADER CAP NIGHT!! 
Now is not the time to get caught going capless! :)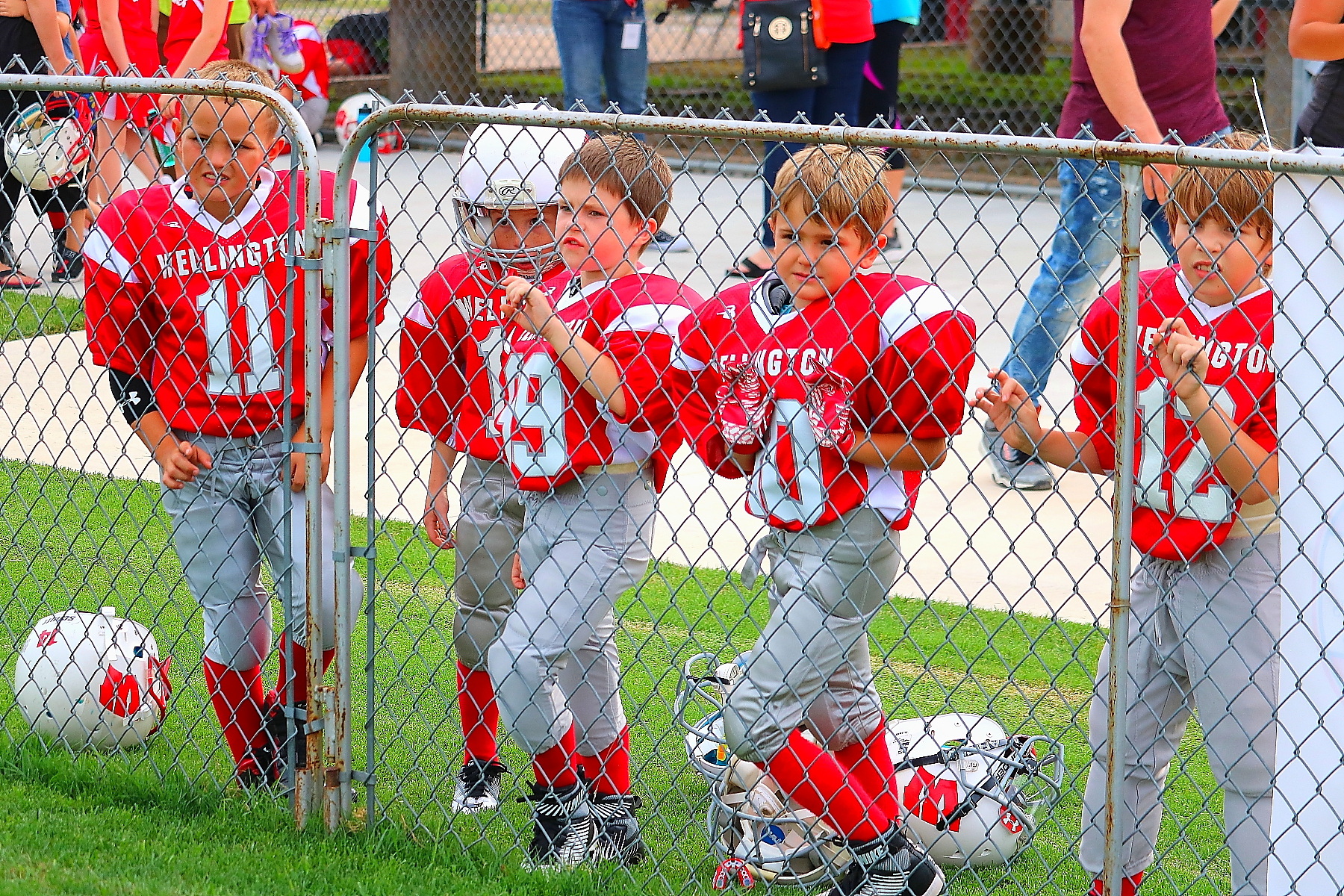 The annual Crusader Club Hamburger Football Scrimmage was held Thursday evening down at Sellers Park. Football players from1st grade through 12th took their turns during the scrimmage to show off their football skills in front of the large crowd of parents, fans and friends. It was a beautiful evening weather-wise and the hamburgers were quite tasty! By evenings' end, dozens of young Wellington Football players, for just one night, were all on the field together...imagine a memory or two for years to come were generated by many. Varsity action gets underway on the road next Friday, Sept 1st at Clearwater. Our WMS Knights host Haysville this coming week on Thursday. Good luck to ALL of Wellington's Football Squads, young and younger!
MORE  HAMBURGER SCRIMMAGE PICS 082417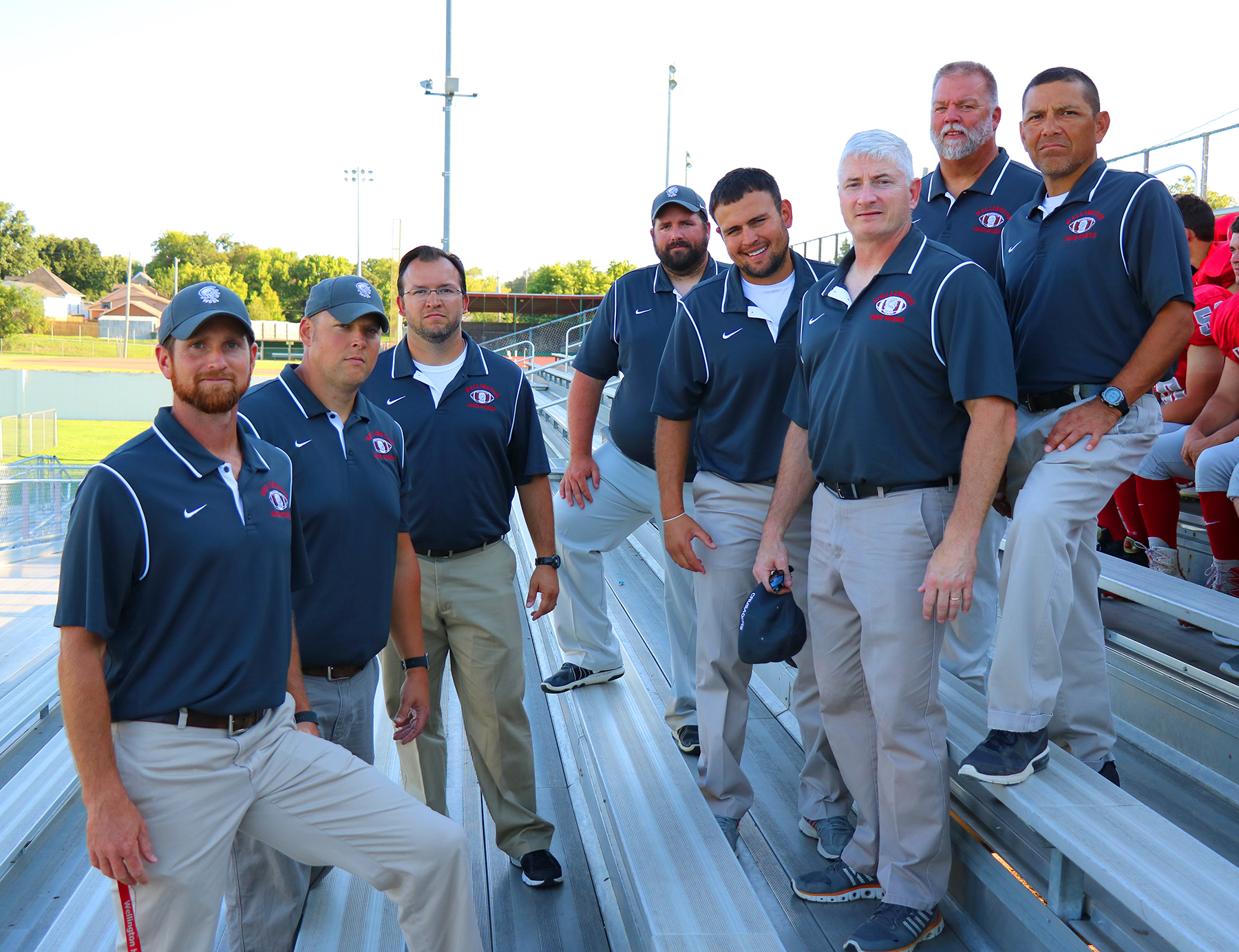 Pictured above L to R: Ryan Elder, Ross Foley, Tim Lira, Nick Wellington, Zane Aguilar, John McComb, Rick Phelps, Tony Ybarra
It was PICTURE TIME Wednesday evening after football practice at the Stadium...the IRONDUKES and their coaches posed for the cameras so we could share with you a closer look at this years' Football Team and Coaching Staff...looking forward to a great season - GO BIG RED!!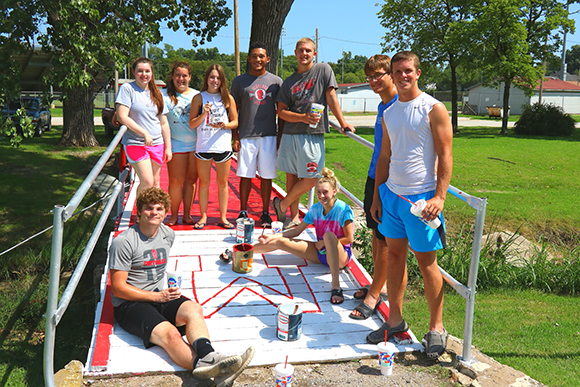 The Senior Football Players and Cheerleaders have worked hard the past 3 days and their work is now finished - the 2017 BRIDGE has received it's annual RENEWAL and it looks awesome! It won't be long until the IRONDUKES pass that way to VICTORY! Great Job Crusaders - The Tradition Continues!!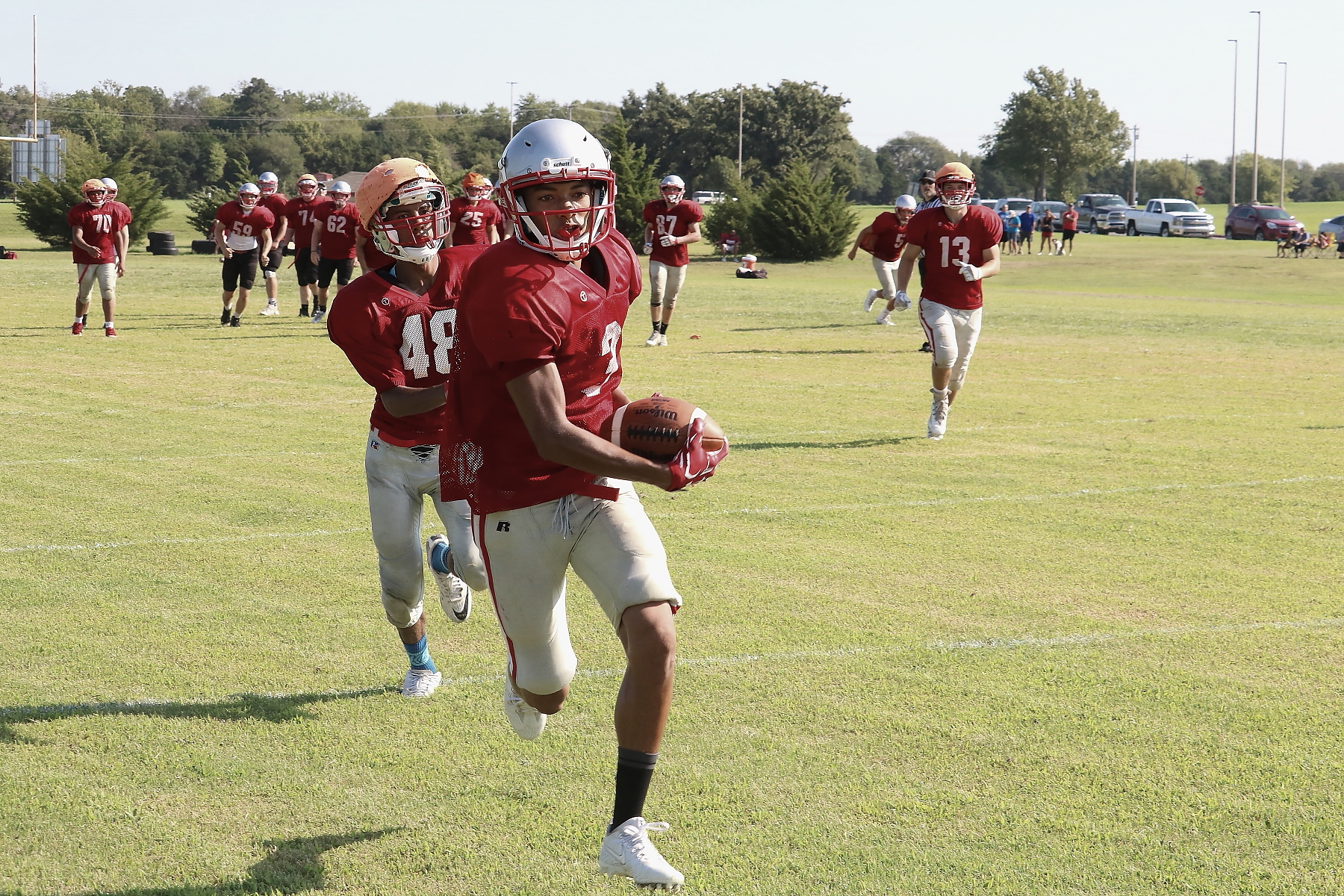 The IRONDUKES took to the practice field today in full pads and helmets and scrimmaged in front of a nice group of parents and fans for an hour or two...they demonstrated some fine play overall and the excitement of the upcoming season is starting to show. Going to have some experience on the line for sure and other significant weapons in the backfield and receiving. Defense made some good stops today, Offense moved the ball well. Just a scrimmage but the attitude is good. You see confidence in their eyes, in their hands and in their legs - these young men are gearin' up for sure. Their coaches, gearin' up too!

Don't forget the annual HAMBURGER SCRIMMAGE is this coming Thursday beginning at 5:30PM with the WMS Knights. At 6PM, all the squads (1st thru 12th grades) will Group Stretch. That will be followed at 6:15PM with the Youth Teams and then the IRONDUKES hit the field at 7:00PM. Come down and check em' all out and show your support! (and eat a burger or two!!)

Opening night is on the road at Clearwater on Friday, Sept. 1st @ 7:00PM - Home opener just 1 week later on the 8th vs El Dorado. "5" Home Games this season (of the 9 regular season games)...get your red on, it's almost time!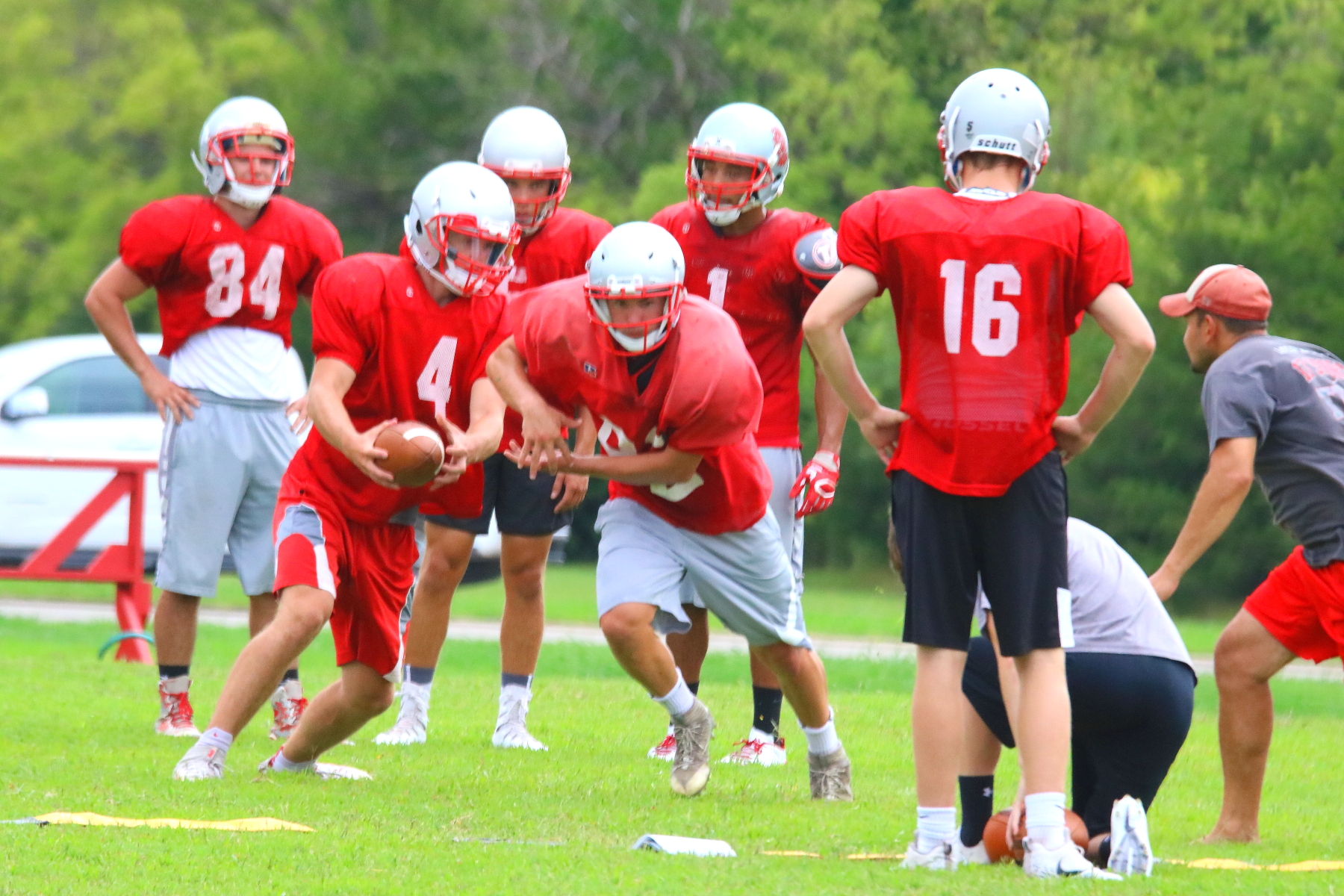 The Crusader Football squad continues with their two-a-day practices throughout this week. Their focus is clear, the intensity is high. This is a good group and they encourage each other well. It's going to take that kind of a TEAM and the ooaches and players are working hard at that very thing. Opening night is Sept. 1st @ Clearwater... can't wait to see what this group can accomplish. There's some definite toughness there....and there's some PRIDE, on both sides of the fence. Let's get 'er done IRONDUKES!!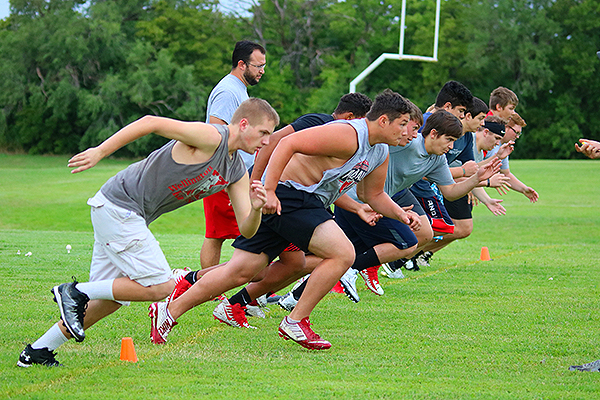 It was CONDITIONING TEST time at WHS today for all of the SUMMER PSQ'rs headin' into official Fall football practice come Monday morning at  6:30AM. Most did a great job, some didn't even have to do it because they had perfect attendance all summer long - that pays off two ways - you get in shape because you are there all summer and because you were there, you don't have to prove you got in shape!! :) Life isn't always complicated!! 

CONDITIONING TESTS PICS 081217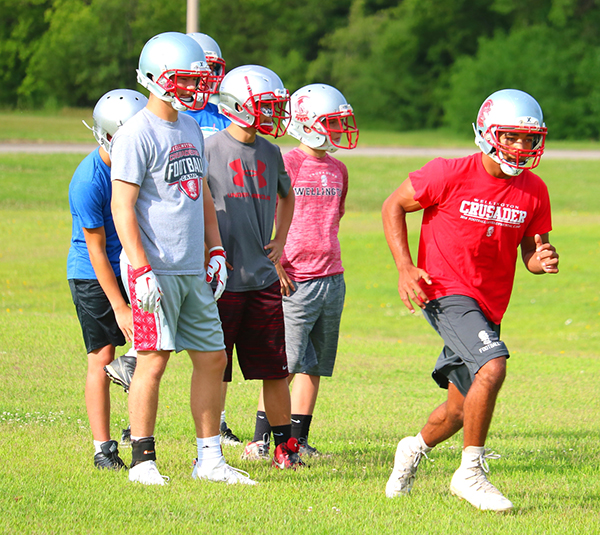 JUNE 26th - JUNE 30th
8AM-NOON @ HS Practice Field

CRUSADER FOOTBALL CAMP PICS 062617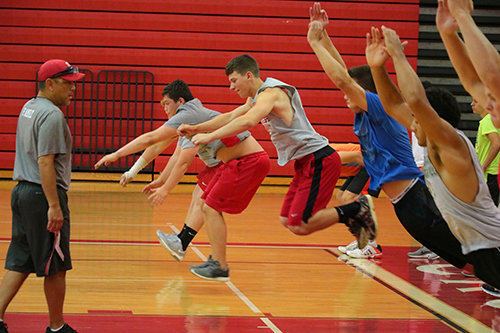 The Iron Duke summer program is a weight and speed development program sponsored by the athletic staff. This program is designed to increase your speed, strength, agility, and flexibility. It has a proven track record that involves weight training, form running, agility, plyometrics, aerobics, and flexibility training. Your athlete can and should expect improvement in each of these areas and in overall conditioning. A large group was on hand early this morning for DAY 1! The program runs through July 20th for 1st graders thru 12th graders.
Here's more info about the program - INFO

AVCTL DIV IV - LEAGUE HONORS

2ND TEAM
Senior Connor Burnett - Lineman
Senior Dylan Ferguson - Def. Linebacker
HONORABLE MENTION
Senior Colton Glover - Running Back * Linebacker
Sophomore DeAndre Washington - Running Back
Sophomore Trayson Probst - Punter
Sophomore Joe Ybarra - Defensive Back
Sophomore Julian Jimenez - Defensive Back

CRUSADER FOOTBALL SEASON ENDS
In the final game of district play, the Ulysses Tigers defeated our Crusaders 34-13 after a tough first half battle and will advance along with Mulvane to 4A post-season action beginning this coming week. The Wildcats defeated Winfield 53-31 Friday so the Crusaders and Vikings will call it a season and begin preparing for 2017.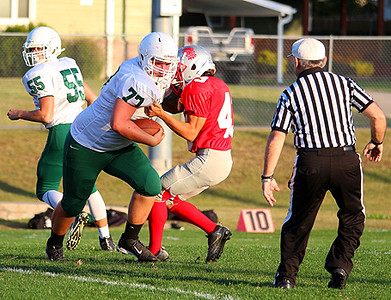 FRESHMEN/SOPHOMORE FOOTBALL vs Mulvane
Mulvane 12 Wellington 46
Wellington lead the entire way! Great Job!!
WHS vs Mulvane Game Action Pics 102416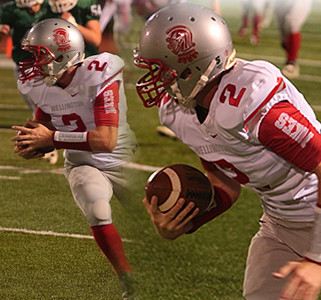 It was WEEK 2 of district play - (0-1) Wellington after a loss at home vs Winfield (20-21 OT) in WEEK 1, was on the road Friday to (1-0) Mulvane who had downed Ulysses last Friday 28-14. Ulysses was at Winfield for WEEK 2 and would make their 4 hr ride back home more bearable with a 33-3 win over the now (1-1) Vikings. Ulysses enters WEEK 3 at 1-1 as well.
In the Wellington vs Mulvane game, a nice opening drive by the Crusaders was unfortunately halted on downs before paydirt could be reached. The drive would be one of just a few highlights on the evening for Wellington who's roster was down an additional 7 players from last week because of injuries. Mulvane behind their star QB Price and RB Shoemaker would dominate the scoreboard through the first 3 qtrs, leading 34-00 at halftime and 48-0 midway through the 3rd qtr. A running clock resulted - Wellington did get on the scoreboard late in the game on a 74 yd. run and subsequent PAT (by Glover). Final score Mulvane 48 Wellington 7. The Wildcats move to 2-0 in district play with Ulysses in the driver's seat for the #2 spot. (0-2) Wellington travels to (1-1) Ulysses this coming week for the final regular season game of the year. (2-0) Mulvane will take on (1-1) Winfield.
Wellington generated 283 total yds of offense, 149 rushing, 134 passing. Colton Glover was the lead rusher, carrying the ball 15 times for 121 yds and a TD. Deyton Araujo had 6 carries for 20 yds, Cade Phelps 2 for 5 yds, Joe Ybarra 1 for 3 yds and DeAndre Washington 1 for 0. Cade Phelps passed for 134 yds, (9 of 23), Caleb Reichenberger snagged two of those for 55 yds, Joe Ybarra had 3 receptions for 51 yds, Silas Popplewell 2 receptions for 16 yds and DeAndre Washington 2 receptions for 12 yds. Mulvane's QB alone (#7 Price) generated 248 yds of total offense, running the ball 121 yds (on 7 carries) and passing for 127 yds. Wildcat running back Shoemaker (#30) rushed for 194 yds on 16 carries - altogether Mulvane had 442 yds total offense. (315 - Rushing 127 - Passing)
OTHER AREA SCORES
Andale 63 Circle 14 * Conway Springs 34 Cheney 12 * Caldwell 76 South Haven 6 * Oxford 72 Flint Hills 0 * Attica /Argonia 72 Macksville 24 *Maize South 41 Rose Hill 18 * Clearwater 28 Wichita Trinity 20 * Ulysses 33 Winfield 3
WEEK #2 DISTRICT FOOTBALL PLAY
(0-2) Wellington 07 (2-0) Mulvane 48
(1-1) Ulysses 33 (1-1) Winfield 3
WHS FOOTBALL vs MULVANE PICS 102116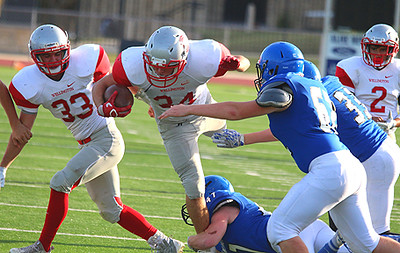 The WHS Sub-Varsity Football squad came home with a big "W" Monday evening from Winfield, defeating the Vikings 32-30! Down 0-18 in the 2nd qtr., the Crusaders fought back and made it happen. GREAT WIN with many contributors!!
WHS SUB-VARSITY FOOTBALL vs WINFIELD PICS 101716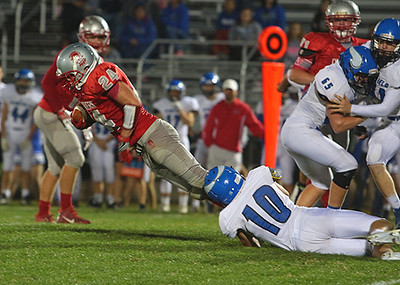 SUTV GAME WRAP - WINFIELD vs WELLINGTON
FOOTBALL UPDATE
WEEK #1 DISTRICT PLAY
Winfield 21 Wellington 20 (OT)
Mulvane 28 Ulysses 14
WINFIELD vs WELLINGTON PICS 101416
Includes 2001 State Football Tailgate Pics
and SENIOR NIGHT PICS!
THIS FRIDAY / WEEK #2
(0-1) Ulysses @ (1-0) Winfield
(0-1) Wellington @ (1-0) Mulvane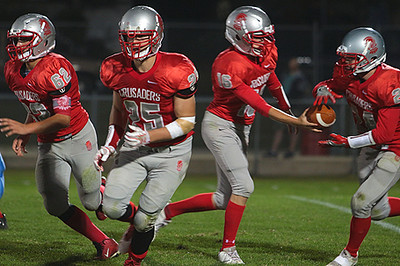 The Wellington Crusaders hosted Scott City Friday evening down at Sellers Park, the last regular season game as district playoffs begin next week. Scott City controlled the tempo on both sides of the ball, lead by 27 at halftime and would win 41-00. Wellington was unable to stop the Beavers and unable to manufacture many offensive yards. All totaled, the team rushed for 59 yds., first time varsity starting QB Sophomore Michael Ledbetter went 0-10 passing. (Jr. QB Cade Phelps is out with a concussion suffered at last week's game at Collegiate). The only Wellington rushers with positive yardage were Seniors Chris Kop and Colton Glover. Wellington's punter Trayson Probst had a 29 yd. avg, punting 9 times for 263 yds total. District play begins next Friday, HERE vs Winfield...the Vikings are 0-6 as well and are lead by former head coach Linn Hibbs and asst. coach T.D. Buck. It will be the old vs the new at Sellers Parknext weekend and the 2001 State Championship Team members will be on hand as well, celebrating their stellar achievements 15 years ago this Fall.
It's an honor to have them back!
WELLINGTON vs SCOTT CITY PICS 100716
OTHER AREA SCORES:
Andale 32 Collegiate 21 * Attica/Argonia 56 Fairfield 6
Caldwell 52 Norwich 6 * Chaparral 49 Clearwater 33
Mulvane 67 Conway Springs 13 * Maize S. 44 Winfield 0
McPherson 44 Rose Hill 8 * Goodland 26 Ulysses 17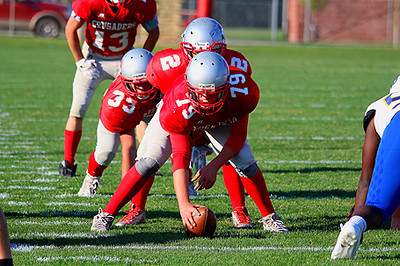 The WHS Sub-Varsity Football Squad hosted their counterpartsfrom Collegiate Monday evening down at Sellers Park - if you weren't there, you missed some fun football action. There was a lot of hard-hitting, crunch 'em up football and after 4 qtrs. it was Wellington 38 Collegiate 19. Collegiate never lead in the game - the Wellington boys looked tough and played tough. Congrats to them and their coaches!
WHS SUB-VARSITY ACTION PICS 100316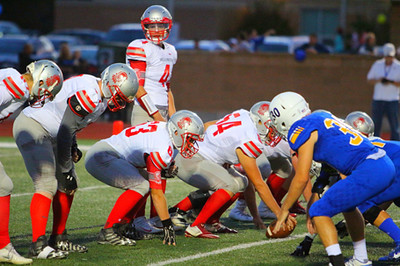 The Wellington Crusaders dropped to 0-5 on the season Friday at Collegiate, falling to the Spartans by the final score of 52-0. After a nice return by sophomore Julian Jimenez (50 yds) on the opening kickoff, the Crusaders were unable to move the ball with any consistency and had difficulties stopping Collegiates' ground game and air assault. Prior to the Spartan's JV squad coming in, Collegiate had completed 17 of 19 passes for "5" TD's. It was a long night for the Crusaders on both sides of the ball. Total offense for Wellington was 91 yds (70 rushing / 21 receiving). Wellington had 3 first downs to Collegiate's 11. QB Cade Phelps left the game just prior to halftime with a concussion. For assurance, Cade was taken to a local Wichita hospital to be checked out. At last report he was home resting. The Crusaders host Scott City next Friday which is also HOMECOMING. More about all of that soon!
OTHER AREA SCORES:
Andale 61 Clearwater 20 * Caldwell 74 Burrton 00
Conway Springs 54 Trinity 14 * Rose Hill 34 El Dorado 14
Oxford 44 Udall 20 * Argonia/Attica 40 Pratt Skyline 6
Scott City 53 Ulysses 7 * Buhler 48 Winfield 7
WHS vs COLLEGIATE ACTION PICS 093016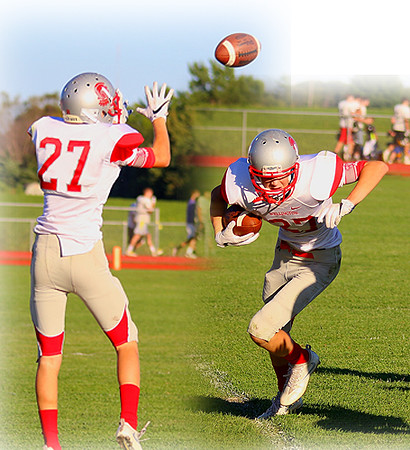 Sophomore CHI BARTON for a reception and a gainer!

In sub-varsity (Frosh/Soph) football action Monday,
 the Crusaders found themselves down 0-12 after 1, but battled back to a 12-12 tie at the halfway point. Miscues in the 2nd half however were critical for the young Crusader team and Andale took advantage. A strong showing on the part of the Crusaders nonetheless. Wellington 18 Andale 27
FROSH/SOPH VS ANDALE FOOTBALL PICS 092616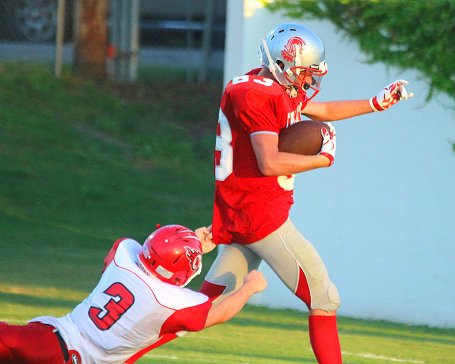 Silas Popplewell - CRUSADER - For 6!
The WHS Sub-Varsity Football squad found success Monday evening vs their counterparts from Rose Hill. The younger Crusaders controlled the tempo and the eventual outcome throughout most of the contest, a very hot and humid event (and no wind!) ugh! Anyways, great night for Wellington boys - great effort by all, scoring-wise it was Hunter Greenlee, Trayson Probst, Michael Ledbetter and Silas Popplewell with TD's...credit Blake Rausch with the 2 pt. conversion. Credit the whole squad though, it takes a team to help get those guys into the end zone and the "team" did just that Monday evening! Great Job Crusaders! Onward and upward - together!
SUB-VARSITY FOOTBALL ACTION PICS 091916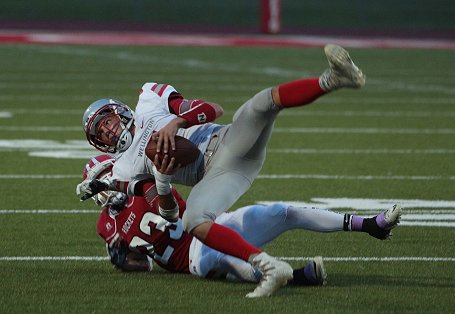 WELLINGTON 06 ROSE HILL 07
RECEIVER JOE YBARRA SNAGS 23 YD RECEPTION! 
0-2 Wellington paid a visit to 0-2 Rose Hill Friday night, both teams in the hunt for their first "W's" of the season. Rose Hill hadn't actually had a "W" since the 2014 season. After a nearly scoreless game, the Rockets would prevail, despite opportunities for the Crusaders late. Rose Hill 07 Wellington 06. As in previous outings this season, the IRONDUKES shot themselves in the foot with numerous penalties and less than desired "fire" at times. A 4th qtr score did revive the Wellington boys a bit but down the stretch they couldn't bring home the "W" as time ran out. Colton Glover rushed the ball 19 times for 87 yds, Chris Kop 13 carries for 50 yds, Cade Phelps 7/3 yds, Deyton Araujo 1/0 yds and De Andre Washington 1/5 yds. Cade Phelps was 8/25 for 134 yds passing - DeAndre Washington caught 4 for 79 yds, one a 49 yd TD reception in the 4th qtr. Joe Ybarra snagged 1 for 23 yds and Jack Walton 2/22 yds. Colton Glover added 10 yds receiving to bring his total offensive production to just shy of 100 yds on the evening. It doesn't get any easier for the Crusaders any time soon. Next Friday, Andale will be visiting Sellers Park after a 61-52 victory over Mulvane this week. The following week Collegiate and then Scott City here for Homecoming on Oct. 7th. Those "3" teams combined for 158 points and 3 victories this week. Wellington's 0-3 start is the slowest start for the IRONDUKES since 2012, (Coach Tyler Ryan's first season) when the Crusaders went 0-4 (losing to Goddard, Concordia, Augusta and Collegiate) before winning on the road at Coach Ryan's alma mater Circle week 5.
Battle on gentlemen, battle on!!
CRUSADERS vs ROCKETS ACTION PICS 091616
OTHER AREA SCORES:
Scott City 52 Cimarron 7, Collegiate 45 Buhler 21
Augusta 38 Circle 8, Caldwell 54 Central of Burden 6
Conway Springs 47 Douglass 6, Holcomb 52 Ulysses 0
Andale 61 Mulvane 52, McPherson 46 Winfield 0
Udall 66 South Haven 18, Attica/Argonia 46 Flint Hills 0
Clearwater 43 El Dorado 7, Sedan 62 Oxford 20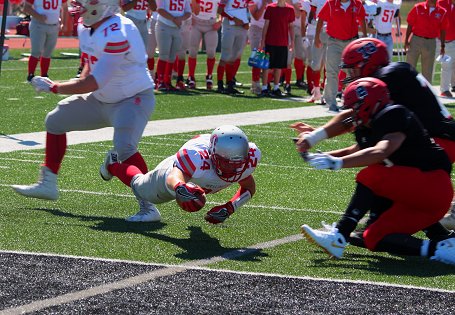 The rain delayed WHS Varsity Football vs El Dorado game was played on Saturday at BG Products Veteran Stadium in El Dorado. Wellington would score first and lead 6-0 but the Wildcats would soon answer with 8. Penalties hurt the Crusaders as El Dorado pulled away to a 34-18 victory. El Dorado moves to 1-1 on the season, Wellington 0-2.
Colton Glover carried the ball 18 times for 55 yds and the 1 TD. Chris Kop 10/53 yds, Deyton Araujo 7/33 yds and Cade Phelps 6/13 yds and the 2 rushing TD's. "3" PAT attempts failed. In passing, Phelps completed 5 for a 159 yds, Joe Ybarra was on the receiving end of 3 of those for 62 yds, De Andre Washington 1/56 yds and Glover 1/41 yds. Wellington would have 16 first downs on the day, El Dorado 21.
VARSITY FOOTBALL vs EL DORADO PICS 091016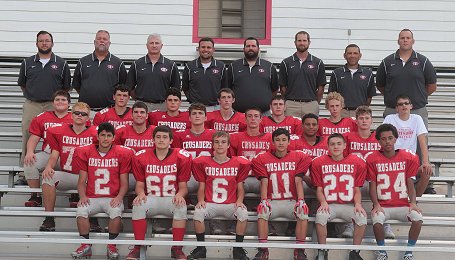 The WHS JV & Freshmen Boys were on the road Tuesday at Clearwater…it was a sweep for the BOYS IN RED, the JV won 20-06 and the Freshmen won 28-00…this group of freshman boys got it goin' on...14-0 as KNIGHTS and off to a 1-0 start as CRUSADERS…keep working hard gentlemen and congrats! On a side note, this will be the last JV game for Wellington this season…beginning next week there will be just a Freshman/Sophomore game (starting at 5pm).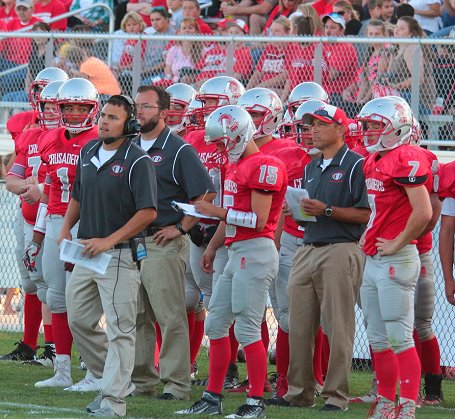 A hard fought, back and forth first half Friday evening at Sellers between Clearwater and Wellington, broke wide open in the 2nd half unfortunately for the visiting Indians who outscored our home boys 27-6 in the 3rd and 4th qtrs for the eventual 41-13 victory. 

GAME WRAP - CLICK HERE
CLEARWATER vs WELLINGTON GAME PICS 090216
OTHER AREA SCORES
Andale 50 Andover Central 14 * Augusta 32 Winfield 00
Buhler 26 McPherson 13 * Campus 21 Ark City 14
Collegiate 41 Rose Hill 6 * Mulvane 52 El Dorado 28
Conway Springs 48 Belle Plaine 08
Ulysses 30 Liberal 13 * Hays 31 Scott City 21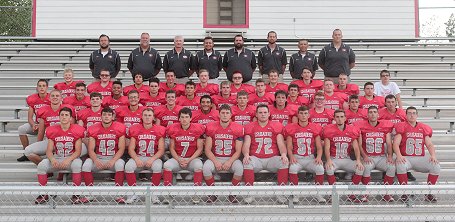 The 2016 WHS IRONDUKES posed for pics at the football fieldfollowing practice on Wednesday. With storms just looming to the south, pics came off without a hitch, Mother Nature cooperated! The football field looks awesome, the IRONDUKES are fired up as are the coaches - home opener is just 1 week away vs Clearwater - GO BIG RED!