CRUSADERS OF THE STAGE WEBSITE
Setup and maintained by the Crusaders of the Stage
2017-2018
Forensics Coach Caitlin Hendrix and the WHS Forensics Team competed at Newton Saturday (Feb. 3, 2018)...two Crusaders qualified for State!
Austin Harriger placed 5th in Informative Speaking!
Gabe Hyer placed 3rd and qualified for State in Prose!
Austin Harriger and Gabe Hyer placed 2nd and qualified for State in Improvised Duet Acting!
Congratulations CRUSADERS!! Way to Represent!!
Good Luck @ STATE!!!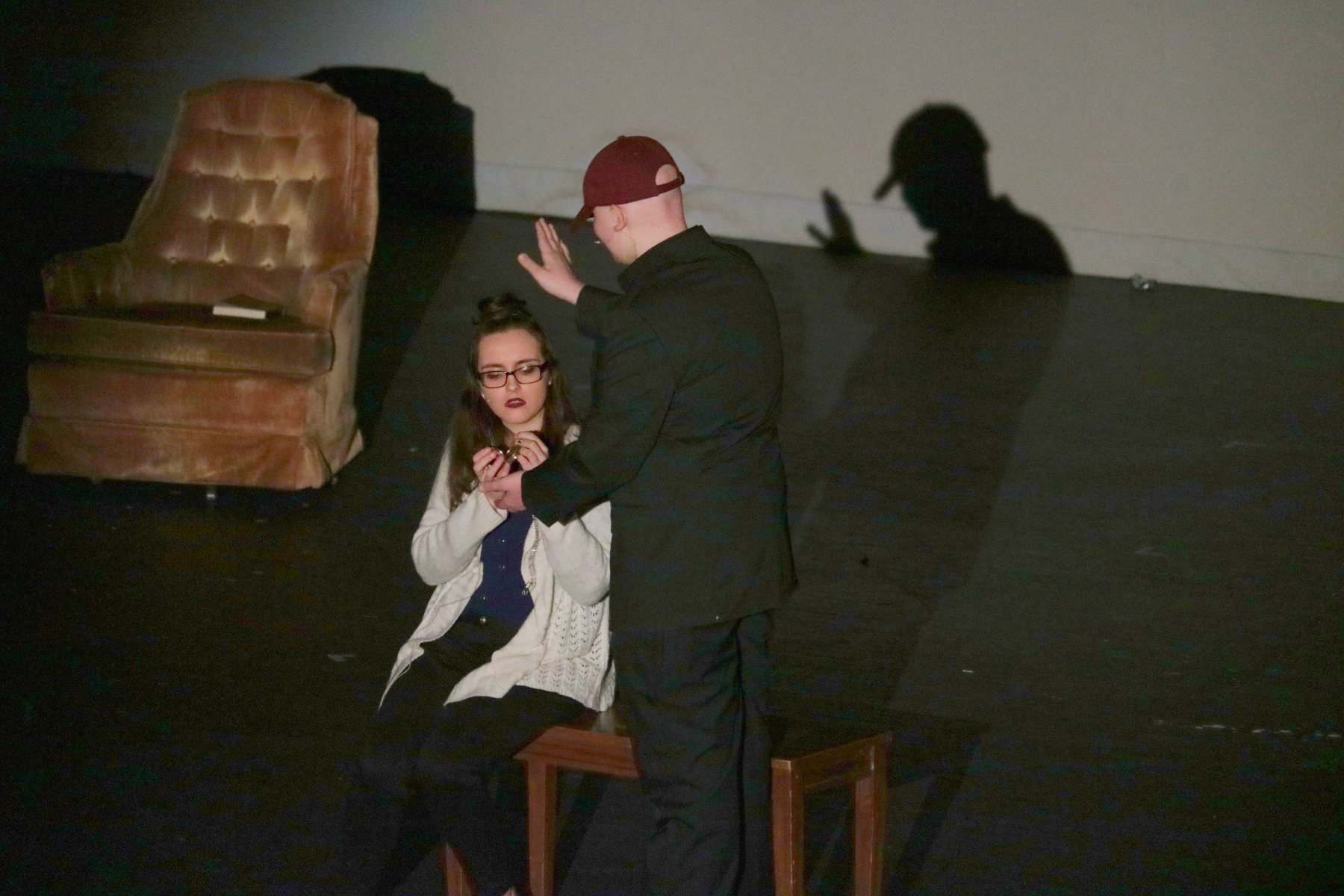 One-Act plays are similar to a short story. There is a complete drama within one act. It is brief, condensed, and single in effect. One situation or episode is presented,permitting no minor plots or side actions that may distract attention for the single purpose and effect being developed. Characters are few in number, quickly introduced, and very limited in character development.Dialogue and Plot must carry the action forward smoothly and quickly.
Drama students at WHS presented "2" ONE-ACT plays Friday evening and will do the same this evening at 7PM. Admission $5 Adults / $3 Students. 

The first presentation, "TIME", written by Jordyn Young and directed by Cameron Carter had an interesting, "Twilight Zone-ish" twist about exchanging places with friends who had passed on. This presentation starred Lizzy Santana, Gabe Hyer, Cameron Carter, Chandra Pourner and Michaela Adkins-Washington.
The 2nd presentation, a bit "heavier" yet, dealt with bullying and suicide, viewer discretion was advised and encouraged. This performance was entitled "The Source of His Light", written by Jason  Jeffery and directed by Riley Nelson. Performers included Chloe Easterly, Kaden Heacock, Brandon Oleson, Riley Nelson, Brittney Bentz, and Austin Harriger.
Curtain goes up again tonight (Saturday) - 7PM @ WHS (Auditorium) 

WHS ONE-ACT PICS 012618
Wellington High School Debate and Forensics is doing fundraising a little differently this year! We have partnered with Dillons Community Rewards. This means that if you follow the directions on the image below and enroll our organization, every purchase you make with your Dillon's Plus Card helps fund Debate and Forensics! There are no extra purchases necessary. Just swipe your Plus Card and Dillon's sends a percentage to us!
Thank you for supporting WHS Debate and Forensics!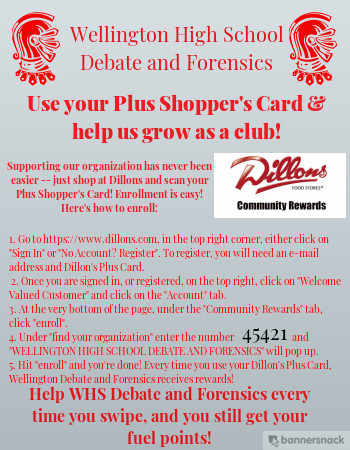 *********************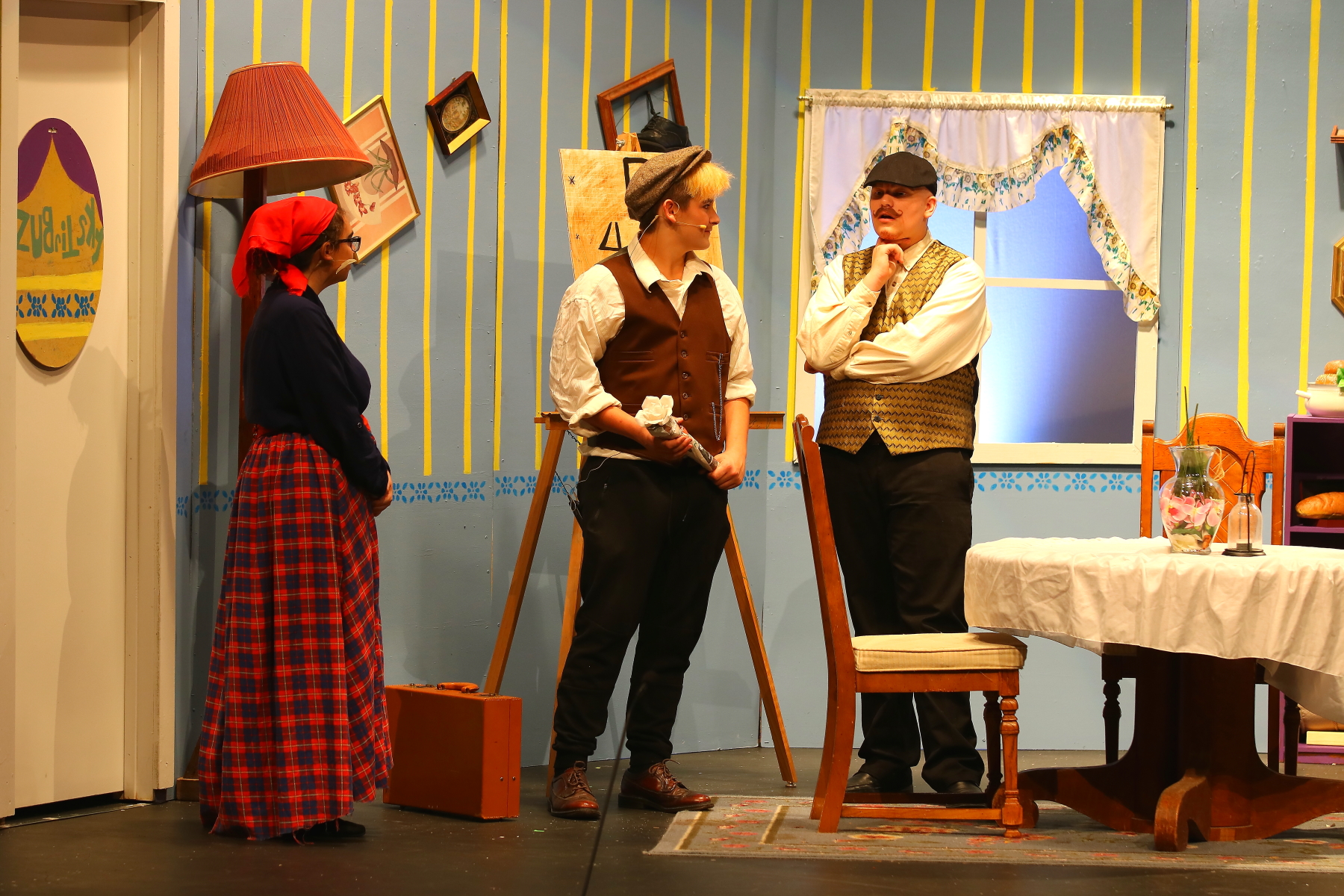 "FOOLS" is a comic fable by Neil Simon, set in the small village of Kulyenchikov, Ukraine (Russian Territory), during the late 19th century. The story follows Leon Steponovich Tolchinsky, a schoolteacher who takes a new job educating Sophia, the daughter of Doctor Zubritsky and his wife, Lenya. Leon soon learns that there is a curse on the village that makes everyone stupid, but complications ensue when Leon falls in love with his pupil. I'm here to tell you, "stupidity" has never been more comical!! You are going to laugh!

There will be "2" public performances, October 21, 2017 at 7 p.m and October 22, 2017 at 2 p.m. Mark your calendars and try to get out to WHS and support this great production. I'm still chuckling at some of the lines and dialogue as I look at the Rehearsal Pics which you can view below!

Here is the cast for the FALL PRODUCTION
Leon Tolchinsky - Cameron Gardner
Sophia Zubritsky- Lizzy Santana
Doctor Zubritsky - Gabe Hyer
Lenya Zubritsky- Chandra Pourner
Count Gregor - Jordyn Young
Snetsky- Kayla Prickett
Mishkin- Tatum Witham
Slovitch- Riley Nelson
Yenchna- Chloe Easterly
Magistrate- Quinn McCue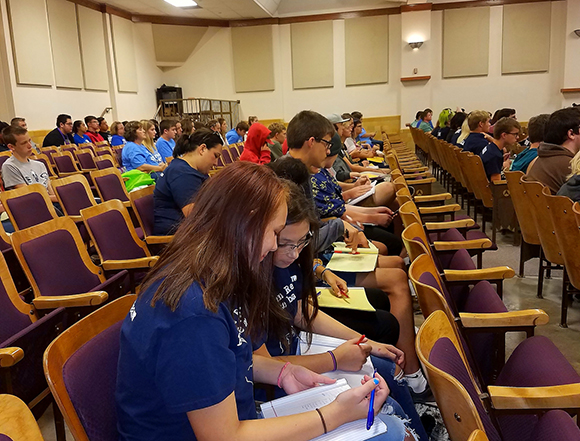 The WHS Drama and Forensics students and their instructor Caitlin Hendrix attended the Kansas State Fair this past week. The Fair holds two days of Debate and Forensics Demonstrations for students from across Kansas. These "demos" are hosted by Sterling College, and the students are given the opportunity early on in the semester to witness what a true high school debate looks like. They practice "Flowing" during the debate and then discuss the cases and how to improve their own before tournaments begin in two weeks! The Forensics Demonstrations were conducted by State Champions from last school year. It gives those  recent champions an opportunity to perform their pieces, an opportunity they wouldn't have otherwise. Of course there was time for the students to take in the Fair itself - check out a few courtesy pics below!

DRAMA & FORENSICS @ STATE FAIR PICS 2017
******************
2016-2017
It is NEA's "Read Across America Day" today across the nation. A program that begun in 1998, today is the 20th observation of the event. Here in Wellington, members of WHS's "Crusaders of the Stage" performed at the elementary schools and then spent time in each classroom reading to the students. An awesome event and awesome way to encourage and reward reading. First stop was Washington Elementary this morning with more stops planned for Eisenhower, Lincoln and Kennedy by school day's end.
READ ACROSS AMERICA DAY 2017 - More Info!
WASHINGTON SCHOOL'S "READ ACROSS AMERICA" PICS 030217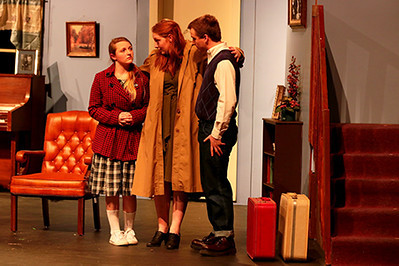 Friday evening was opening night for the latest STAGE PRODUCTION at Wellington High School.The curtain went up at 7PM Friday and Saturday for the drama, "UNEXPECTED TENDERNESS", a poignant story about a dysfunctional Jewish family in Massachusetts. For more about the play - CLICK HERE
"UNEXPECTED TENDERNESS" PLAY PICS 01.20.17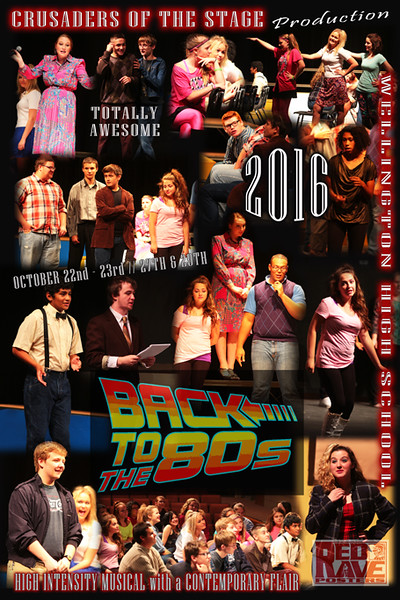 The curtain went up one final time (Oct. 29th - 7:00PM) for the Fall Musical production "BACK TO THE 80'S", presented by the CRUSADERS OF THE STAGE!