*************************
2018 LAPTOP FUND
Goal of 84 Achieved!
************************
WHS PRESS RELEASE 05.01.18
Valedictorians / Top 10%
***********************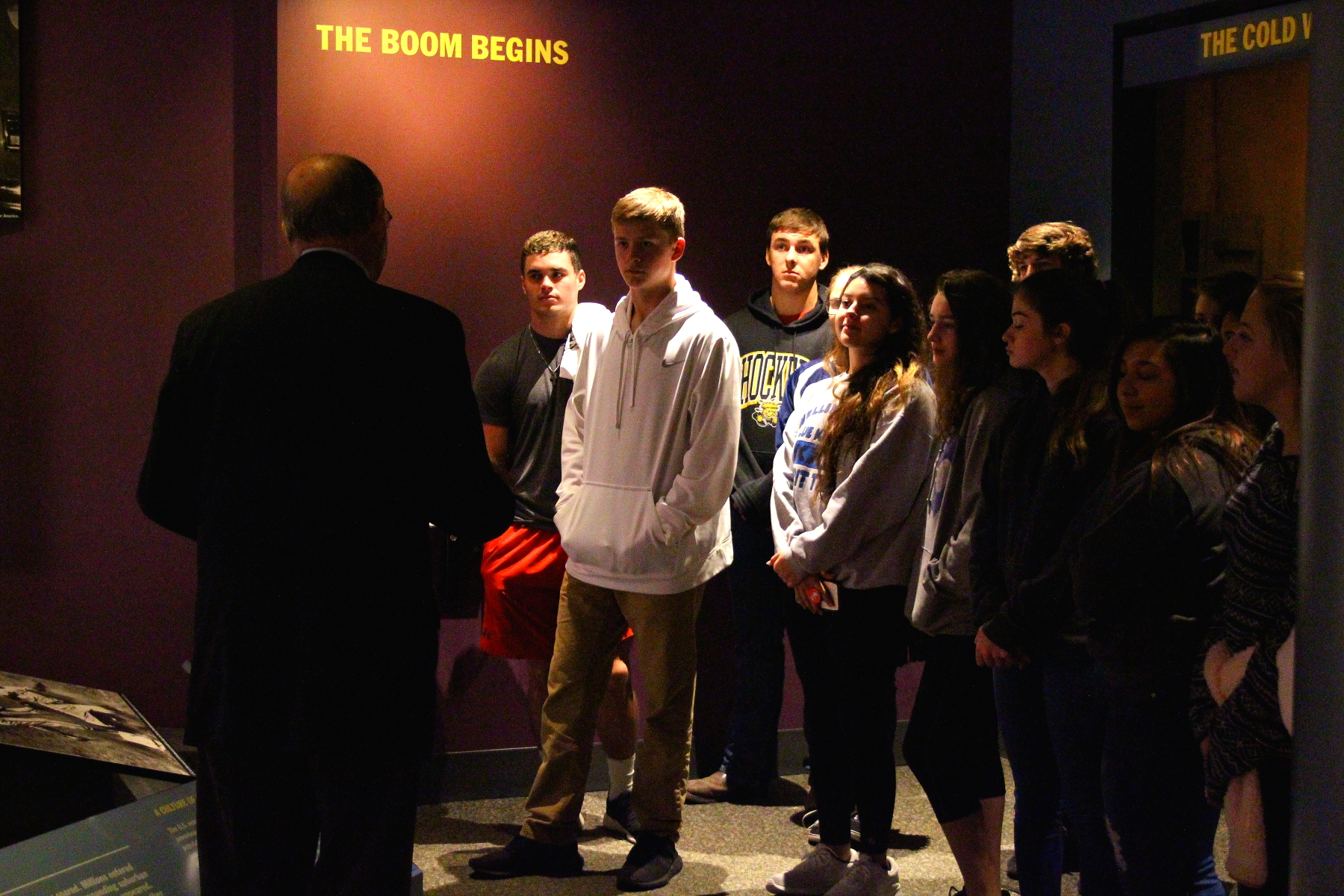 You can read books about it, you can listen to lectures about it, you can even watch videos and other media materials BUT there is nothing like the real thing and it's the real thing WHS Juniors participated in Tuesday on a 16 hour road trip to Kansas City and back home. WHS instructors Mike Wilmoth and Rick Phelps oversee these annual excursions. Between the 5:15AM departure and 9:45pm arrival back home, here's what they did!

TWO bus loads of Crusaders (Class of 2019) arrived in Independence, Missouri, at the TRUMAN LIBRARY mid-morning Tuesday for a 2 hour tour, followed by lunch at Arthur Bryant's Bar-B-Q in KCMO. 

The groups divide up after lunch, 1 bus headed towards the Federal Reserve Bank for a tour and the other to the National WWI Museum for a tour there. Mid-afternoon, they swap locations so everyone can visit both. Around 4:30, the group walked to Union Station where they would depart for home after a quick stop for fast food. 4 hours or so later, the travelers were back home, safe.

This is just one of "3" road trip options the US History classes at WHS try to take each school year. The other two are a trip to Topeka to tour the State Capital, the Brown vs Board of Education Museum and the State Historical Museum and the other, a trip to Abilene to tour the childhood home and presidential library of Dwight D. Eisenhower and also a local mansion (Seelye) that lies on "the other side of the tracks". A trip to Abilene is actually scheduled for later this school year.

Watch for an upcoming interview with WHS Instructors Mike Wilmoth & Rick Phelps and some of the students that took part in this latest excursion. All of these trips are funded through donations for which all involved are truly grateful. They are fantastic learning tools for our students and trips many will remember for a ife time.

Please enjoy the following pictures taken by some of the WHS students that were present, which included Brooke McCorkle, Delaney Parkey, Jacelyn Buck, Joe Ybarra and Skylar Troutman. Ms. Katie Ford. sponsor of the WHS Yearbook group also provided some pics. We love to showcase their talents - look for more of this in the future!

WHS US HISTORY KANSAS CITY TRIP PICS 112117
****************
MORE IKE/WHS CARPENTRY PICS
Eisenhower Courtesy Pics/Story
The Eisenhower 4th grade teamed up with Mr. Ryan Elder's Intro. to Industrial Arts classes at WHS and learned and experienced the world of carpentry!

Under the direction of Mr. Elder and the high school students, the 4th graders ALL built wooden Christmas trees!  They learned about wood working and the math processes involved, studied various machines and how they work, as well as recognized proper technique and the responsibility required in building!  It was a great project that the kids (elementary and high school) LOVED!  The 4th graders will now finish off the trees with their artistic touch adding some paint and decorations, which will then be given as a Christmas gift! 
***************
Mrs. Melissa Buchanan's Web Design and Entrepreneurship classes at WHS, are assisting students from Kennedy Elementary each day this week with  the "HOUR OF CODE" project as part of Computer Science Education Week! Read below for more info! (or click HERE)
What is the Hour of Code?
The Hour of Code started as a one-hour introduction to computer science, designed to demystify "code", to show that anybody can learn the basics, and to broaden participation in the field of computer science. It has since become a worldwide effort to celebrate computer science, starting with 1-hour coding activities but expanding to all sorts of community efforts. Check out the tutorials and activities. This grassroots campaign is supported by over 400 partners and 200,000 educators worldwide.
When is the Hour of Code?
The Hour of Code takes place each year during Computer Science Education Week. The 2017 Computer Science Education Week will be December 4-10, but you can host an Hour of Code all year round. Computer Science Education Week is held annually in recognition of the birthday of computing pioneer Admiral Grace Murray Hopper (December 9, 1906).
Why computer science?
Every student should have the opportunity to learn computer science. It helps nurture problem-solving skills, logic and creativity. By starting early, students will have a foundation for success in any 21st-century career path. See more stats here.
***************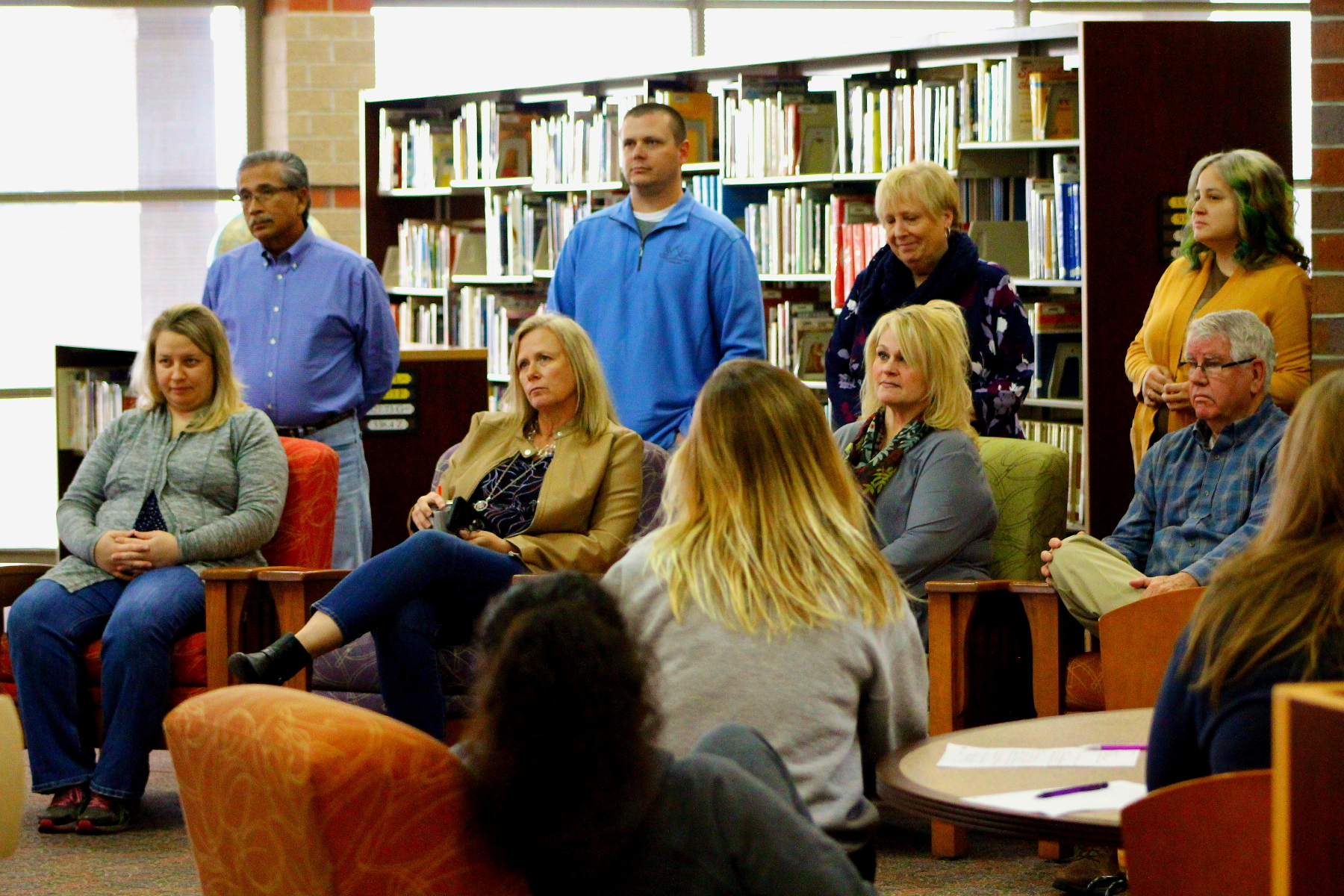 Freshmen at WHS participate in CRUSADER WAY classes their first year as Crusaders, learning a myriad of social and community skills and how to utilize them. 

Each semester, members of the Crusader Way classes sit down with socially responsible members of the community, in the school library, and have dialogue. The event is an opportunity for the students to hear first hand about the benefits and difficulties of being an active citizen in your community. The exercise also refines and sharpens the student's communication skills.
Community members present on Wednesday at WHS included Anna Rose White, Cody White, Kelly Ford, Kim Hefley, Angie Ratcliff, Larry Mangan, Joe Soria, Michael Nelson, Kiersten Theurer, Kori Boyd and Tessa Stewart. Their presence, greatly appreciated by both the students and the Crusader Way staff members.
MORE CRUSADER WAY PICS
(courtesy of WHS Yearbook)
****************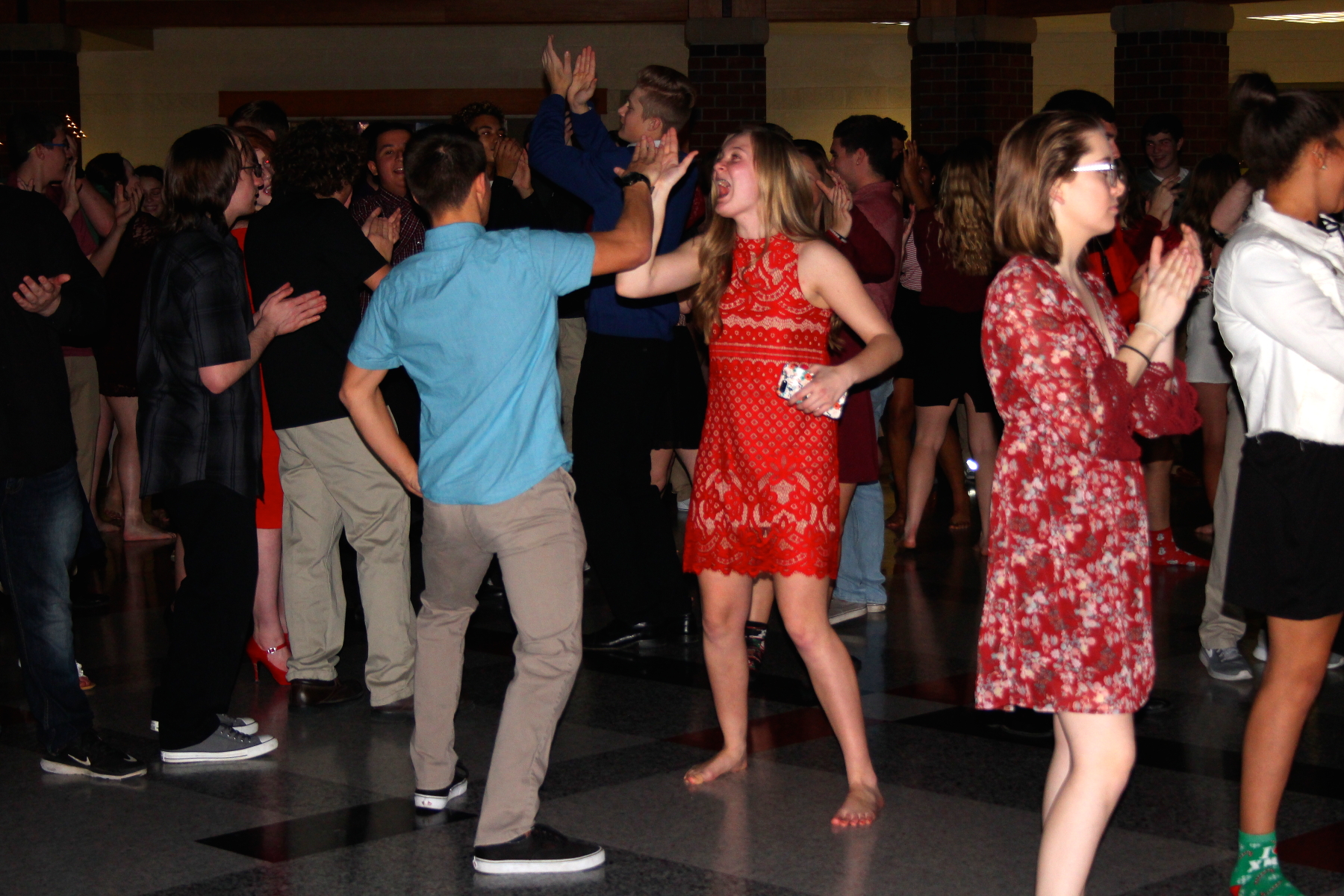 The WHS Chapter of the National Honor Society, sponsored the Winter Formal Dance held this past Friday evening at Wellington High School. Several were on hand for the 2 hour affair and dressed quite nicely to boot! The following pics are courtesy of the WHS Yearbook Staff - Chaney Leonard and Madison Brown. Awesome pics - thanks!!
NHS WINTER FORMAL DANCE PICS 120117
***************

Congrats to WHS Cheerleader Kellie Kemper!
At their recent UCA Summer Camp, the "Pin It Forward" award was presented to Kellie! This award goes to an all American cheerleader that displays good leadership, positive attitude, and exceptional sportsmanship. WHS is so proud that UCA Staff member, Maggie, picked Kellie Kemper for this award! Way to go Kellie!!
Universal Cheerleaders Association (UCA) was founded in 1974 by Jeff Webb to provide high quality educational training for college and high school cheerleaders through summer camps and clinics on college campuses.
During its first couple of years, the company literally operated out of Jeff's apartment in Memphis, Tennessee. Instructors were hired from college squads and 4000 students attended Varsity's 24 camps in the Midwest and the South during the summer of 1975.
During the next several years, UCA began to rapidly expand as their reputation for outstanding instructional programs, and in particular the emphasis on cheerleading gymnastics, quickly spread.
UCA's goal is to inspire leadership on and off the field. All of UCA's material and programs are centrally focused on the traditional role of cheerleading. UCA believes that the primary purpose of a cheerleader is to support athletic programs and lead the crowd before and during games. Cheerleaders play an instrumental role in raising, leading and maintaining school spirit in and around their communities. In short, they are leaders in building general morale at their school!


Wellington High School's CLAY TARGET TEAM was in competition Saturday June 3rd at the State Tournament held at the Ark Valley Gun Club in Kechi, KS! Wellington finished 11th out of 25 teams, Moriah Lyne (Novice and ranked 2nd in the State) finished tied for 1st with a girl from Little River - both with total scores of 55, the best out of 17 competitors in that category. Andi Dry lived up to her #1 State Ranking in the JV classification, finishing on top of 10 other competitors with a score of 64. On the boys side, Novice John Hart finished 24th out of 53 with a score of 47, Silas Wylie (JV) placed 17th out of 73 @ 62 and Keven Walker (Varsity) finished 35th out of 68, also with a 62. Jack Heimer - JV shot one perfect round with a score of 25 and received a patch for his efforts, and scored a 62 overall as well, placing 19th (tied for 17th, using tie breaker placed 19th).
There were 17 students that competed in the Spring League, 15 of the students went to State. Shooting in Novice at State were Moriah Lyne, Tristan Barragan, John Hart, Luke McComb, Cody Metz, and Katelyn Migues. Shooting JV were Andi Dry, Colin Bennett, Colton Chase, Jack Heimer, Stephen Jamerson, Jackie Nuss and Silas Wylie. Shooting Varisty were Keven Walker and Dakota Dry. Students that shot in the spring but did not go to State were Levi Preston and Taima Graves.
During the Spring League play Wellington finished 5th in their Class A Conference of 7 teams. Conferences and Classes are determined by the number of shooters that a school has on their team. In individuals, Andi Dry was 2nd in Females, Katelyn Migues was 5th, Moriah Lyne was 6th and Taima Graves was 8th. No males were in the top ten, however Dakota Dry and Keven Walker were in the top 20 out of 91 shooters.
TEAM RESULTS
1st - Cedar Vale - Dexter / 351
2nd - Haven / 338
3rd - Dodge City / 324
4th - Ashland / 324
5th - Little River / 320
6th - Andover Ctrl / 316
7th - Circle / 316
8th - St. James / 315
9th - Southern Cloud / 314
10th - Meade / 313
11th - WELLINGTON / 312
12th - Nickerson / 310
13th - Kingman / 309
14th - Winfield / 299
15th - Garden City / 292
16th - St. Paul / 290
17th - Deerfield / 289
18th - Greeley Co / 281
19th - Bluestem / 278
20th - Hodgeman / 275
21st - Lyons / 269
22nd - Remington / 260
23rd - Fowler / 254
24th - Minneapolis / 248
25th - Erie / 236
2017 STATE CLAY TARGET WELLINGTON RESULTS
2017 STATE CLAY TARGET OVERALL RESULTS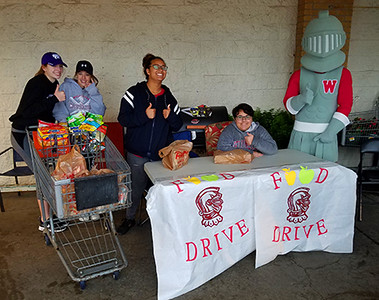 Members of the Crusader Way classes at WHS conducted a FOOD DRIVE on Saturday (042917) at Dillons! It was raining and it was cold but the Freshmen did their duty for a good cause! AWESOME!!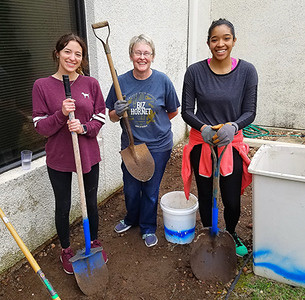 Wednesday was the 6th or 7th annual WHS SERVICE DAY! 100's of Crusaders fanned out across the community via vans, buses or bipedalistic means - cleaning, sweeping, raking, digging, painting, filing, organizing, cooking and more! The students reconvened at their HOME BASE - WHS, ate lunch together and participated in "student-planned" activities all afternoon, i.e. volleyball, dodgeball, karaoke, a obstacle course and more! Awesome job - this annual event always brings SMILES to the doers and the receivers - we are ONE and this event makes that even more evident! WAY TO GO CRUSADERS!! 

WHS SERVICE DAY 2017 PICS 041217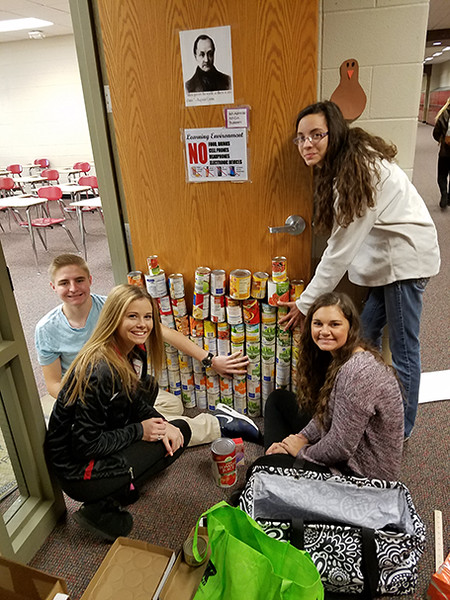 The students at WHS have been "CANNING THEIR TEACHERS"this week, in the hopes of bringing enough food items to class to physically "cover the door up to the handle" by this morning so they could have a free day today in that class. Haven't gotten the official tally yet from WHS STUCO who sponsors this annual event but all the food was then going to be taken downtown to the food bank...way to go Crusaders. Similar drives have gone on at other schools this week as well.
MORE CANNING/FOOD DRIVE PICS 11.18.16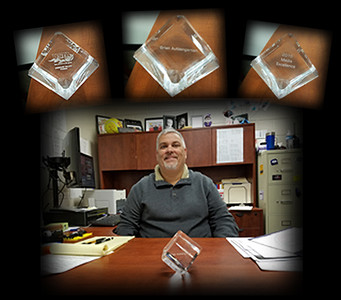 Each year the USTA (United States Tennis Association) Missouri Valley (Kansas District) announces award winners in a variety of categories honoring the best tennis players, events, coaches, volunteers and sportsmanship over the past year. On November 13th, at the Terradyne Country Club in Andover, WHS Head Girls Tennis Coach Brian Aufdengarten was awarded the MEDIA EXCELLENCE trophy for his work in setting up and maintaining a complete State of Kansas tennis website which features both girls and boys tennis, rankings, results and more. Coach Aufdengarten designed the site himself and it provides all the coaches in Kansas with the latest and greatest in tennis across the state. Congratulations to Coach Aufdengarten for this award. "Auftie" has coached tennis for nearly 20 years, 16 at the high school level, 3 at the middle school level. Way to represent Coach Aufdengarten!! We are proud of you!

Numerous Local Veterans Are Recognized For Their Service!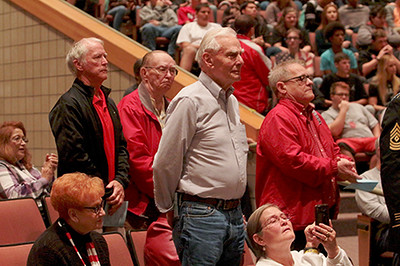 The event that always packs the WHS Auditorium took place Friday - the Veterans Day Program put on by both the VFW post and American Legion post here in Wellington, along with students from WHS, WMS and all of the grade schools. It's an awesome program and a "must attend next year" if you've never taken it in. The music is great, the feeling of pride is thick- it's an auditorium full of folks including 100's of students - everyone appreciating each other. That's America and these veterans and present service personnel are the ones that continually seal the deal, providing the rest of us with all the personal freedoms and liberties we've all become accustomed to and take for granted.
AWESOME PROGRAM! - THANK YOU ALL FOR YOUR SERVICE!!!
VETERANS DAY PROGRAM PICS 11.11.16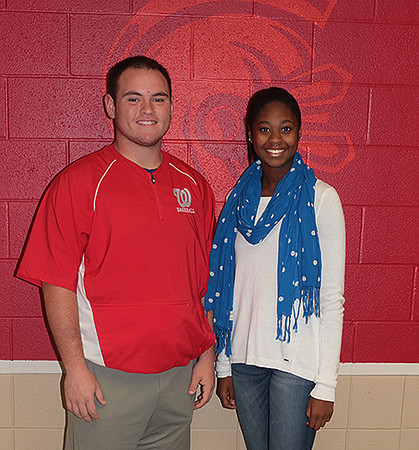 Congratulations to WHS Seniors Connor Burnett and Lauryn Snipes - both selected as Wendy's High School Heisman Award Winners, representing WHS well on Tuesday in Wichita at a luncheon at Abode Venue. Billy Sims, Heisman Trophy winner from the University of Oklahoma was on hand as well. The Wendy's HS Heisman Awards have been around since 1994 and feature top student-athletes from high schools across the nation. State Finalists and eventually National Finalists emerge, receiving National Recognition and scholarship monies. Congrats again to Lauryn and Connor - GREAT JOB!! CLICK HERE for MORE INFO!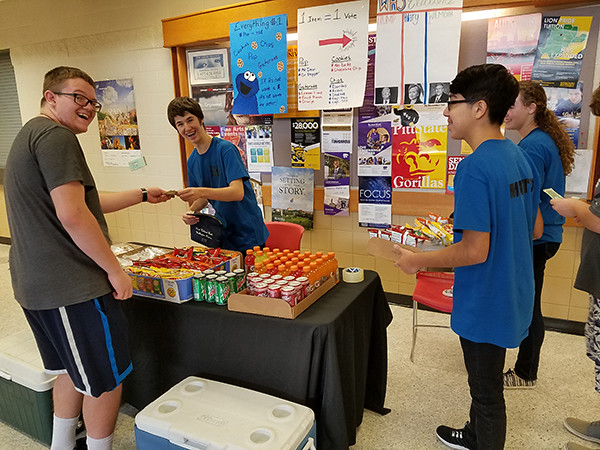 There is a new course offered this year at Wellington High School- a very practical course too! This year instructor Melissa Buchanan adopted the Youth Entrepreneurs Curriculum in the Entrepreneurship class. Here is the Website that has more information about the program:
MORE INFO
Through the program the students have the opportunity to run their own business on market day. Their group works through the entire process of doing market research to determine what to sell, figuring out the costs of the goods they will sell and what they will need to sell them for to make a profit, then they make a bid to get a loan from the YE organization.
The students took a Wholesale field trip last week and visited several businesses in Wichita (Millennium Concepts, Devlin Rod and Custom, and Jerseys) to hear about different aspects of running a business. The students then purchased their supplies that day for their business from Sam's. The students sold their products on market day and get to keep any profits they made after paying back the loan.
Students involved include Regan Pourner, Coewen Rains, Nichlas Chalmers, Marissa Brown, Timberly Hearlson, Tanner Dillon, Matteo Arebalo, Tori Winger, Shailyn Dickinson, Camryn Ricke & Matt McComb.


After five weeks of competition in the 2016 Fall Clay Target League, the WHS Clay Target Team finished out the 2016 Fall Season in 2nd place in Class A - Conference 1 just behind Ashland HS with 252.5 total points. Ashland finished with 278.0 total points to claim the championship. Others in Conference 1 included Nickerson HS in 3rd place with 210.5 total season points and Chase HS with 30.0 season pts. total.
At seasons end, Wellington still had "5" of the "Top 10" male members score-wise (5 week average). Based on 25 possible clay targets Wellington's male members placed as follows: Dakota Dry 19.80 (4th), Jack Heimer 19.3 (5th), Levi Preston 19.20 (6th), Keven Walker 17.80 (7th) and Colton Chase averaged 16.10 (10th).
Wellington finished with "4" of the "Top 6" female members score-wise (5 week average)...Andi Dry is averaging 15.9 (2nd), Moriah Lyne 15.3 (3rd), Tristan Barragan 15.00 (4th) and Katelyn Migues 14.50 (5th). Other members of Wellington's Fall 2016 team were: Colin Bennett, Ian King, Patrick Nichols and Stephen Jamerson.
The KHSCTL (Kansas High School Clay Target League) is not affiliated with the KSHSAA (Kansas State High School Activities Association).
Congratulations WELLINGTON! Way to represent!! Spring 2017 League will be up and running in April with competition beginning on April 9th and running through May 7th. There will also be a State Tournament June 4th at the Ark Valley Gun Club. All 2017 Spring League participants are invited to compete for individual and team awards in performance categories. Categories include: Novice (0-14.99 year-end average), Junior Varsity (15-18.99), and Varsity (19-25). Congratulations again WELLINGTON!!
WHS FFA Instructor Linda Chase coaches the WHS Clay Target Team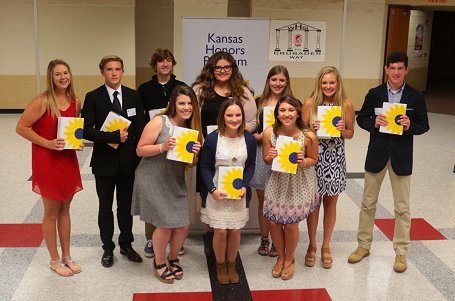 The annual KU HONORS BANQUET was held Wednesday evening out at WHS. The TOP 10% academically from across Sumner County's "7" High Schools were treated to dinner (along with their families) and presented with the traditional Dictionary. Guest speaker was KU ALUMNI ASSOCIATION's David Johnston, VP of Marketing & Digital Media. Master of Ceremonies was our very own Traci Ybarra, a '91 graduate of Kansas University. Musical numbers were presented by Nora Asteria Ramli (piano) and Calvet Young (vocalist). Pictured above: L to R (back) - Madison Lewellen, Carson LeGrand, Brock Edwards, Peighton Westmoreland, Stephanie Bristow, Brecken Lawrence and William Long. L to R (frt) - Ashley Ewing, Kelsie Haydon and Kayma Brand. Congratulations Crusaders!
(Not Pictured - Laken Kimball)