Big SENDOFF For WHS State Contenders!
Coach James Ginter * Payton

The WHS Student Body and the infamous Crusader Band gathered in the Commons area just before school was out on Thursday to give "6" young ladies a CRUSADER SENDOFF as they head for State 4A  competition this weekend and on Monday.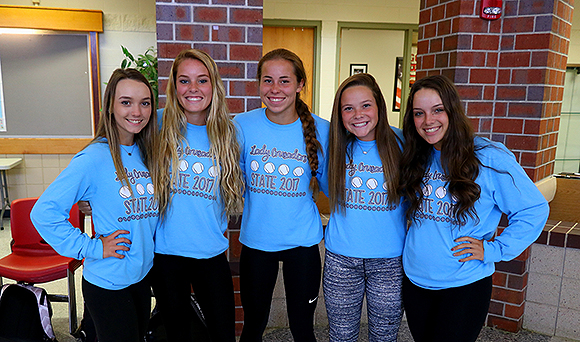 Kylie * Avery * Rylee * Abby * Mekenna

The celebrities if you will were the "5" Varsity Girls Tennis players who emerged from Regional 4A action this past weekend at Collegiate as State qualifiers and are heading to Pratt for State 4A action beginning Friday, Abby Lowe, Mekenna Adams, Avery Rusk, Kyle Aufdengarten and Rylee Rusk. Also being spotlighted was freshman Payton Ginter, only 1 of 3 Freshmen to qualify at the 4A Regional Golf Meet in Hays this past Monday, in less than admirable weather conditions. Her performance landed her a spot at the 4A State Meet on Monday in Topkea.

So, the band played (well as usual), the students clapped, each participant rec'd a "goodies" bag from their Crusader friends - it was a great day to be a Crusader! (always is!!) Good Luck to the tennis girls and Good Luck to the golf girl - bring home some hardware ladies and you know what - I think they will!!
GO BIG RED!!